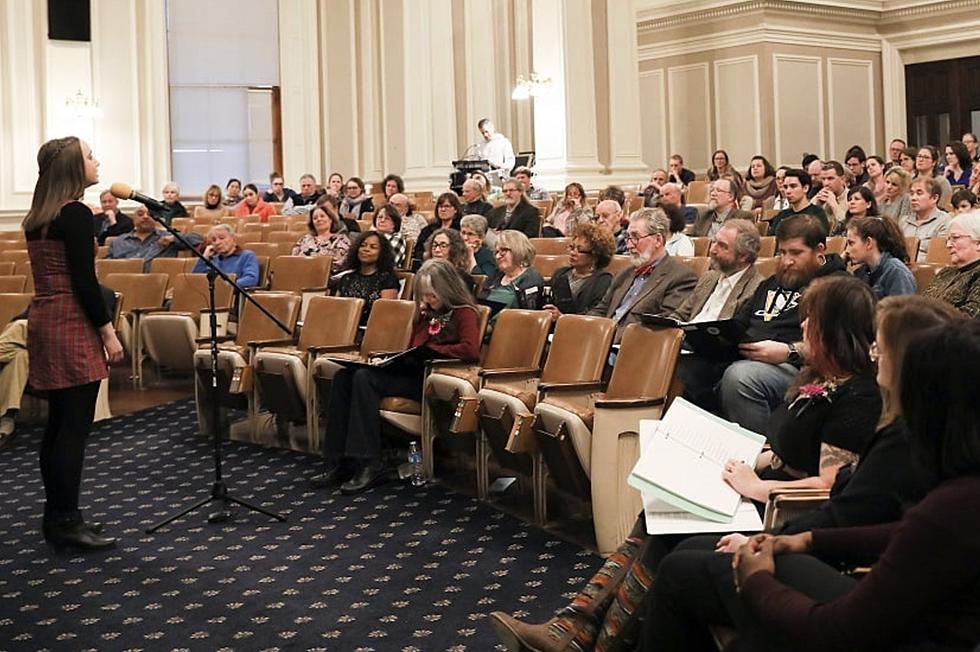 You Can Watch the 2022 NH Poetry Out Loud Championship Live Online
New Hampshire State Council on the Arts via Facebook
A lucky handful of New Hampshire high school students will be competing in a poetry contest championship, and you can watch right from the comfort of your own home.
NH Poetry Out Loud has taken place for several years now, according to the State of New Hampshire website. The national program "involves 365,000 students annually and awards $50,000 in scholarships."
This event is a life-changing experience for students, and a great opportunity for them to "improve public speaking skills, build self-confidence, and learn about their literary heritage."
Both public, private, and other types of schools are able and encouraged to compete.
The Championship event is almost here, and will be happening at the Concord State House on Friday, March 11th at 5pm. The New Hampshire State Council on the Arts posted this press release to Facebook that explains more about the event.
Students from 26 New Hampshire high schools participated in this year's state competition, and only eight now remain after several rounds of eliminations.
These teens will each present two poems that they have prepared and memorized. Those selected for the top four will then recite a third.
The competition will be streamed live on the New Hampshire State Council on the Arts' Facebook page, so tune in this Friday at 5pm to see and hear the culmination of these students' hard work.
In addition to poetry, music is another type of creative storytelling. Did you know that the Massachusetts home of Aerosmith's lead guitarist Joe Perry was up for sale? Take a look at the inside of this beautiful $4.5M home, which now has a pending offer.
Let's Tour the Massachusetts home of Aerosmith's Joe Perry
10 Things I Believed As a Kid That Were Completely Untrue