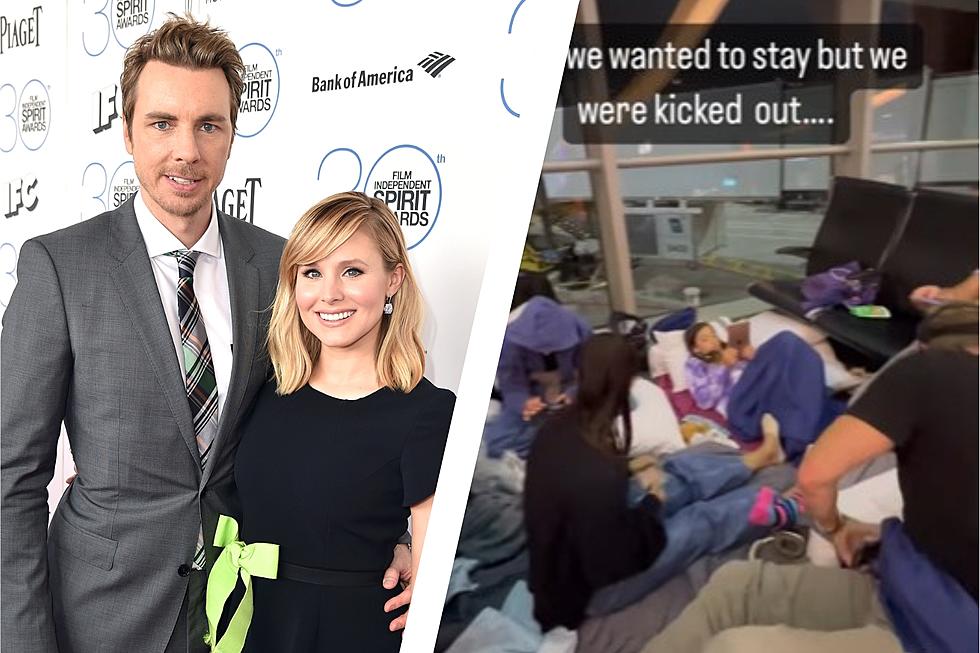 Why Kristen Bell & Family Were Kicked Out of Boston's Logan Airport
Getty Images/Kristen Bell via Instagram
No, it wasn't because she lets her kids drink non-alcoholic beer.  Legit, she does, as revealed on a recent episode of The Kelly Clarkson Show, but they only do that at home, and there is a good parenting reason.  But that's not why Kristen Bell, her husband Dax Shepard, and their two daughters were asked to leave Boston's Logan International Airport.
The family had a nine-hour flight delay, which is so tough when traveling, so they waited and waited before finally deciding to make it like home.
According to a video Dax posted on his Instagram, Shepard spent $350 on neck pillows and blankets, and Bell spent another $250 on sheets.  That's $600 to get comfy on the floor of Logan Airport.
The best part is that Shepard also spent $2.30 for one toothbrush for the whole family to use.   You have to love this family, because they are so normal.
But then, the airport asked everyone to leave.  There were no hotels available, so the Shepard family found a friend of a friend who offered them a comfortable attic room to sleep in for the night.
This could be any family in America, but she's starred in Frozen, Veronica Mars, and Gossip Girls, and he was a director and in The Ranch, The Judge, Parks & Recreation, and Parenthood.  They are not like the rest of us, yet they are.
Here's what fun about this incident.  They are real, they post their adventures on social media, and they act like a fun-loving family.
The adventure ended with a dog hike the next morning, so all's well that ends well. Thanks for the laughs and adventure, Kristen and Dax.
11 Celebs & Notable People With Ties To Central Maine
These celebrities and notable people have ties to Central Maine. Some are well known, others not so much.
Only 11 Drive-Ins Still Exist in New England: Here's Where They Are
Drive-In Movie Theaters are so fun, but dwindling away. Here's where to find one.