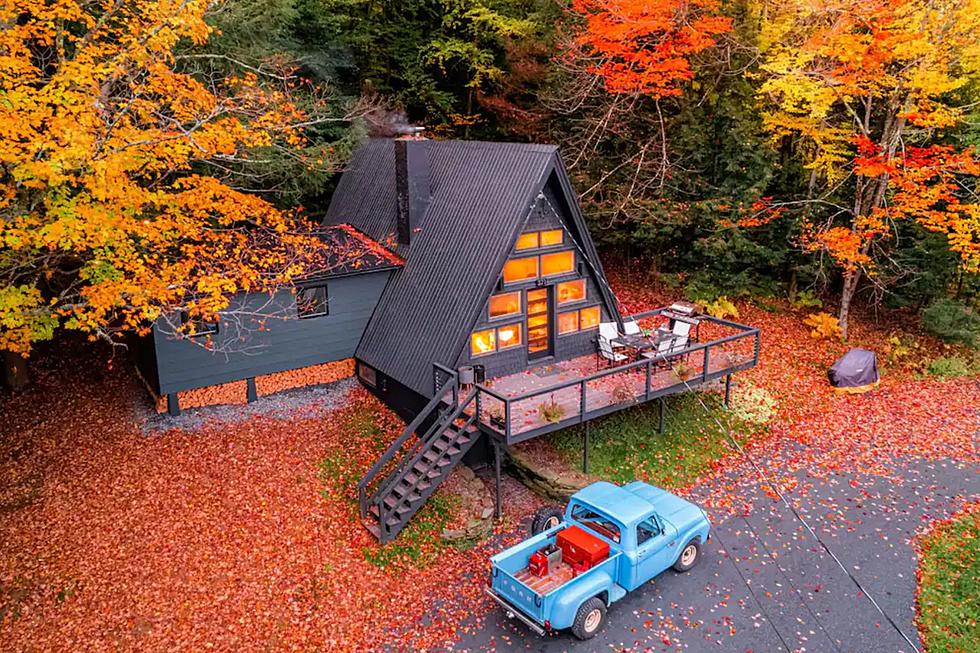 The Perfect Fall Getaway: Stunning A-Frame Airbnb Sits in the Scenic Woods of New England
Ryan via Airbnb
For many people, fall's arrival means it's time to put on our leaf peeper hats and admire the lovely red, orange, and yellow hues that turn our beautiful forests into natural masterpieces each year.
Maybe you're hoping to embark on a relaxing fall getaway with your friends, partner, or family, and spend the night in the heart of the colorful woodland scenery that our region is so well-known for.
This stunning A-frame Airbnb in the heart of Stowe, Vermont, may be just the staycation destination you're looking for.
Known as The Summit House, this renovated three-bedroom, 1.5-bath cabin is just under a mile from downtown Stowe. The Superhost, Ryan, invites you to:
Wake up to views of the morning light casting through the forest from your glass wall bedroom. Relax after a day exploring the mountains in the huge spa style rainfall shower. Settle down after dinner around the modern wood burning fireplace while watching your favorite shows on the 50" TV.
At a minimum of $589 a night, this place might appear pricey upon first glance. But as it can accommodate up to six guests, the cost becomes significantly less intimidating when split. With over 60 reviews and 4.9/5 stars at the time of this writing, it's clear that this place does not disappoint, and that guests love their time there. So, what are we waiting for? Let's take a look inside.
The Perfect Fall Getaway: Stunning A-Frame Airbnb Sits in the Scenic Woods of New England
If you're looking for a relaxing staycation destination in the heart of New England's fall scenery,
this newly-renovated Airbnb
is an absolute stunner.
Speaking of awesome New Hampshire Airbnbs, here's a look at this unique treetop sanctuary in Dunbarton.
Spend the Night in This Cozy Treehouse Airbnb in Dunbarton, NH