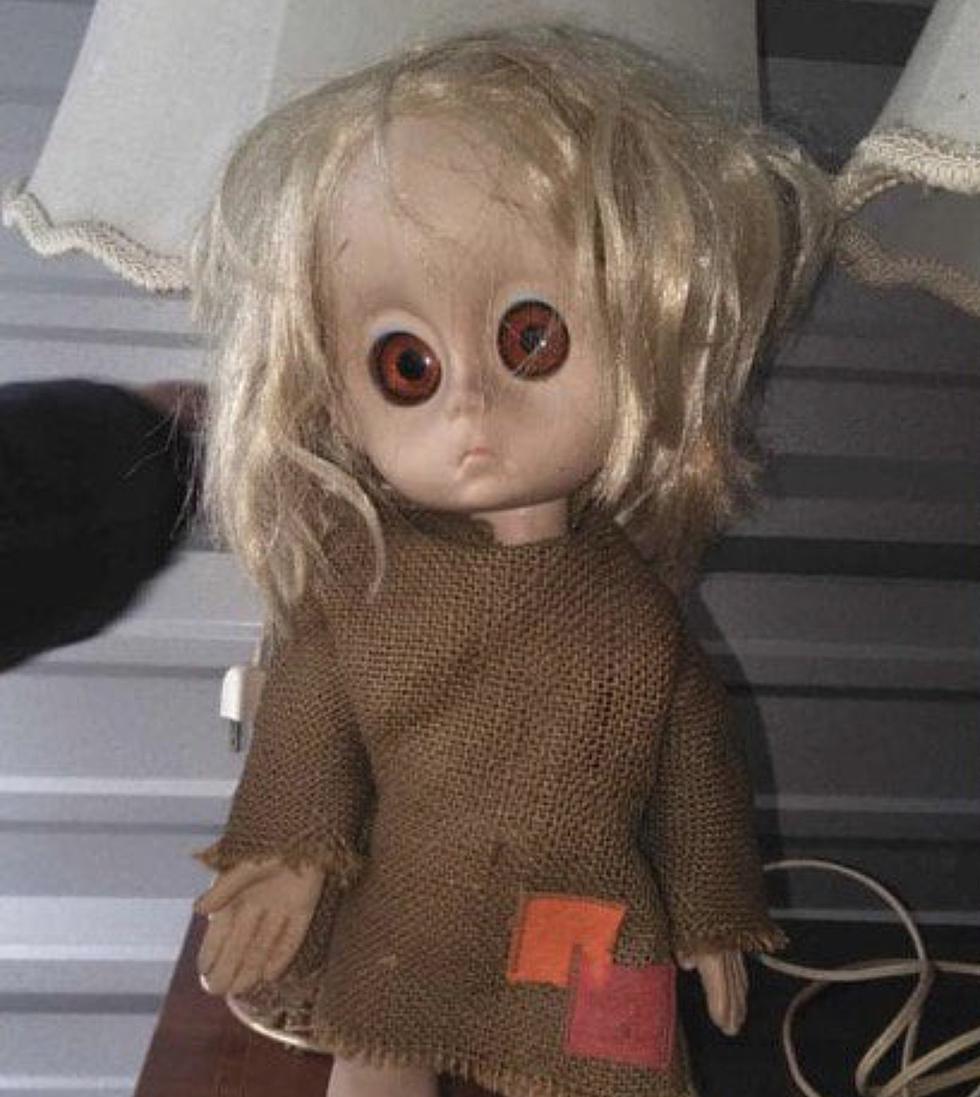 The Creepiest Doll In Maine Was Finally Sold
Reddit via NinjaSupplyCompany
It has to be a testament to masters of horror films that they can take something so harmless, like a child's doll, and turn our entire view of it upside down. For instance, the movie "The Conjuring", which introduced audiences to a raggedy Ann doll called Annabelle. Annabelle was so popular (and frightening) that it remained memorable for audiences. So memorable, she got her own spinoff movies. It also altered how we look at dolls, specifically old dolls. Which means everyone in Maine should rejoice that this doll, shared on Reddit by NinjaSupplyCompany, is likely sold and has taken her haunting qualities somewhere else.
If you're unfamiliar with a Little Miss No Name doll, it was a doll design from Hasbro in the 1960's that was supposed to be the anti-Barbie. According to Toy Tales, Hasbro believed the doll would speak to a different audience. She was built with large (and creepy) brown eyes, unkempt hair and a frown. She was supposed to resemble an impoverished child versus being suited with a glamorous life like Barbie. The doll didn't go over well and was quickly pulled from store shelves.
Which makes the remaining Little Miss No Name dolls quite the collectors item. Unopened boxed dolls sell for as much a $1,000 online and even used ones sell for hundreds of dollars. Whomever was selling this particular doll in Damariscotta either didn't realize the value or was just as eager to get rid of their own personal Annabelle. Who could blame them. The listing has been pulled for the doll, likely meaning she has been sold.
As a state, we can all sleep better tonight. At least, that's what she wants us to believe.
KEEP READING: Here are the most popular baby names in every state
Using March 2019 data from the
Social Security Administration
,
Stacker
compiled a list of the most popular names in each of the 50 states and Washington D.C., according to their 2018 SSA rankings. The top five boy names and top five girl names are listed for each state, as well as the number of babies born in 2018 with that name. Historically common names like Michael only made the top five in three states, while the less common name Harper ranks in the top five for 22 states.
Curious what names are trending in your home state? Keep reading to see if your name made the top five -- or to find inspiration for naming your baby.
15 Stores You Shopped At In Maine But Your Kids Have Never Heard Of