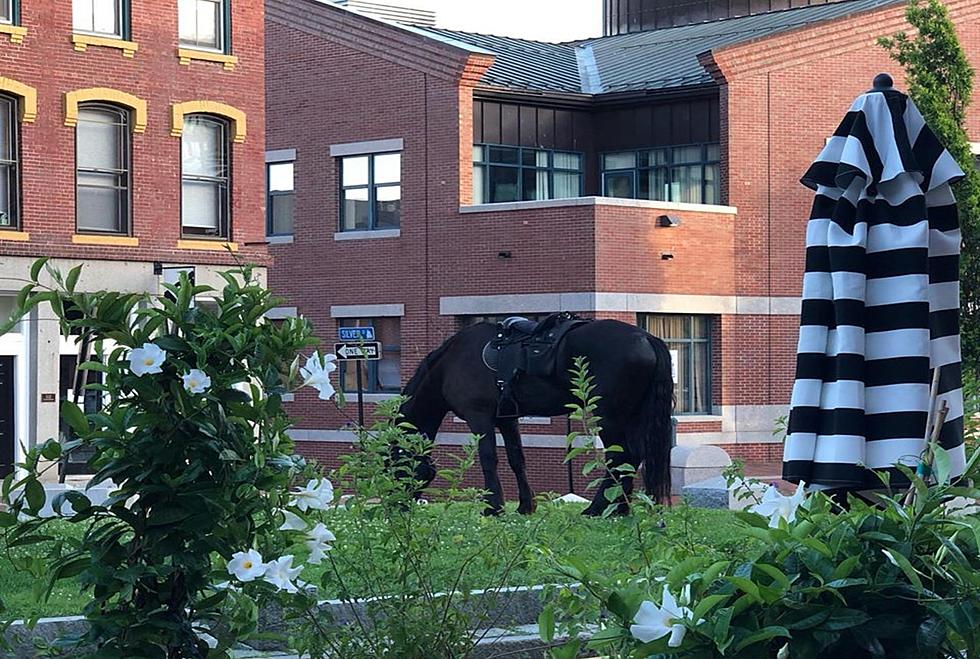 Someone Keeps Riding Their Horse Into Portland's Old Port
Facebook via Tom Gaudet
If you've visited Portland's Old Port over the summer, you know there are a lot of things that are different. From closed off streets to several restaurants and bars with extended outdoor space, there's a different feel to the Old Port. One of the downsides of those closed streets and extended outdoor spaces is a loss of parking spots. So what do you do when you're worried about finding a really good spot near your destination? Apparently, you ride your horse into town.
Shared on Facebook by Tom Gaudet, your eyes aren't playing tricks on you. That's a horse, just hanging out in the median area near popular watering hole Rosie's on Fore street. Commenters on Gaudet's post mention that this isn't the first time they've seen the horse camped out in the Old Port as its presumed owner visits nearby businesses.
Sure enough, a week after Gaudet's post, World Wrestling Entertainment star Fandango shared a short video on Twitter as he drove by the horse in the same exact area of the Old Port. In case you're wondering, this horse isn't pulling a carriage and is not available to the public for rides as a taxi-like service. Someone has just decided that there's no fighting for parking when you're the only person riding a horse to your favorite bar.
Can't imagine the City of Portland saw horse parking as a potential issue the legislature would have to take up at some point. 2020 strikes again.
Amazing drone shots of Portland