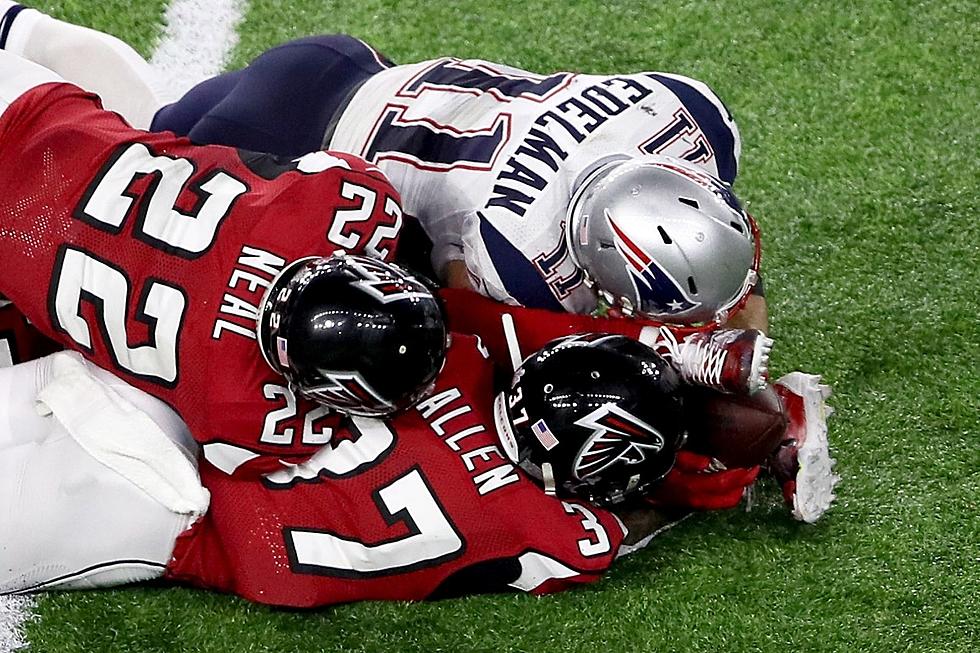 Revisiting the Greatest Moment in New England Patriots Super Bowl History Before Tonight's Rematch
Ezra Shaw / Getty Images
Tonight will be like time traveling back to about 4 1/2 years ago to the beginning of 2017 to a moment that New England Patriots fans will never forget.
The Patriots take on the Atlanta Falcons tonight in Thursday Night Football.
Since 2017, any time the Pats and Falcons square off, there's only one thing that is talked about and remembered -- Super Bowl LI (51) at NRG Stadium in Houston, Texas. Because that was the night that Tom Brady and the Pats made history -- not only did they force the first Super Bowl overtime in history, but they also come back from the greatest deficit in Super Bowl history to become World Champions for the fifth time in franchise history.
The Falcons dominated the first half of Super Bowl 51.
Simply put, the Pats looked like a massive puddle of dumpster juice during the first half of the Super Bowl that Sunday night in 2017. The Falcons were easily running over the Pats Defense, and the offense was non-existent. If it weren't for a Stephen Gostkowski field goal with just seconds left in the second quarter, the Pats would've headed into the locker room with a gigantic goose egg.
Clearly a frustrating start to the night for the Pats, their leader TB12, and Patriots Nation in attendance or watching at home.
The Falcons increased the deficit to start the second half, and all hope looked lost.
But regardless of what fans thought, one group of people kept their fighting spirit alive and refused to lay down -- every single member of the Patriots themselves.
About midway through the third quarter, the Falcons scored another touchdown and successful point after, which brought their lead to a soul-crushing 28-3. While it's not guaranteed that 100% of Pats fans had assumed the game was over, there's no doubt a large majority had thrown in the towel. But regardless of what fans thought, one group of people kept their fighting spirit alive and refused to lay down -- every single member of the Patriots themselves.
The Patriots finally found the end zone late in the third quarter.
In what surely was a decent omen but still probably came off to Pats fans watching across the country (or more so just in New England since they're hated everywhere else), they finally scored a touchdown with a couple of minutes left to go in the third quarter. And almost instantly, any uplifting of their spirits was crushed when Gostkowski followed the touchdown with a missed point after. The score stood at 28-9 heading into the final quarter. It seemed like a foregone conclusion that Brady wouldn't be sliding a fifth championship ring on his hand that year.
Thankfully, everyone couldn't have been more wrong.
The Patriots put 19 points up in the fourth quarter to force overtime.
It seemed impossible. But regardless of how many times they watched it happen over the years, Pats fans still forget that "impossible" doesn't exist in the TB12 Dictionary. With only 15 minutes of football left to play, Brady and the Pats managed to tie the game at 28 with less than a minute to go of regulation time. And honestly, if it weren't for a miraculous catch snagged by Julian Edelman off of a tipped pass thrown by Brady with just over two minutes left, maybe all hope would've been lost.
A few minutes into overtime, the Patriots scored a touchdown and became 5-time World Champions, mounting the greatest comeback in Super Bowl history by defeating the Falcons with a score of 34-28. It's a tale that we love to remember, especially every March 28 (3-28), and most definitely anytime the Pats play the Falcons.
We'll always remember images of the Pats winning moment at Super Bowl LI, now check out 49 more
Sometimes images are the best way to honor the figures we've lost. When tragedy swiftly reminds us that sports are far from the most consequential thing in life, we can still look back on an athlete's winning moment that felt larger than life, remaining grateful for their sacrifice on the court and bringing joy to millions.
Read on to explore the full collection of 50 images Stacker compiled showcasing various iconic winning moments in sports history. Covering achievements from a multitude of sports, these images represent stunning personal achievements, team championships, and athletic perseverance.
20 Celebrities Who Love the New England Patriots As Much As You
Patriots Nation is strong with or without Tom Brady and these celebrities count themselves among the those who love New England's football team.
30 famous people you might not know were college athletes
Stacker
dug deep to find 30 celebrities who were previously college athletes. There are musicians, politicians, actors, writers, and reality TV stars. For some, an athletic career was a real, promising possibility that ultimately faded away due to injury or an alternate calling. Others scrapped their way onto a team and simply played for fun and the love of the sport. Read on to find out if your favorite actor, singer, or politician once sported a university jersey.