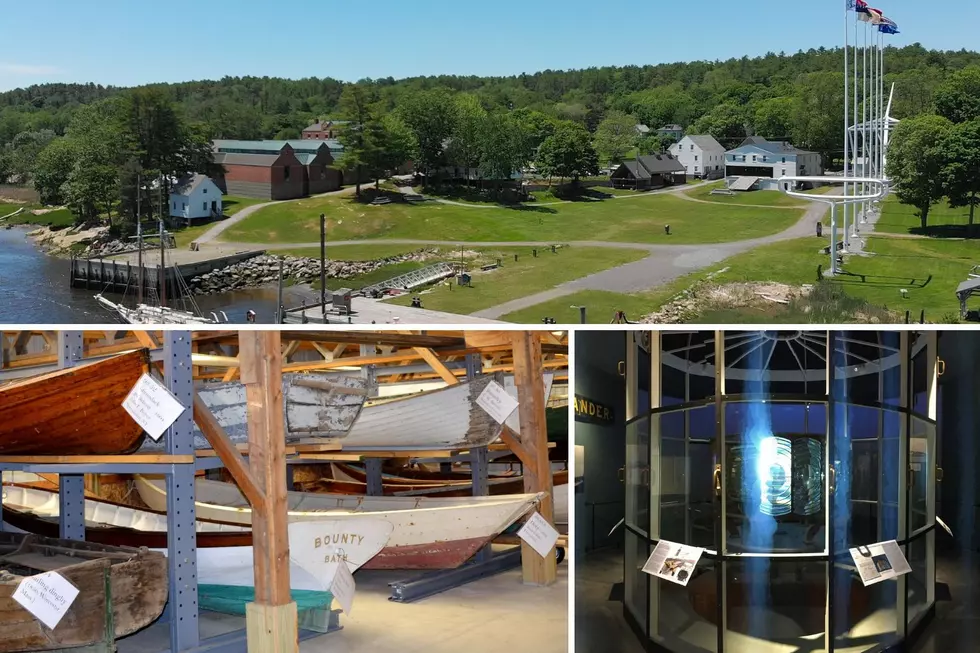 Maine Maritime Museum in Bath Is Free for the Month of November
Maine Maritime Museum via Facebook: Canva
There's an exciting opportunity in the Midcoast this month for seafaring enthusiasts.
The Maine Maritime Museum shared the exciting news about free admission in November on its social media recently. The free month gives first-time visitors a great chance to discover a boatload of Maine maritime history. It's also a wonderful treat to the regulars to visit one of their favorite museums.
Originally founded as the Bath Marine Museum by the Maine Research Society of Bath, the Maine Maritime Museum has been a bastion of marine education and research since 1962.
The museum sits on a 20-acre plot of beautiful land in the city of Bath, a town that knows a thing or two about seafaring vessels. The museum features a wealth of rotating exhibits, as well as many popular permanent fixtures. Those include a lighthouse experience, historic boat collection, a Bath Iron Works exhibit, shipyard, lobster shack, and a blacksmith shop just to name a few.
According to the museum's post, the free admission includes entry to all the exhibits, plus tours and demonstrations throughout the grounds. It also includes inside tours of the Percy & Small shipyard, a new feature for November.
We should mention the real hero of this story is the Davenport Trust, which gave the grant to the museum. The local trust truly is doing great work here. This will bring such a positive impact to the community and beyond. It's great to see neighbors helping neighbors.
The Maine Maritime Museum is open daily from 9am to 5:30pm. It's open every day in November, with the exception of Thanksgiving. You can find out more information by visiting the museum's website here.
The Memorial Resting Site for the 1963 B-52 Crash on Elephant Mountain
Just south of Moosehead Lake lies a memorial that some may not know about. The memorial is a short hike in, right on the southern slope of Elephant Mountain in Piscataquis County.
The memorial is the crash site of a B-52 Stratofortress that went down on a training mission in 1963.
The site is now a popular hiking destination for folks to learn of its history and to pay respect to the seven men who lost their lives that fateful day.
A thank you to Erin from Norway, who took these very powerful images of the site, and allowing us to tell the story through her work.
30 "Under-the-Radar" Restaurants in Maine
Thanks to our great listeners we were able to compile a list of many of Maine's great "under-the-radar" restaurants, cafes, pubs and bakeries.
These great spots can be found across the state, and waiting for you to give them a try.
How many have you been to?