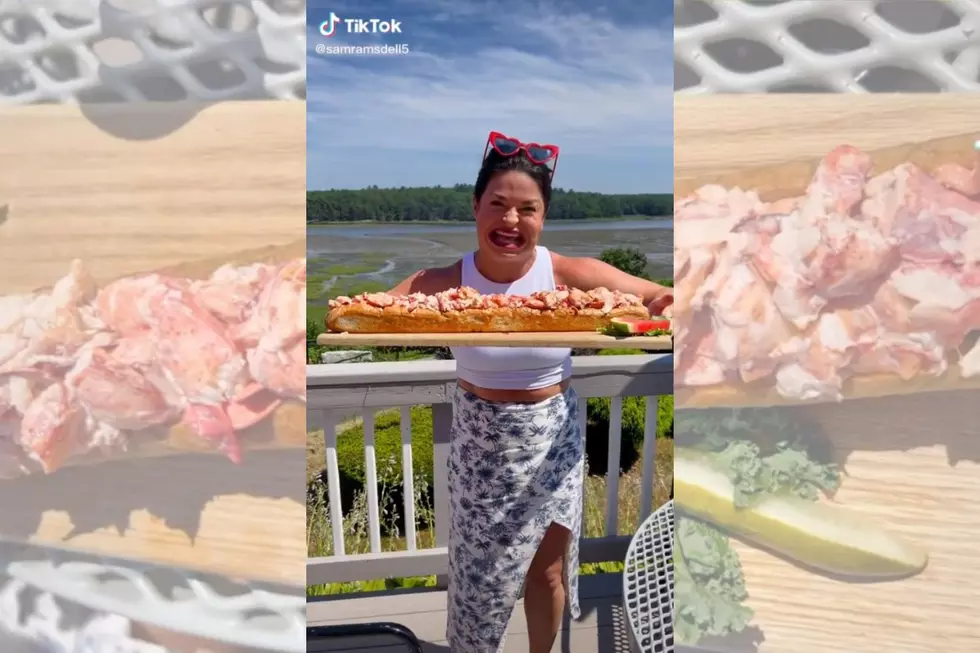 The World's Largest Mouth Takes on The World's Largest Maine Lobster Roll
@samramsdell5 via TikTok
Largest Gape
Samantha Ramsdell is a Scarborough, Maine native currently living in Connecticut following her dream working as a full-time influencer/entertainer/comedian.
Sam has amassed millions of followers who are regularly mind-blown by the size of her gape-hole. Yes, her mouth is gigantic. So gigantic that she is officially in the Guinness Book of World Records.
As a way to showcase what that mouth can do she seeks out the biggest and best sandwiches wherever she finds herself in her travels and shoves as much of it as she can into her massive pie-hole.
Recently her travels brought her back home to Maine.
Largest Lobster Roll
The Taste of Maine is a Route 1 icon in Woolwich. While many years they feature a massive inflatable lobster on their roof, they also claim to have the world's largest lobster roll.
This bad boy is about 2 feet long and is topped with around 2 pounds of lobster meat which is 6 to 7 lobsters in total. The price for this massive sandwich is based on the market price which falls between $150 and $170. To be honest, with some of the lobster roll prices I've seen lately, that's not a terrible deal.
The video has nearly 1 million views at the time of publishing. See how much she's able to get in one bite below:
No word on if she was able to finish the lobster roll, but that bite was mighty impressive. Those that do finish the lobster roll in one sitting and without any help make it into the Taste of Maine's Clean Plate Club.
Now, who wants to join me and split one?!
These Are the Best Restaurants to Grab a Bite in Maine, According to Mainers
Locals helping support local by listing the best places to eat local.
The Worst Intersections in Maine