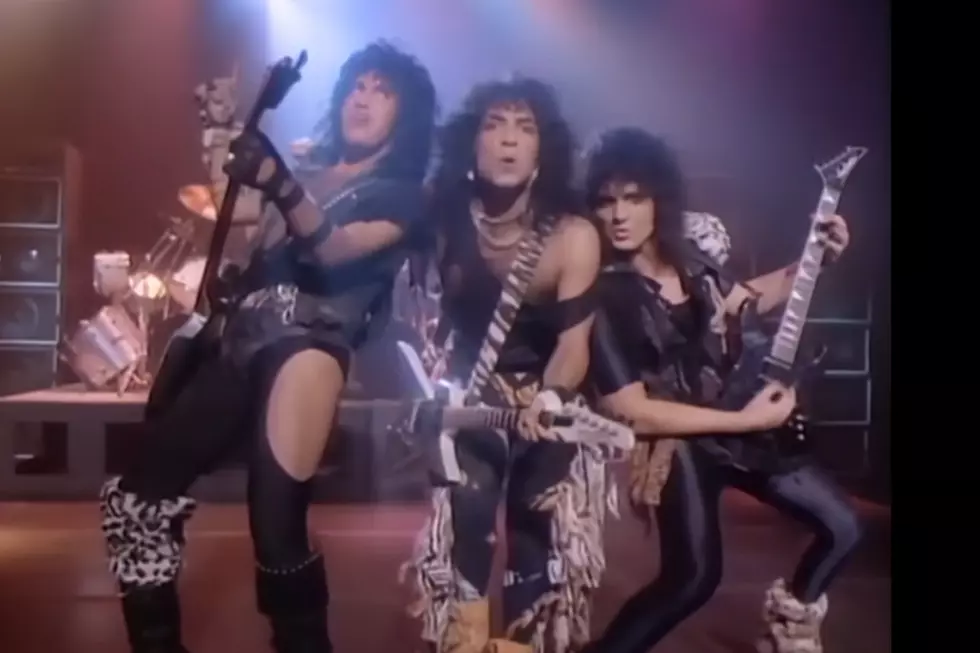 Kiss to Release Rare 1984 Mark St. John Show as Next Live Album
YouTube
Kiss is set to release the only known soundboard recording from their brief time with guitarist Mark St. John. Kiss – Off The Soundboard: Poughkeepsie, New York, 1984, the fifth entry in the band's career-spanning live-album series, will arrive on April 7.
St. John was hired as the band's third lead guitarist in as many years after they cut ties with Vinnie Vincent following the conclusion of the Lick it Up tour in March 1984. A previously unknown arthritic condition took St. John out of action not long after he made his recorded debut with the Animalize album later that same year. The illness - eventually diagnosed as the rare Reiter's Syndrome - derailed his plans to participate in the tour that followed.
According to Kiss Concert History Online, St. John played part of the band's Nov. 27, 1984, show in Baltimore, and then the entire Nov. 28 Poughkeepsie and Nov. 29 Binghamton shows before being dismissed from the group. Bruce Kulick, who had been filling in for St. John since the tour began in September, was hired as the band's fourth lead guitarist and remained in that position for more than a decade.
St. John, who died in 2007, later admitted that he probably wouldn't have lasted in Kiss very long, even if he hadn't come down with his illness. "The arthritis thing was really a cover-up for the other reasons," he said years later. The guitarist, who loved jazz fusion, found himself almost immediately at odds with band founders Paul Stanley and Gene Simmons as they were working on Animalize. "I said to him, 'You know, sometimes it's not about what you play - it's about what you don't play," Stanley recalled in his 2014 book Face the Music. "Listen to Jimmy Page, listen to Paul Kossoff, listen to Eric Clapton.' 'I can play faster than those guys,' scoffed Mark. Houston, we have a problem."
Kiss – Off The Soundboard: Poughkeepsie, New York, 1984 will be available to stream and download, with a two-LP standard black vinyl set, CD and a limited-edition two-LP set pressed on 180g custard-yellow vinyl. Because the recordings of the Poughkeepsie show were originally made for archival purposes only, two tracks on the upcoming release, "Young and Wasted" and "Rock and Roll All Nite," are incomplete.
Kiss, 'Off the Soundboard: Poughkeepsie, New York, 1984' Track Listing
1. "Detroit Rock City"
2. "Cold Gin"
3. "Creatures of the Night"
4. "Fits Like a Glove"
5. "Heaven's on Fire"
6. Guitar Solo
7. "Under the Gun"
8. "War Machine"
9. Drum Solo
10. "Young and Wasted" (incomplete)
11. Bass Solo
12. "I Love it Loud"
13. "I Still Love You"
14. "Love Gun"
15. "Black Diamond"
16. "Oh! Susanna"
17. "Lick it Up"
18. "Rock and Roll All Nite" (incomplete)
Kiss Lineup Changes: A Complete Guide
An in-depth guide to all of the personnel changes undergone by the "hottest band in the land," Kiss.