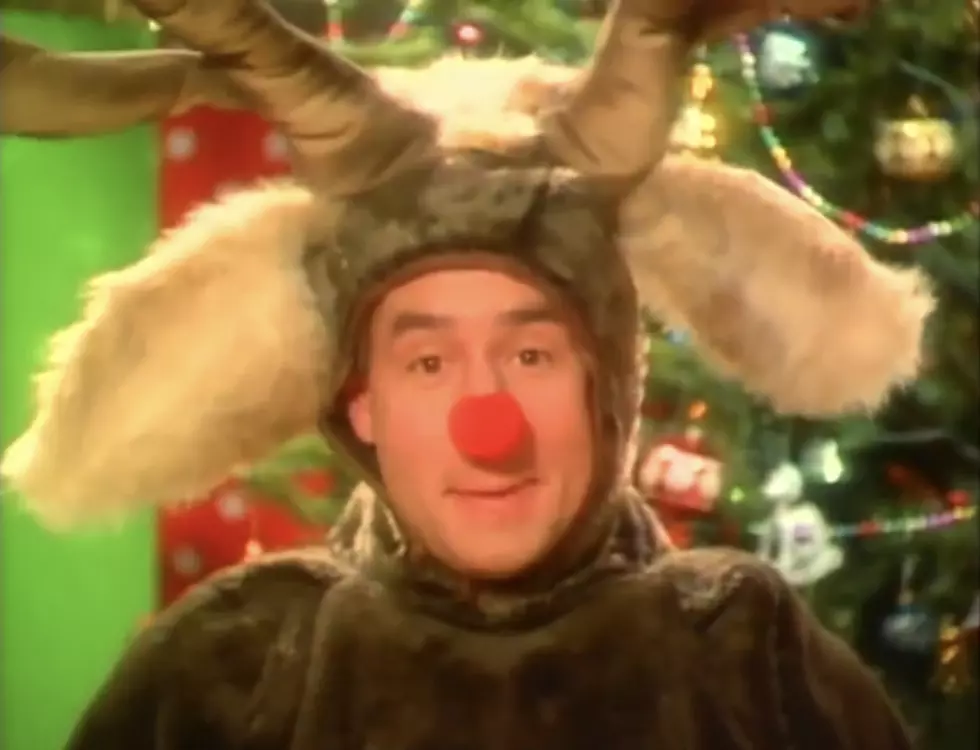 Do You Remember These Hilarious Ads for a Boston Christmas Tradition?
Legends with Bob Lobel via Facebook
"Why can't we get reindeer like that?"
That's what goes through your mind when you watch some classic (and hilarious) commercials from the 80s and 90s for the WBZ Children's Hospital Fund Drive, created to raise money and awareness for Boston Children's Hospital.
You'll see longtime anchors Jack Williams and Liz Walker. You'll see longtime New England radio legend, the late great Dave Maynard.
You'll even see former "People are Talking" host Tom Bergeron, now a national celebrity thanks to his long run hosting ABC's "Dancing with the Stars."
But the star of the ads was always Rudolph the Red Nosed Reindeer – played by legendary Boston sports anchor Bob Lobel.
Lobel covered sports in New England long before each Boston team had at least one championship Duck Boat parade within the same decade. He did get to cover Larry Bird's Celtics teams – but beyond that, there wasn't much to celebrate.
In the 80s, the Red Sox had their Game 6 meltdown against the Mets in the World Series. The Patriots were flattened by the Bears in the Super Bowl. The Bruins won just one game in two Stanley Cup Finals against the vaunted Edmonton Oilers.
The 90s were even worse. The Celtics endured injuries, tragedy, and the Rick Pitino era. The Red Sox watched Wade Boggs, Roger Clemens and Mo Vaughn leave as free agents. Cam Neely was forced to retire from the Bruins due to injury (robbing him the chance to bask in his newfound fame as Sea Bass in "Dumb and Dumber").
And the Patriots' lone Super Bowl trip was overshadowed by their coach's looming departure (and rumors they would move to Connecticut).
For New Englanders who grew up in the 90s, it's hard to fathom why we have any interest in sports whatsoever. Until you go down a rabbit hole of Bob Lobel highlights.
Lobel was funny. And in being so, made even the darkest of times seem fun – thanks to his "Why can't we get players like that?" catch phrase (used when showing a former Boston athlete excelling elsewhere), "Sports Spotlight" blooper reels (which preceded Shaquille O'Neal's "Shaqtin' a Fool"), or the infamous "Panic Button" that emerged when a team was taking on water.
Lobel was recently honored with the Emmy's Gold Circle Award, which recognizes broadcasters with contributions spanning 50 years or more. But even that doesn't seem like enough in terms of saying "thank you" to Bob Lobel.
In an age of hot takes from sports journalists and athletes picking fights and spreading conspiracies on Twitter, it's easy for sports to just not seem as fun. And it easy for us to wish we had someone as funny as Bob Lobel to help us make sense of it all.
Why can't we get people like that?
Click here to donate to Children's Hospital.
Beloved Red Sox Announcers of the World Series Years
We still love these legendary voices.
The 13 Most Hated Boston Celtics of All Time
Boston's most celebrated franchise has also produced a number of players New Englanders still despise.