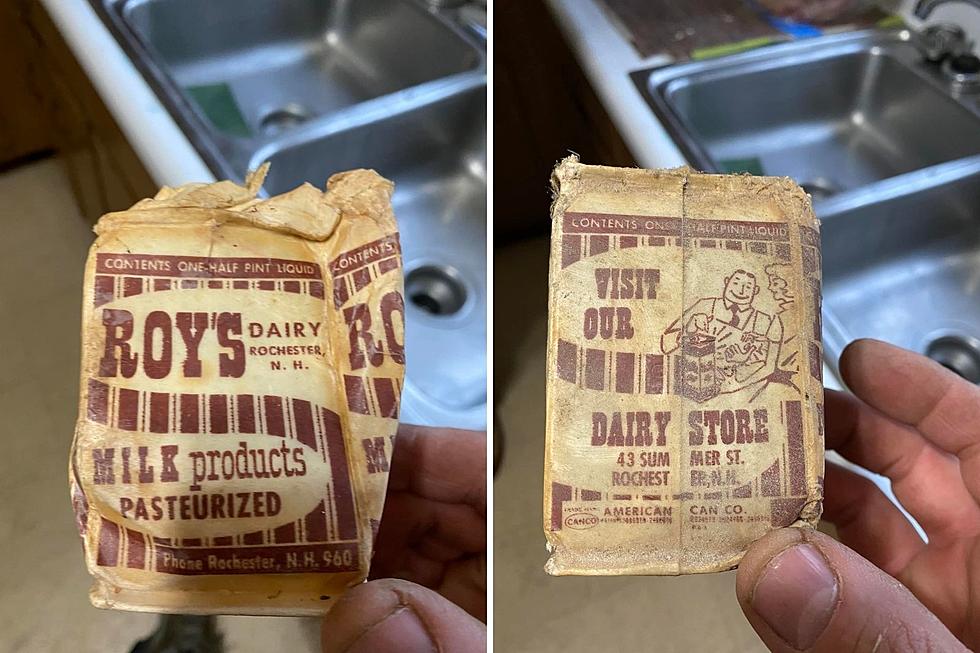 Cool Piece of Rochester, New Hampshire, History Was Found Under a Bathtub
John Morin via Facebook: Canva
This happened a while back, but I thought it was pretty cool and worth sharing!
John Morin took to the "You KNOW you're from Rochester, NH if you..." Facebook group to share something pretty awesome he found while on the job. He was removing a bathtub in Gonic and found this piece of Rochester history: a Roy's Dairy milk carton!
So many people commented on the post and said they had Roy's Dairy deliver milk to their home back in '60s!
According to the Rochester NH History Podcast, Roy's Dairy was started by a really nice guy named Henry Roy in 1938.
The days of milk delivery were simpler and more trusting times. People would leave money on their stoop for the milkman, and sometimes the milkman would even come inside your house and put the milk in the fridge for you if you weren't home! Carlene A. Day commented on the post and said that Henry Roy, the legend himself, used to put the milk bottles in the fridge for her in 1961! How cool is that?
Henry Roy spent over 50 years supplying milk to the city of Rochester.
The podcast said that not only was Roy's Dairy a staple in any Rochester, Gonic, Milton, and Lebanon, Maine, home, but they also supplied the milk in Rochester public schools for school lunches! Three cents for white milk and six for chocolate. What a bargain!
Henry was really active in the community. He founded the men's softball league in 1965, and they initially played in the Rochester commons.
He also sponsored a local Babe Ruth team that won a championship in 1967:
Thank you so much to the History of Rochester NH Podcast for putting out an episode about Roy's Dairy. I loved learning about it! And thanks to John Morin for sharing the Roy's Carton he found. That should be put in a Rochester, New Hampshire, time capsule.
Experience Stellar Customer Service at These 18 New Hampshire Restaurants
These Are the Pros and Cons of Living in New Hampshire
The people have spoken! (And by the people, I mean Redditors in the New Hampshire Reddit group) When asked what the pros and cons are of living in New Hampshire they served up the cold hard truth. Here's what they said.