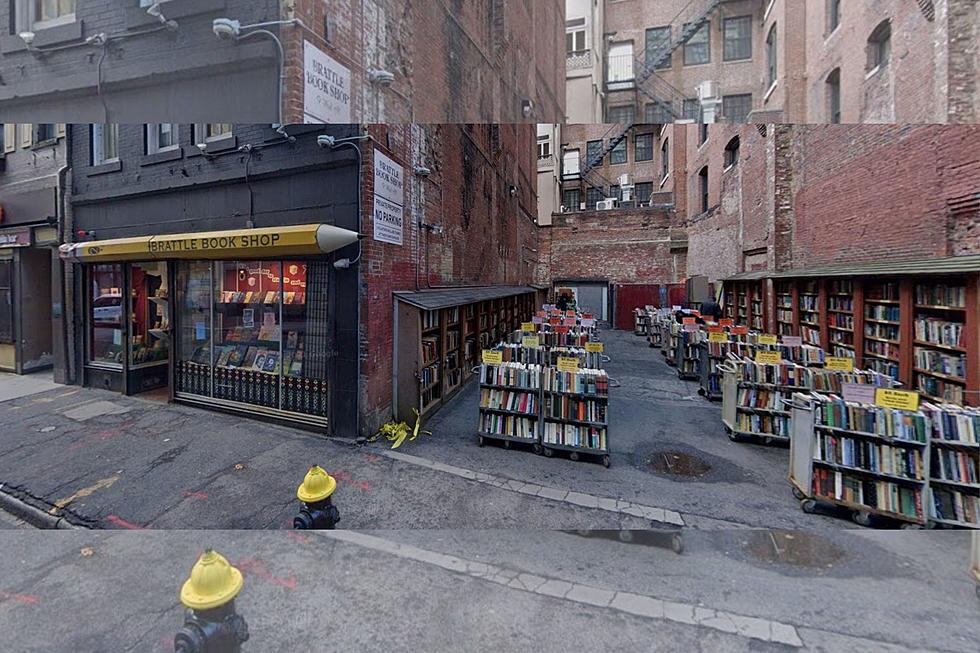 Boston's Brattle Book Shop Is a Hidden Gem With Book-Lined Alleys
Google Maps
New England bookworms: This one's for you.
Brattle Book Shop in Boston is the used shop straight out of every avid reader's wildest dreams, and it's a must-visit for anyone who loves books or just loves a little history. Brattle Book Shop is one of the oldest and largest antiquarian book shops in the U.S. It opened in 1825, and since 1949, has been operated by the Gloss family, who has helped build the brand into what it is today.
Take just one look at the shop from the narrow street out front and it's easy to tell that this place is bound to be a gem with thousands upon thousands of titles between multiple floors. Books even line shelves in the alleyway next to the shop.
On top of providing a massive space and an innumerable amount of books for visitors to spend hours searching through, Brattle Book Shop also buys books and does appraisals, for those wondering just how much one of their own books is worth. But at its core, Brattle is a space unlike most in the U.S., with such a range of titles that vary in both price and value.
"I mean, you can come here and buy ten thousand books for a dollar a piece or you can buy a book for ten thousand dollars, and there aren't many places where you can do that, if there are any," one employee said in a video for Brattle Book Shop.
"We specialize in not specializing," another employee said. "We get in all different types of subjects of books. You might find a book you've been looking for for 30 years [or] you might something you didn't know you were looking for."
Brattle Book Shop is open Monday through Saturday from 9 a.m. to 5:30 p.m., and is located at 9 West St. in Boston, just steps from Boston Commons. What better way to end a trip to Brattle than by stopping by the park and diving into a new story?
SouthCoast's Little Free Libraries
Across the SouthCoast, stewards of Little Free Libraries are sharing their love of reading with their neighbors and keep these great little resources stocked with books for everyone to enjoy.
Fairhaven's Historic Henry Huttleston Rogers' Potting Shed for Sale
See pictures of
18 Cedar Street
, the site of Henry Huttleston Rogers' former potting shed for his greenhouse that could actually be your dream home in Fairhaven Village.
Bask in Your Own Tropical Paradise in the Middle of Massachusetts
Massachusetts residents truly are lucky in that we get to experience all four seasons throughout the year. But you know one thing we
are
missing? A little bit of tropical paradise.
Step inside this home for sale
smack dab in the middle of Massachusetts that actually offers exactly what the rest of the state is missing out on.... We promise this place is
epic
.