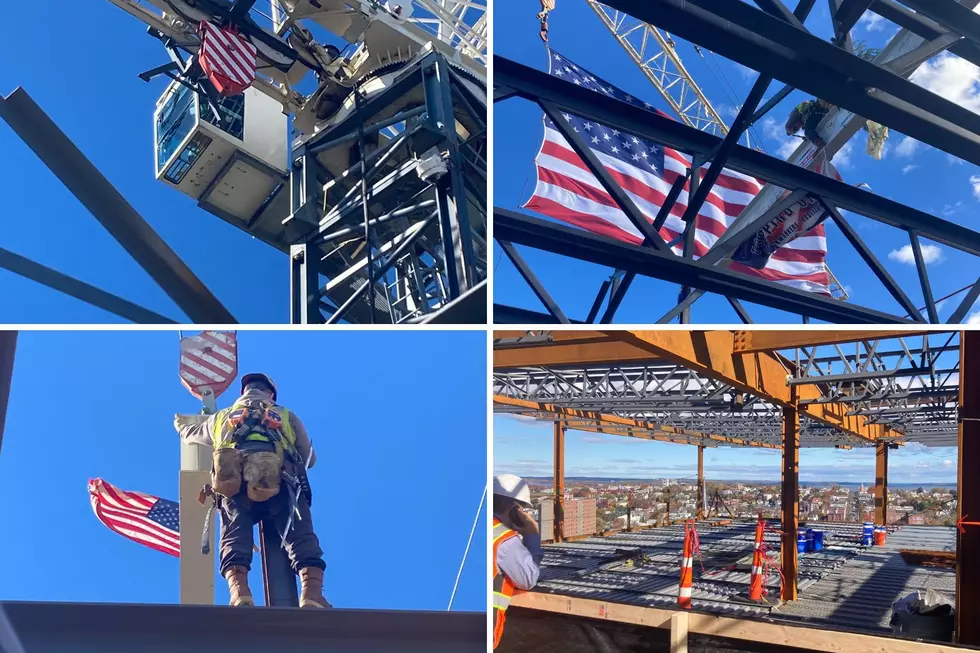 A Simply Stunning Topping-Off Ceremony Was Held for Maine's Tallest Building
TSM: Canva
So, how are you with heights?
Me? I'm not a big fan. I have tried to overcome my fear without a lot of success. However, it doesn't stop me from being absolutely fascinated with videos that will make any acrophobic's legs weaken.
However, there was no way I was passing up an opportunity to truly test that fear, as I recently had an invitation to a very special event.
Iron Worker Topping-Off Ceremony
Right next to our radio station is what will become Maine's tallest building. The future apartment complex from Redfern Properties and Landry/French Construction held a very special topping-off ceremony. This traditional construction celebration commemorates the final piece of iron being attached to the building's frame.
The ceremony itself was quite something. However, there was no way I would be watching this from the ground. Nope. We media folks got the full service with a trip up to the 18th floor to watch the ceremony unfold. That's right, I was heading up to the 18th floor of a completely open building. This was either going to be epic or would end with me not stepping out of the elevator.
We hit the 18th floor and the service elevator doors opened. We all stepped out to the most amazing views I have ever seen in Portland. We also walked out to wind gusts that felt like we were on top of Mount Everest.
However, it didn't bother the iron workers. For them, it was just business as usual.
As the final piece came down into place, the two workers were cheered on by the small group that was on the 18th floor. The piece went into place along with a small pine tree. The two workers came together and shook hands to signal the final attachment.
An Evergreen on Top of a Building
The relevance of the tree is quite fascinating. Developers do this to appease the Scandinavian Gods for the displacement of trees. You can read more about it here. Believe me, the last thing you want to do is tick off Scandinavian Gods. Better to be safe than sorry.
While the frame is set, the building itself still has a ways to go. The window panels will soon be placed, with more detailed work on the interior starting up as well. Developer Jonathan Culley told us yesterday to expect the project to be completed in November of 2023. It will be a mixture of apartments, which this city desperately needs.
A big thank you to Landry/French and Redfern Properties for the invitation to the ceremony. What an incredible day it ended up being. It was an experience I will never forget.
Congratulations to the 200+ workers who have accomplished quite a feat. I look forward to seeing the building continue to progress into Portland's newest skyscraper.
You can enjoy more images below.
Amazing Images of Maine's Tallest Building's Topping-Off Ceremony
Redfern Properties
,
Landy/French Construction
and the numerous workers who have been building Maine's new tallest building came together for the topping-off ceremony. It's a tradition in which the final piece of iron is placed on a building's frame.
Here is a closer look on that final piece going up on Portland's newest skyscraper.
10 Things You Aren't Allowed to Throw Away in Maine
From batteries to big screen TVs, here are 10 household things that you aren't allowed to throw away in the trash