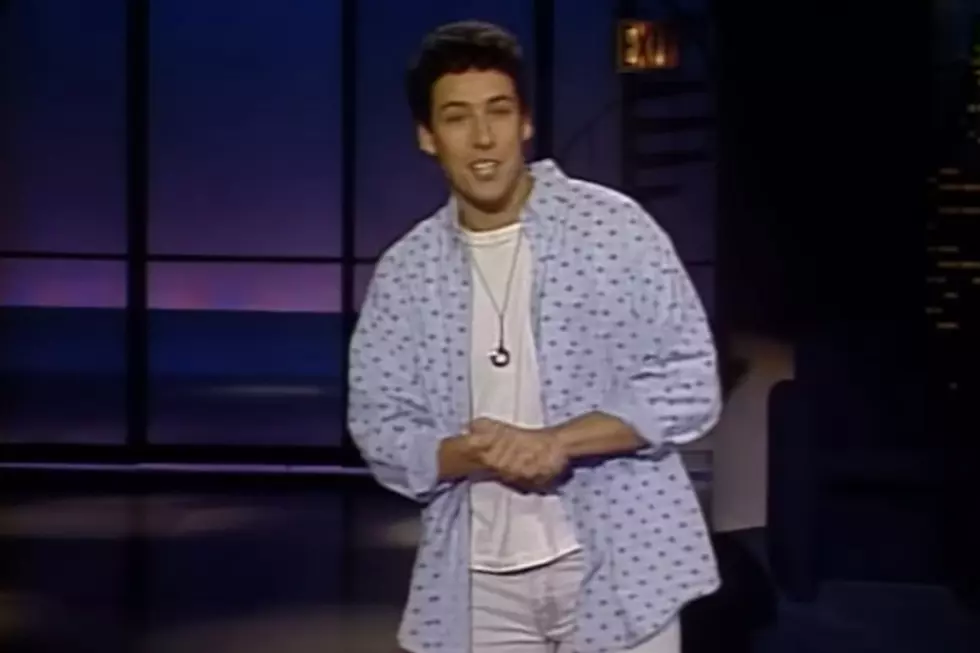 Watch Adam Sandler's 1991 TV Debut Before Seeing His Live Show in Manchester, NH
Letterman via YouTube
Comedian, movie star and New England-born and raised, Adam Sandler is going on tour and stopping at the city he grew up in, Manchester, New Hampshire. It's no surprise that when tickets went on sale last week for his show on Saturday, October 22 at the SNHU Arena, they got snatched up faster than you can say "The Price is Wrong Bitch!"
Sandler's tour is also hitting up a couple of other venues in New England as well including Mohegan Sun on October 20 and the new MGM Music Hall at Fenway Park on October 23.
Sandler rose to stardom starting out playing The Stud Boy on MTV's game show Remote Control in 1987 alongside another future SNL cast member, Colin Quinn.
He was hired as a writer for Saturday Night Live in 1990 and became a cast member in 1991.
From there, he has several hit movies, some of the most memorable being  The Wedding Singer, Billy Madison, The Waterboy, Happy Gilmore and Big Daddy.
Davide Letterman's YouTube channel recently posted a video from 1991 of Adam Sandler making his network television debut on Late Night with David Letterman doing standup. Back in '91 making your "network television debut" was a big deal. There were no streaming channels, Tik Tok, or YouTube videos where you could be discovered. The broadcast networks were the place to get known.
At the time this aired on April 4, 1991, Sandler was just 24 years old. Who knew he would become the sensation that he is today?
After his standup routine, he sits down at the desk with Dave who asks where he's from. Adam replies "Manchester, New Hampshire." Dave says "Well, not familiar with it. I'll take your word for it. I've heard of it."
If you've got tickets to Adam Sandler's show, congratulations. You're one of the lucky ones. If you really want to go, check out some of the ticket resale sites like Stub Hub to see if you can find a pair.
30 "Under-the-Radar" Restaurants in Maine
Thanks to our great listeners we were able to compile a list of many of Maine's great "under-the-radar" restaurants, cafes, pubs and bakeries.
These great spots can be found across the state, and waiting for you to give them a try.
How many have you been to?
This $20.5 Million Dollar Massachusetts Home is Right Out of 'The Great Gatsby'