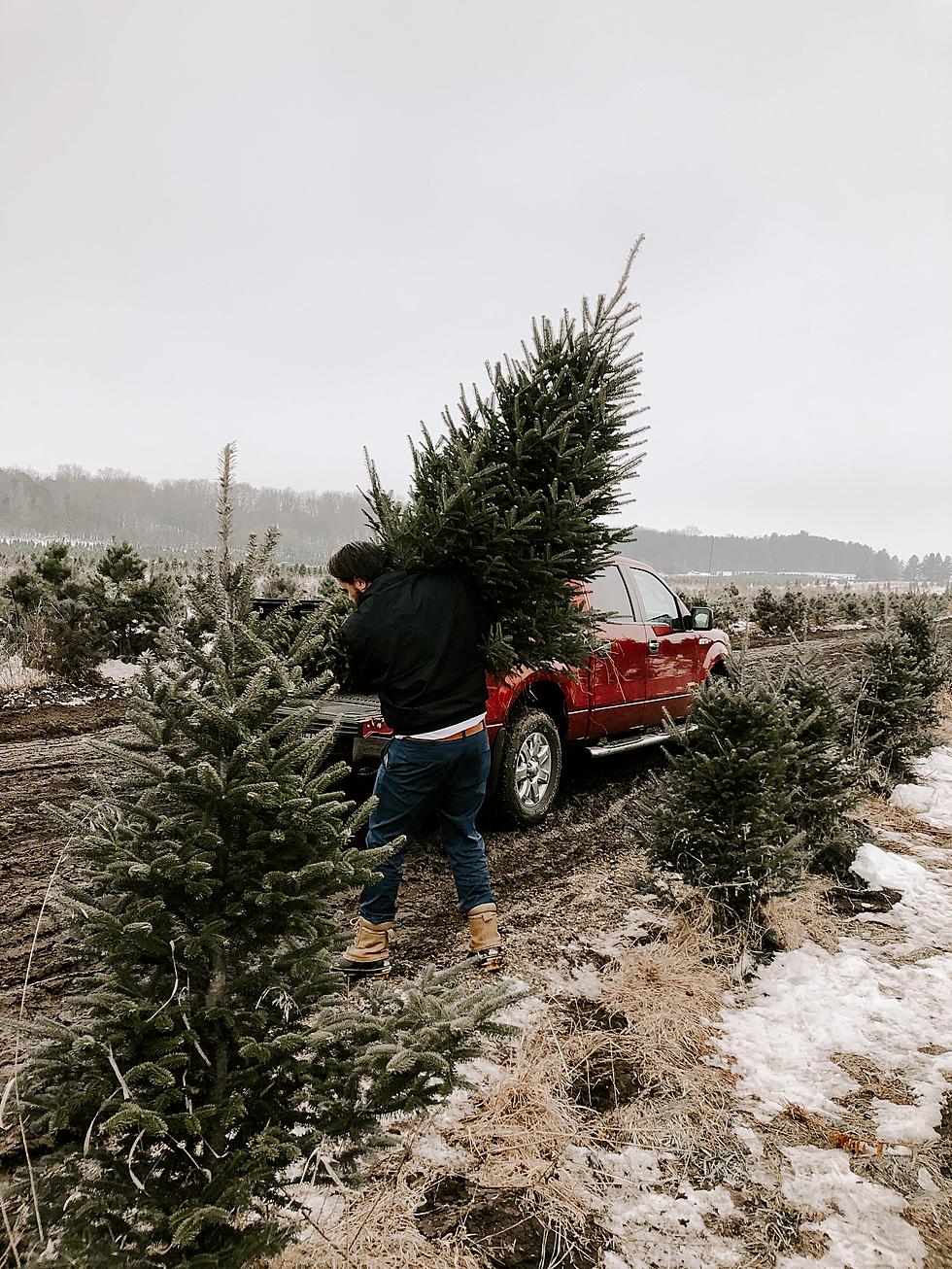 Want a Real Christmas Tree? These 5 Maine Farms Have You Covered
Julianna Arjes via Unsplash
Can you smell the pine as you walk into your home? Can you feel the sap between your fingers while mistakenly running them through your hair and yelling for your partner to get the scissors? Do you have a constant craving for Mom's special gravy or spiked eggnog? Lastly, when you drive down the road everything starts to instantly look 10 times prettier because of the Christmas lights doesn't it?
One of the most joyous outings we Mainers embark on is seeking out the classic Christmas tree.
Clark Griswald was right when he said, "We're kicking off our fun, old-fashioned family Christmas by heading out into the country in the old front-wheel drive sleigh to embrace the frosty majesty of the winter landscape and select that most important of Christmas symbols."
Clark was not talking about mirth, whatever that is, he was talking about the legendary and unavoidably mandatory trip for your family to choose the unforgettable and not-so Charlie Brown, Christmas tree.
I published a post on Facebook asking which farms to visit this year to get a tree. In this article, I will show you the 5 Tree Farms in different locations in Maine for ease of travel that has got you covered for your holiday tidings of joy.
Although I am not a lawyer, here is a quick Lizzy Legal Note, according to Pick Your Own Christmas Trees, they suggest for you always to call, or visit the farm's website or Facebook page before you go. Many lots are selling out of trees early this year or have COVID-19 requirements. Make sure to call and confirm their supply! Also, check to see what the hours are and if they are allowing the "choose-to-cut" or just "precut" trees and what's available for activities.
---
1. Coming in at number one is Frederickson's Tree Farm, located in Monmouth. I was referred to this farm by many facebookers and was also able to chat via messenger with one of the people who work there. Feel free to choose from their selection of Premium Balsam Firs. With their "Choose and Cut Program," they can provide you with a hand saw or you may bring your own to cut your tree down. They always operate to the maximum to give you the most splendid choice in trees. Visit Frederickson's!
---
2. Tree's To Please LLC is located in Norridgewock. They aim to please with their trees and grow Maine native evergreens, flowering annuals, perennials, fall mums, shrubs and shade, ornamental and fruit trees. According to their website, for the holiday season, they offer the Choose & Cut, precut trees, live trees, a gift shop, wreaths, kissing balls, and other fresh evergreen outdoor decorations.
---
3. Balsam Ridge Christmas Tree Farm, located in Raymond will make you feel at home. Full of wonder they not only offer tree cutting but homemade maple products too! As they warmly state on their Website:
"We invite you and your family to walk through our farm and enjoy the relaxed atmosphere selecting the perfect tree for you and your family creating a memorable family experience."
They offer Balsam firs, Fraser Firs, and Balsam/Fraser Hybrids!
---
4. Higgins Christmas Trees located in Winslow are happy to announce via Facebook, they are opening their Tree Season on November 27th! One of the best ways to decide where to jaunt for anything these days is to look at reviews and Higgins has some beloved patrons. They say,
"Beautiful, locally grown trees at a reasonable price! Picking out a tree is a family tradition!"
 

"Friendly owners & beautiful trees! We've gotten our last three trees here & the trees have never dried out (kept well watered) even after being up for a month!"

 

"First impression was great as the owners were there and greeted us. Very friendly and super helpful for finding our perfect tree! They even helped us get the tree loaded and tied down... Couldn't recommend enough!"
Now that is a place that seems to continue to bring Maine families and out-of-towners back!
---
5.  Eastern Slope Farm is located in South Paris and is a farm that I personally, have visited. Pulling in instantly makes you feel the holiday cheer and warmth of the season. They recently announced they are opening on Thanksgiving weekend and are inviting you to come and tag a tree! The first weekend in December, they will also be a full-scale Christmas operation. Additionally, they are taking orders for wreaths and roping too! They offer Fraser and Balsam Firs, as well as a few other varieties. Check out Eastern Slope Farm for up-to-date hours for this season!
So make sure you pack your saw, pull the kids away from Minecraft, and tell everyone to breathe in the fresh balsam and maple as you trudge through the snow acting out your best impression of Clark's Griswald Christmas campaign to find the perfect tree!
Check out Lizzy's First Outing with Co-Workers in Hallowell!
First Outing with Co-workers in Hallowell
This past weekend the on-air talent and spouses from Townsquare in Augusta went Bowling and bonded!
Who Wants to Visit Family Friendly New England Ski Resorts?
Family Friendly New England Ski Resorts
What else needs to be on our list?