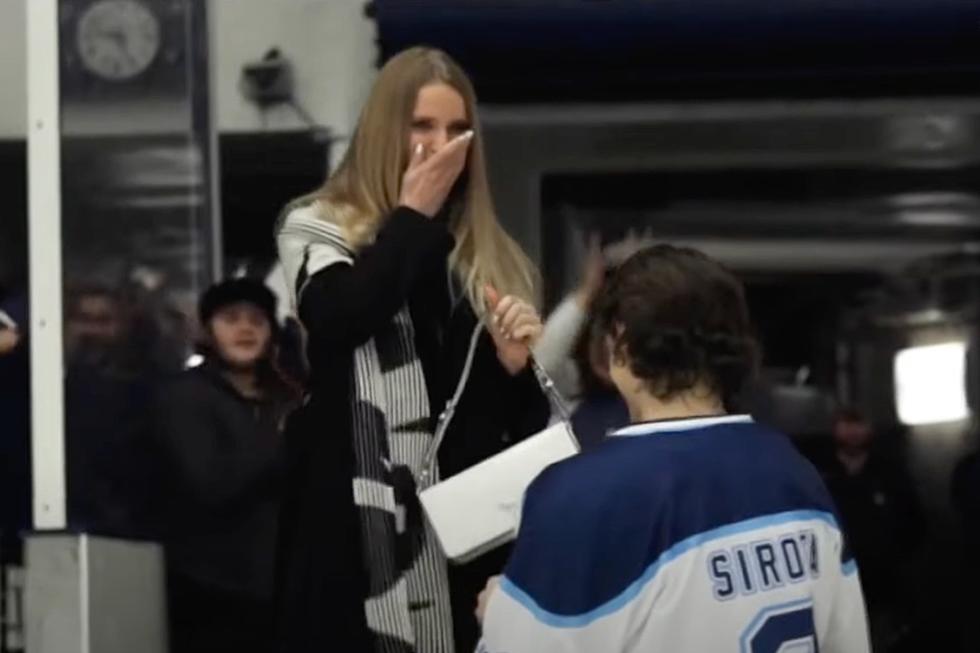 UMaine Black Bear Hockey Senior Proposes to Girlfriend on Ice Before Game
Youtube
Romance with a side of hockey took place at The Alfond Stadium before the University of Maine (Umaine) and University of Massachusetts (Umass) hockey game on Saturday, March 4, 2023.
It was senior night for the UMaine Black Bears. In most collegiate sports, "senior night" is the last regular season home game of the season.
Typically, players, seniors only, will have their parents, family, and loved ones celebrate their collegiate career before the game with a brief moment of recognition to the player and their family.
Senior Jakub Sirota used that moment to create a memory that he and his girlfriend will remember for the rest of their lives.
Honestly, anyone in Alfond Stadium will remember what took place.
After handing off flowers and celebrating with family, Sirota turned to his girlfriend for the moment of truth.
He whispers something, probably romantic, and drops to a knee. ON SKATES. ON THE ICE.
His girlfriend, now fiance, had absolutely no clue it was coming. At least the video would indicate that.
Here is the full proposal below.
Now, many people in the comment section have pointed out that Sirota places the ring on the right hand as opposed to the traditional left-hand, ring finger.
"Bridger Vinal," on Instagram, explained, "for anyone asking, in other countries engagement/marriage hand is the right hand!! I have friends from other countries and their marriage hand is their right hand! The left hand is just the American standard way! Still such a beautiful moment!"
A beautiful moment indeed.
Congratulations to the new Mr. and  Mrs. Sirota.
New Hampshire and Maine Goodwill Stores Do Not Accept These 21 Items
Can you donate it? Check this list before you bring it to your local Goodwill Store.
This Huge Maine Log Home Airbnb With Stunning Sunday River Views Is Ultimate Rustic Luxury
This
Airbnb
that comfortably sleeps 16 is an absolute gem and is perfect for Summer and Winter rentals. Here's a look inside.