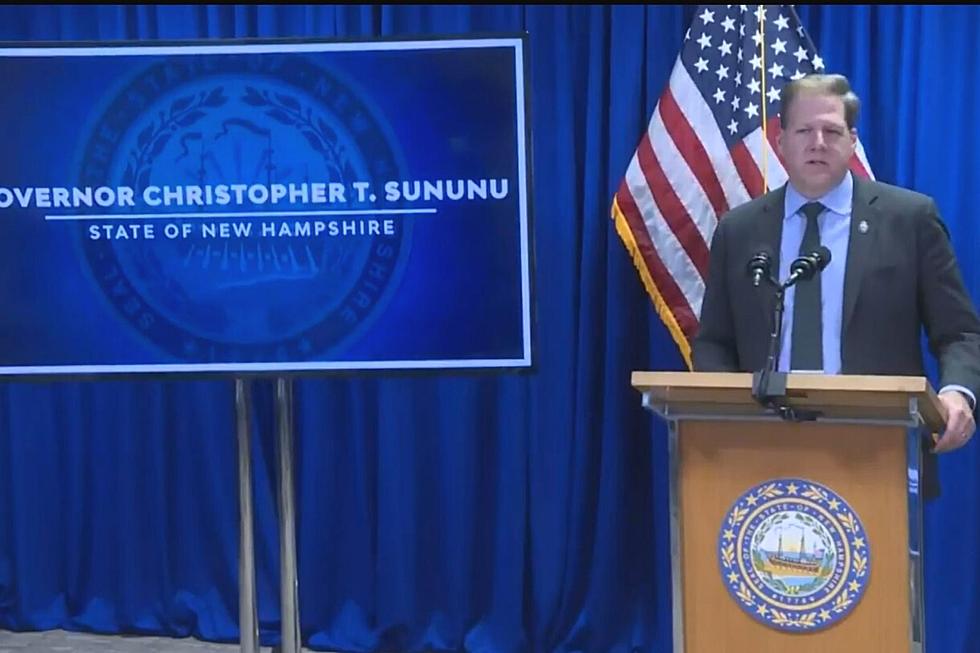 Sununu Says More Tools Coming to Fight COVID-19 Winter Surge
Gov. Chris Sununu at his COVID-19 briefing 12/16/21 (PBS NH)
Help is headed to New Hampshire to get through the COVID-19 winter surge but it's not fast enough for some critics of Gov. Chris Sununu.
During his weekly coronavirus briefing Thursday said that he is working to keep FEMA workers in the state's hospitals past Christmas when they are currently scheduled to leave. A second Booster Blitz with another 10,000 shots will take place on Saturday, Jan. 8 with locations to be announced.
The number of fixed walk-in vaccination and booster locations will also increase with six additional sites pending approval of a contract from the Executive Council
He is working to make "hundreds of thousands" more free test kits available with the "say yes to the test" program before Christmas
"This is the future of managing the COVID pandemic. Home testing, easy access, rapid results for you or your child. New Hampshire's leading the way and I think it's going to keep the burden off the hospitals it's going to reduce transmissions and help us bend that curve down," Sununu said.
Hospital Visit Shows Need for Vaccine
The governor also visited Eliot Hospital in Manchester earlier in the day and talked to the staff and two dozen FEMA workers who are helping to make more beds available for all patients. He noted that while most patients being treated will spend 3-5 days in an intensive care unit a COVID patient could spend 3-5 weeks.
"Which is why we push vaccines. Which is why the boosters are so important and it's on all of us to make sure we're protecting ourselves, our families and our communities," Sununu said.
State epidemiologist Dr. Benjamin Chan reported 1,126 new cases statewide with 463 hospitalizations and 11 deaths. 70% of those who are hospitalized are not vaccinated against COVID-19.
Chan also reported two more cases with the Omicron variant with more expected.
"Based on what we're seeing on other countries and other areas of the U.S. we expect that Omicron is going to increase and there will be an increasing proportion of Omicron in the coming days," Chan said.
Chan said that he expects the number of cases and deaths to increase because of the holiday gatherings and travel.
Democrats Make Response Political
Sununu stood firm on not implementing a statewide mask mandate and defended his comments on CBS' Face the Nation comparing it to being in the penalty box.
"A state of emergency is a huge deal. The idea that we're going to go back and forth in a state of emergency, putting mandates on and taking mandates off and telling 70% of the population that has been fully vaccinated and had their booster you too must make all of these same sacrifices," Sununu said.
There are more tools in place than at the start of the pandemic and it's up to people to take personal responsibility and get vaccinated.
He also said he will not limit gathering sizes at events and in businesses.
Sununu hit back at the comments by Democrats critical of the state response calling it partisan.
"Any Democrats that are standing up trying to politicize the crisis we have today shame on them. That's a sham of public service. One of those Democrats shook my hand last week and said thank you for all that I was doing and then did a press conference," Sununu said.
The group Amplify New Hampshire started an ad campaign Thursday slamming Sununu's response.
"Governor Sununu's lack of leadership on COVID-19 has failed Granite Staters. New Hampshire has the highest number of COVID cases per capita of any state, is experiencing more new COVID cases per day than at any other point, and our hospital beds are nearly full," executive director Craig Brown said in a statement. "Before things get even worse, it's time for Governor Sununu to demonstrate leadership that Granite Staters expect from a governor."
Contact reporter Dan Alexander at Dan.Alexander@townsquaremedia.com or via Twitter @DanAlexanderNH
NH SPCA Rescues 67 Cats from Kensington Home
The cats which are all black and white and range in age from young kittens to full grown had overrun the home, according to Steve Sprowl, Field Services Manager for the NHSPC.