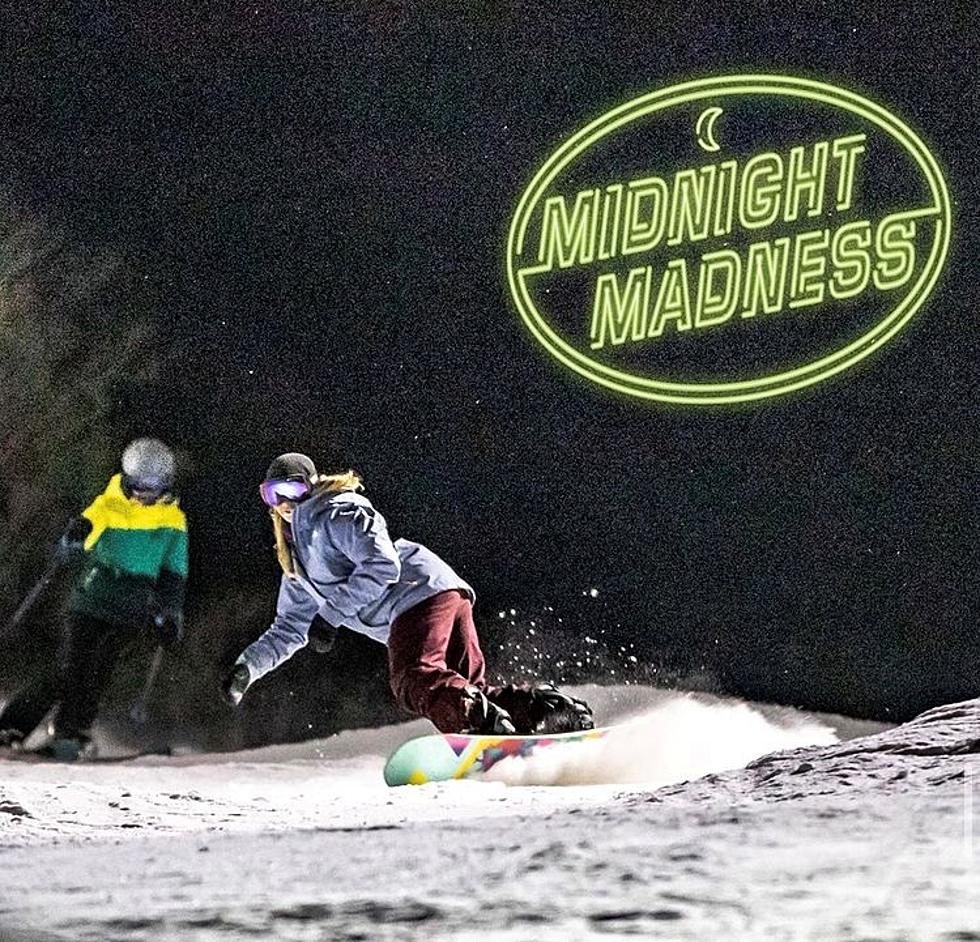 Who Remembers Skiing Until 3 AM at This New Hampshire Mountain?
Crotched Mountain via Instagram
Remember your parents going to bed on a Friday or Saturday night while you and your buddies were just packing up the car to hit the slopes?
I'm not talking about 3 PM in the afternoon. I am talking about when the sun goes down and the fireball comes out: night skiing at Crotched Mountain.
Now that you are feeling nostalgic, a bit older, and perhaps missing your teenage body, here is some more upsetting news: Midnight Madness, aka the only night skiing you could do until 3 AM, is no longer running.
I know. I was in shock, too.
This came to my attention about a week ago. My neighbors and I were all getting together for dinner and drinks. The six of us decided we should plan a night ski trip "like we used to do."
Most of us remembered countless memories of being on the slopes from 9 PM - 3 AM. All of our memories were fairly consistent. There was always a band, DJ, or some other kind of entertainment. There was always a bonfire for the après ski warm-up party.
And speaking of parties, it was always a party. From the lodge bar to the high-speed Crotch Rocket lift, skiers and snowboarders were there to party.
No doubt, Midnight Madness at Crotched Mountain in New Hampshire was the place to be!
Previously operating from 10 PM-3 AM, Crotched Mountain attracted tons of young skiers and snowboarders looking to ski through the night. The mountain and lodge would be packed with night shredders enjoying a once-in-a-lifetime experience.
There were many aspects of Midnight Madness that made it so memorable:
1. The opportunity. Not many people have the chance to ski at 12, 1, or 2 in the morning...
2. The accessibility. Crotched Mountain is located in Bennington, New Hampshire. The mountain is only an hour and a half from Boston and the Seacoast, 50 minutes from Nashua, and 40 minutes from Manchester.
3. Crotched is a fun mountain. It is a mountain for beginners to learn, intermediates to sharpen skills, and experts...well, the experts were probably just enjoying the party!
Today, Midnight Madness is simply "night skiing." Crotched Mountain offers the experience to ski in the evening; however, if you are plan to go, make sure to hit the slopes earlier than midnight. Night skiing at Crotched Mountain runs until 9 PM now.
Fortunately, I looked this up before going. If I hadn't, a car full of my neighbors would likely be pulling into the parking lot as the lift lights went black.
It is unknown if Midnight Madness will ever come back. To those like me who have unlimited memories from simpler times...hold on to them. Those were the good ole days.
Best New England Ski Mountains for Advanced Skiers
What ski mountains are the best mountains in New England for advanced and expert skiers/snowboarders? See the most difficult/best mountains for those looking for some difficult terrain.
Here Are 50 Things People Hate the Most About Winter Driving in New England
No matter how many times we deal with it, it's never any less annoying.
These Items Will Give You Nostalgia for Yoken's Restaurant in Portsmouth
Take a look back at these Yoken's family restaurant items from a menu to the famous treasure chest and "Thar She Blows" whale sign.