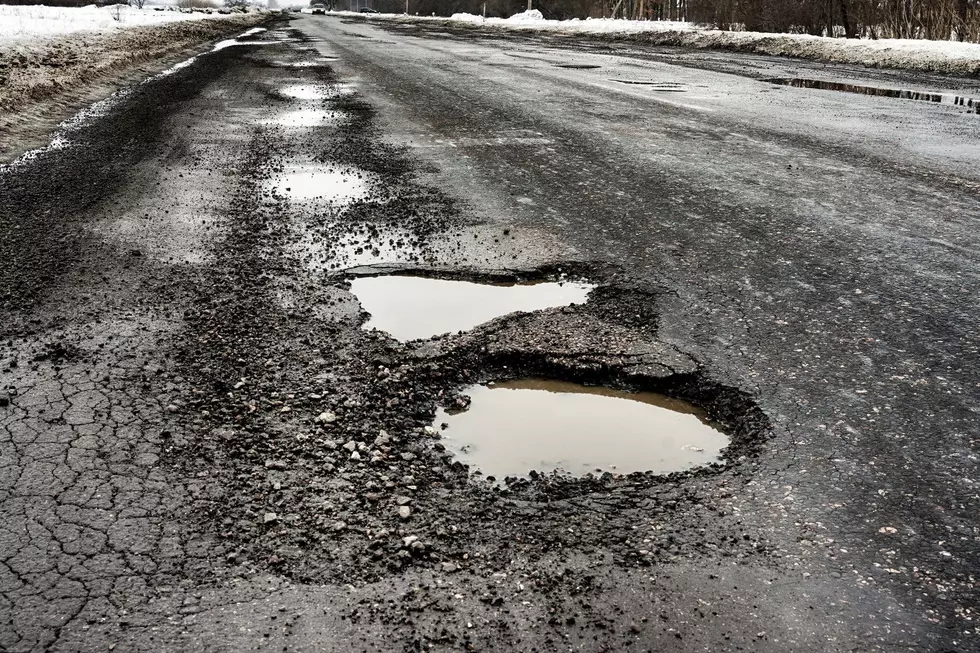 Potholes Suck! Remember When Someone Brought Christmas Spirit to Potholes in Massachusetts?
Getty Images
As the headline states....potholes suck! We all know this, and we know New England probably has some of the worst potholes in the country. It seriously gets to the point, where I have to make sure not to drive down certain roads because there are honestly, just too many on the street.
Literally, the bump in the road is something I dread, but I know I am bound to come across a pothole almost daily while driving in New England.
We try to dodge them, and we drive slow when we know they are there, but still, we have the risk of a pothole puncturing our tires, or causing some sort of damage. Potholes can knock our vehicles out of alignment, damage our suspension, and ruin our shocks or struts.
Again...potholes suck!
It really seems like it takes forever for potholes to get fixed/filled if they even do, and honestly, it's quite annoying. We hate them, visitors hate, them, and they really should get resolved.
Well, back in 2020 one person took the problem into their own hands in one of the best ways. Instead of just finding a way to fight for potholes to be filled, they filled some potholes themself and also shared some Christmas spirit in the process.
Imagine driving down the street, ready to dodge some potholes, and instead seeing little Christmas trees planted inside of them.
That is exactly what happened a couple of years ago in 2020 when one person took a passive-aggressive approach to fill some potholes in North Attleboro, Massachusetts.
I mean talk about a fun and decorative way to fill some potholes during the holidays! Granted you may run over a tree, but it would probably be better on your tires and your car than those pesky and annoying potholes we drive through every day.
There are dangerous roads everywhere, keep scrolling to see some dangerous roads in Maine.
30 Most Dangerous Sections of Road in Maine
There are plenty of sections of road that you have come across here in the State of Maine that have you gripping the steering wheel a little more than other sections. Here is the list of the Most Dangerous Roads of Maine from the past three years of crashes, injuries, and fatalities from the Maine Department of Transportation. Do you live on one of these roads?
Top 10 Most Stolen Vehicles in New Hampshire, Maine, and Massachusetts
Is your vehicle the one car thieves want the most? Check out the list for MA, ME, and NH.