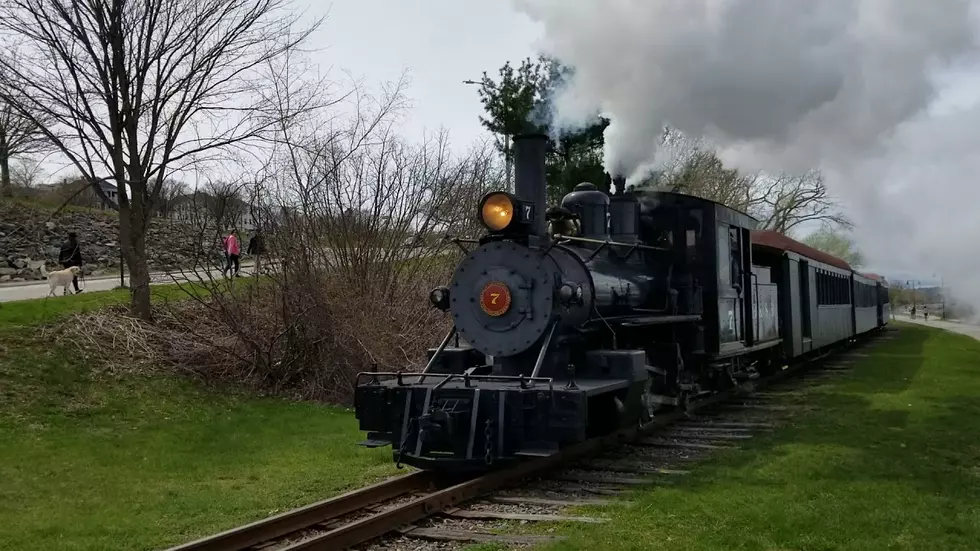 Rails and Ales Trains Return to the Maine Narrow Gauge Railroad Sept 2
Jeff Parsons - Townsquare Media
If you've never taken a ride around the Eastern Prom in Portland on the Maine Narrow Gauge Railroad, this Friday is the perfect time to kick off the Labor Day weekend with a trip on a Rails & Ales train.
The Maine Narrow Gauge Railroad uses the former Grand Trunk Railroad line from India Street, around the Eastern Prom and to the mouth of Back Cove where the Grand Trunk swing bridge is. When the bridge burned in 1984 due to arson, the railroad decided not to repair it and moved their Portland rail yard up to Prescumpscot Street.
The Narrow Gauge still uses many of the original railroad ties of the Grand Trunk around the Eastern Prom. If you look at the rails, you'll see that many of the wooden ties are longer than the rails are wide. Standard rails are 4 feet 8.5 inches apart while narrow gauge is just two feet apart, which is why the trains look so much smaller than modern trains.
The smaller cars make for a cozy ride around the Eastern Prom and nothing goes better on that leisurely evening trip up and back than sipping on a delicious brew.
On Friday, September 6, the Maine Narrow Gauge will be running three of their Rails & Ales trains that come with a free beverage with your ticket. The ride is for all ages, but you must be 21 or older if you're going to enjoy the ale part of the trip. If you're bringing the kids, they'll have a selection of soda, fruit juice, flavored seltzer or water. The adults can have a Portland-brewed beer or a hard seltzer.
It might be a good idea to get your tickets in advance at mainenarrowgauge.org just in case the trains sell out.
16 Famous People You Probably Didn't Know Were Born In Maine
From accomplished newspeople to actors and actresses to pro wrestlers, here are some very famous people that you may not realize were born in Maine
This Insane Mega-Mansion is Right in Winslow Maine
This Winslow, Maine mansion at 100 Taylor Road is currently for sale. Take a peek inside this gorgeous Maine home. [Brokered by:
Bean Group
]