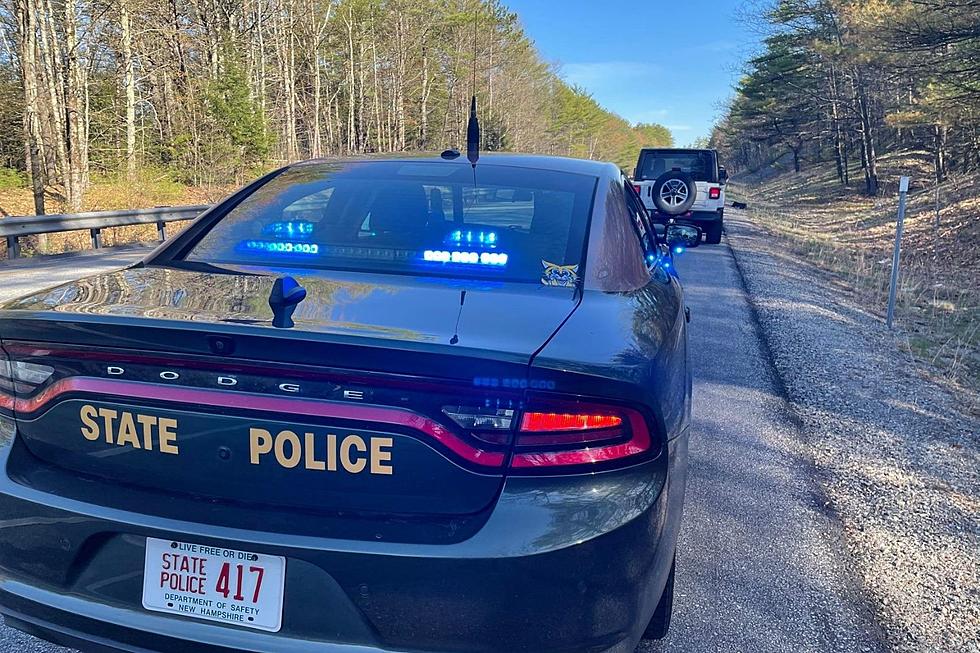 Portsmouth Man Clocked at 113 MPH by Police Charged With DWI
NH State Police vehicle (NH State Police)
A Portsmouth man allegedly driving at 113 miles per hour on Interstate 95 late Wednesday afternoon was charged with drunk driving after he hit a tree at the Portsmouth traffic circle, according to New Hampshire State Police.
A Chevrolet Cruze was reported to police as driving recklessly and swerving nearly causing a crash as it crossed the border from Massachusetts into New Hampshire around 6 p.m.  Police followed the northbound sedan from a distance, which a trooper clocked at one point traveling at 113 miles per hour.
As the car exited the highway at the traffic circle, police said the sedan collided with a 2015 Scion TC operated by Gary Strzepek 22, of Gilmanton, and a 2009 Chevrolet Malibu, driven by Brianna Fitzpatrick, 22, of Dover. It continued onto the center median of the traffic circle where the driver, identified by police as Joseph Noone, 32, of Portsmouth, hit a tree.
Strzepek and Fitzgerald were not injured, according to police. The 911 caller who tipped police to Noone said he had rear-end damage from a possible earlier crash.
Noone was arrested and charged with reckless operation, reckless conduct, driving while intoxicated, operating after suspension and speed. After being examined at Portsmouth Regional Hospital Noone was released from custody on personal recognizance bail pending a court hearing.
Contact reporter Dan Alexander at Dan.Alexander@townsquaremedia.com or via Twitter @DanAlexanderNH
LOOK: How well do you know New Hampshire's official state symbols?
Many people remember learning about their states' history back in elementary school. But can you still remember your state bird? How about your state flower? To test your state knowledge,
Stacker
compiled a list of symbols in New Hampshire.