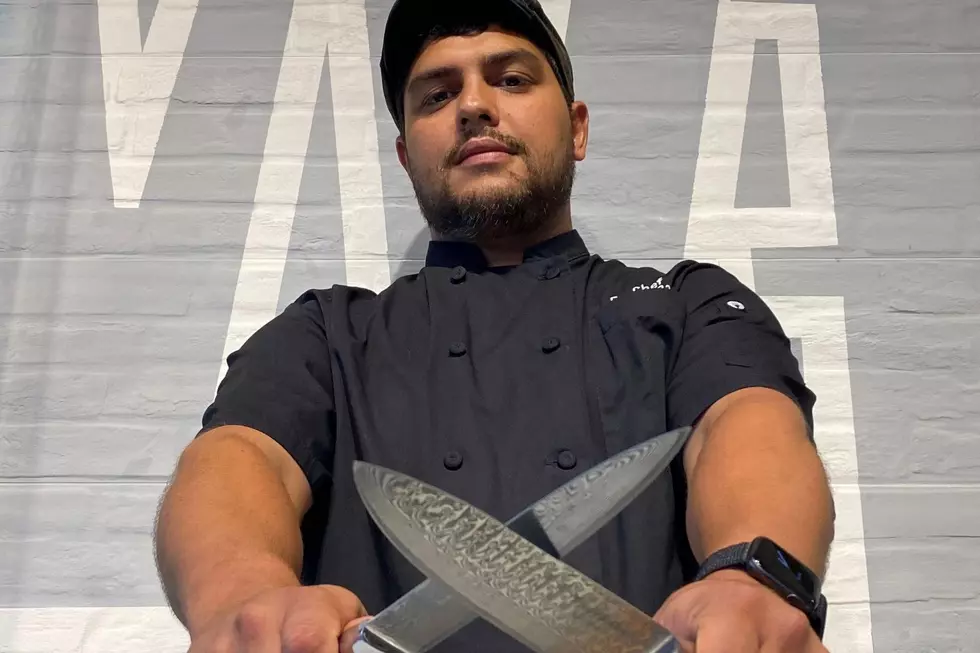 North Conway 'Chopped' Champion Could Win $25,000 on the Food Network Tuesday
Danny Rassi/Wicked Fresh
North Conway may get a little greener this Tuesday night, because our boy Danny Rassi, who is the head chef and owner of Wicked Fresh Craft Burgers and FIRE by Wicked Fresh, both in North Conway, is up for $25,000 and a Grand Championship!
A few weeks back, Danny appeared on what has basically been a 5-part Chopped competition called Chopped Comfort Food Feud. So far, there have been 4 weeks of the competition which has been a face-off of different comfort foods -- pizza, mac and cheese, bacon, and the face-off that Danny won, burgers.
By winning the burger face-off, Danny was launched into the finals (or what he's calling "The Battle of the Titans") to crown the ultimate Comfort Food chef. This Tuesday night at 9p on the Food Network, Danny and the other three face-off winners will go head-to-head-to-head-to-head to crown the Grand Champion of Chopped Comfort Food Feud.
I had the chance to talk to Danny about Tuesday night, including if he's finally glad that all of the secret-keeping will be over (since he obviously can't leak anything to anyone -- not even his own family -- about what went down on the episode(s) that he filmed), what the format of the Grand Championship was set up as (if it revolved around the burgers, pizza, mac and cheese, and bacon that got all four of them there in the first place), and also how his cultural background influenced some of his comfort food dishes in both the burger face-off and Grand Championship.
Listen to the full, un-edited interview with Danny below, then hang tight for a SOLID hookup to both of Danny's DELICIOUS North Conway spots!
Now that you've heard the Burger Champ -- AND POSSIBLY THE COMFORT FOOD GRAND CHAMPION -- speak on his experience and expertise, how about getting a special hookup to either of his North Conway restaurants, Wicked Fresh Craft Burgers or FIRE By Wicked Fresh? SEIZE THE DEAL and snag a $50 voucher to either spot for JUST $25!
Go get 'em, Danny! No matter how Tuesday night ends up, you're STILL the Burger Champ and regardless of even that, we're proud of you for even getting to show that stellar New England mug on the Food Network! Watch and support Danny THIS TUESDAY NIGHT AT 9P ON THE FOOD NETWORK!
Solve These New Hampshire Clues from 'Jeopardy!'