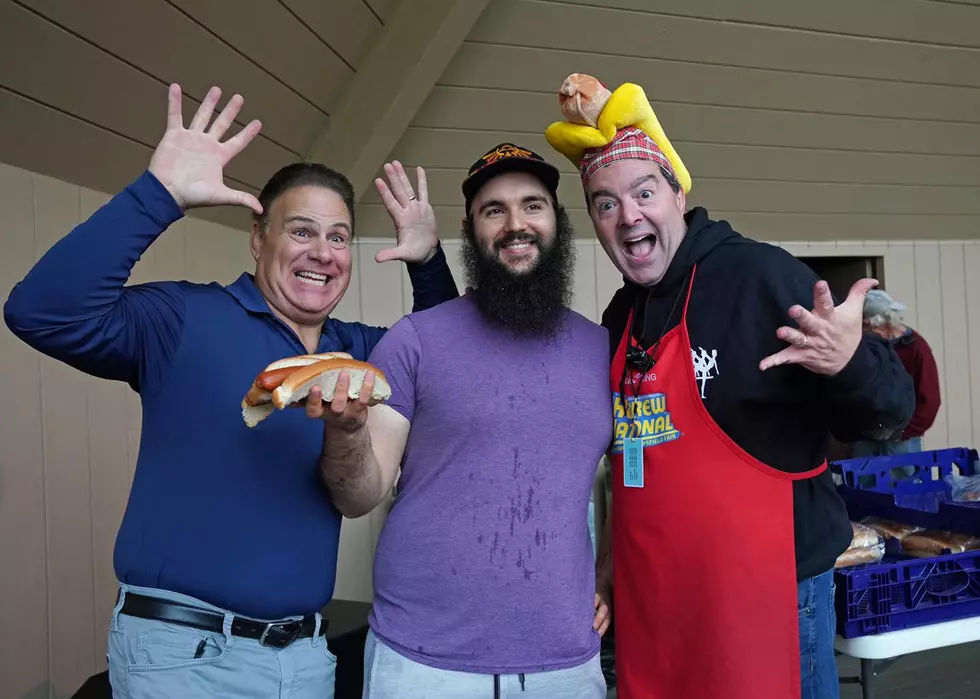 Major Hot Dog Eating Record Broken at Massachusetts Fair
Facebook/Topsfield Fair Official Page
Sorry, Joey Chestnut. With all due respect to your heroics at Coney Island, real history was made here in New England over the weekend.
Warren, Massachusetts, native Brandon Wood set an all-time Topsfield Fair record by consuming 10 quarter pound hot dogs in less than seven minutes, according to the Fair and WHDH 7 News. Just what is a quarter pound hot dog? According to the fair, it is the equivalent of 20 regular hot dogs.
So, using my Emerson College math…it appears that Mr. Wood ate about 200 regular hot dogs in under seven minutes. His prize? $204 dollars, as this is the fair's 204th year.
It wasn't the only record broken this weekend, as a Tyngsboro resident set a record for the biggest pumpkin at the Topsfield Fair.
But it's the hot dog feat that keeps coming back to me. Think about it: 200 hot dogs in under seven minutes. There are bound to be some copycats out there, especially with next year's purse presumably growing to $205. But before you try to hot dog it in Topsfield, here are Eight Great Questions to ask yourself before entering the Topsfield Fair hot dog eating contest:
Do I have a will?
Did I eat the will?
Am I wearing dark pants?
Am I wearing dark shoes?
Are there any lit flames directly behind me?
Do the hot dogs contain pork, beef or Devil Monkey?
Do I have dark seat interiors?
Will this mix well with my morning bowl of candy corn?
Catch These Two New Hampshire 2022 Fairs While You Still Can
2022 Family Friendly Halloween Events
We've put together a list of some of the best trunk or treats and other family friendly Halloween events in Maine. Some of these are free, for others, there is a nominal charge. If there is something we should add to our list, email cooper.fox@townsquaremedia.com