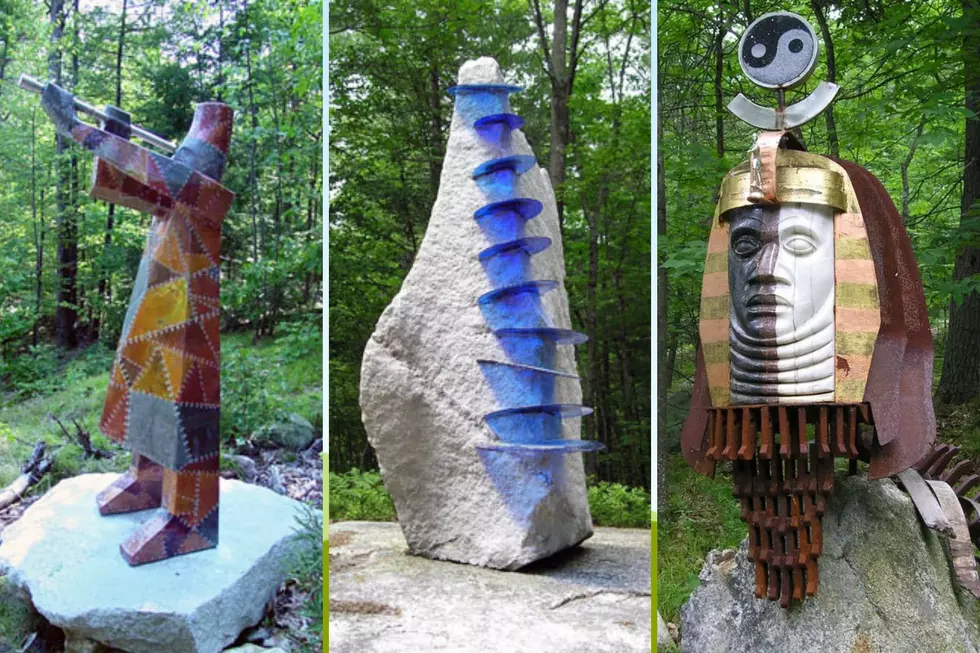 New England's Largest Outdoor Sculpture Park is in New Hampshire
Andres Art Institute
Open year-round so you can enjoy our crisp fall days coming up or winter snowshoeing, the Andres Institute of Art is free and open daily from dawn to dusk.  It's just over the Massachusetts line in Brookline, New Hampshire, about 25 minutes west of Nashua, New Hampshire.
And get this: it's located on a former ski area of Big Bear Mountain, so the adventure is truly spectacular. You can wander as little or as much as you want on the various mapped trails.  Once you arrive, you can enjoy over ten miles of trails spread over 140 acres on Big Bear Mountain, and explore and relax as you roam the park to look at over 100 sculptures from 40+ countries, as the Andres Institute of Art website touts.
The trails wind through the woods as art comes together naturally with our environment:
At Andres Institute of Art, we bring art to our community by making the experience of art an everyday relationship. Our purpose is to bring the visitor into a closer, and perhaps more comfortable relationship with the works of art. By placing sculpture within nature's framework of trees, boulders, critters and mushrooms, viewers are free to consider the inherently beautiful art form nature has to offer along with each piece of art work.
Another exciting aspect of the Andres Institute of Art is its focus on training and educating artists, as well as hosting symposiums, events, and school, group, and club outings.
Everything you need to know before you plan your day at New England's largest outdoor sculpture park is right here.
Immerse Yourself in New Hampshire's Fall Foliage on These 8 Hiking Trails
20 Rooms: Look Inside Tom's of Maine Founders' Stunning 224-Year-Old Home for Sale