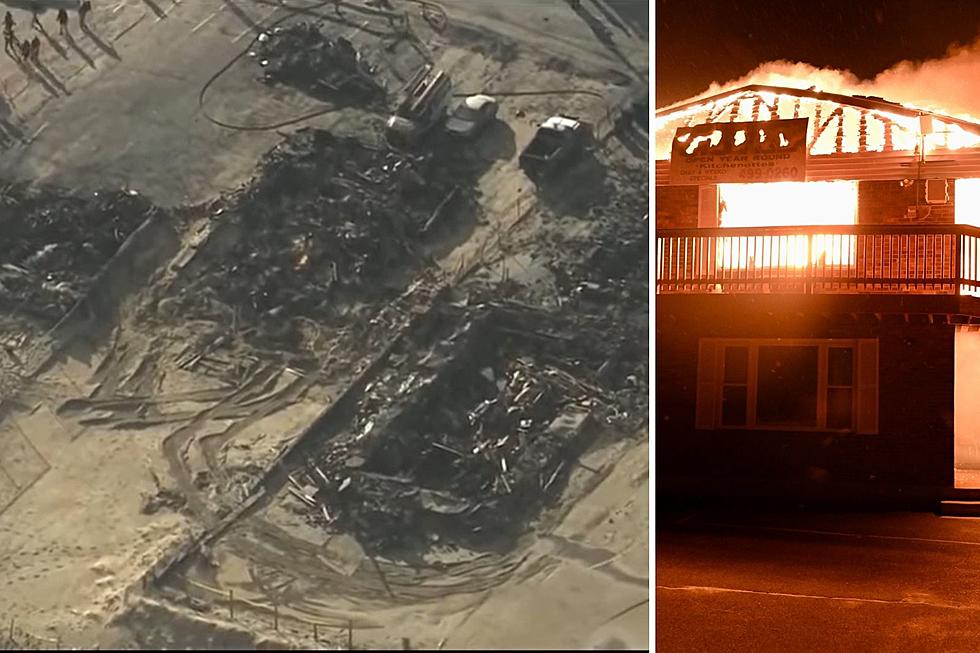 How to Help in the Aftermath of the Massive Salisbury, Mass Motel Fire
Buildings after Salisbury motel fire (WCVB via YouTube); building burns during fire (Michael Kent via Twitter @MAFireMarshall)
An investigation is underway into the cause of the massive early morning fire that destroyed a motel and several other buildings in Salisbury early Monday, displacing over a dozen people.
The fire destroyed Michael's Oceanfront Motel plus a 12-unit apartment building and three homes, according to Salisbury fire officials. All were piles of rubble by midmorning. Video showed melted aluminum siding on some adjacent buildings.
Carrigan told the Newburyport Daily News that 100 firefighters from 27 Massachusetts and New Hampshire fire companies were on scene at the nine-alarm fire for 8 hours, but had the fire under control by around 5 a.m.
The fire was first reported around 1:45 a.m. as winds off the ocean fanned the flames and threatened to push them east, Carrigan told NBC Boston.
"Our top priority throughout the night was to protect the surrounding community from a large and growing fire that was being pushed toward other structures by high wind conditions," Carrigan said.
No residents or firefighters were injured in the fire, but over two dozen people were displaced. They are being assisted by the Red Cross of Massachusetts and the Salvation Army.
The state fire marshal and the Salisbury Fire Department are investigating the cause of the fire.
Help for the Displaced
The Salisbury Lions Club is coordinating relief efforts for the displaced at the Hilton Senior Center.
The Salisbury Elementary School PTA is collecting gift cards for retailers and grocery stores. There is also an immediate need for clothing, health and beauty items, etc.
Students can bring gift cards to school in an envelope labeled 'SES PTA Fire Victim Relief Collection'. They can also be mailed to SES c/o SES PTA Fire Victim Relief Collection 100 Lafayette Rd Salisbury MA 01952.
Contact reporter Dan Alexander at Dan.Alexander@townsquaremedia.com or via Twitter @DanAlexanderNH
Check out Maine's Animal Kingdom Through Trail Cams
Trail cams are a great way to see Maine's wilderness up close and personal. Below is a fun look at some of those cams from around the state.