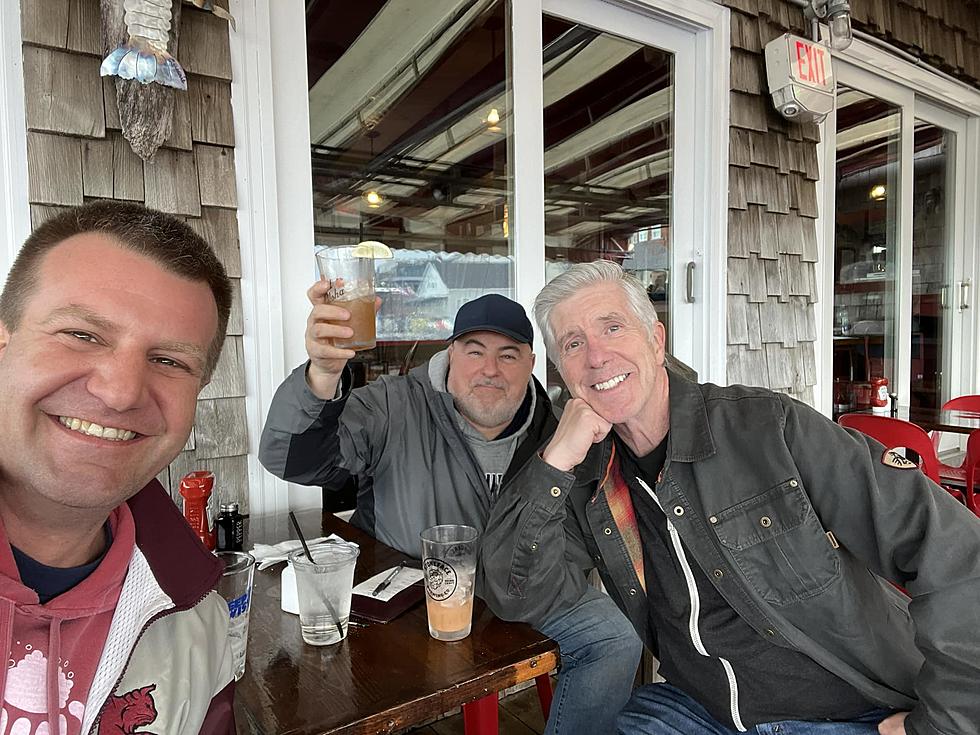 'Dancing with the Stars' Host Tom Bergeron Grabs Some Seafood in Portsmouth
Photo Credit: Rich Blalock via Facebook
Have your dancing shoes ready if you're headed out in Portsmouth this weekend: if you've got the moves, you might just get discovered.
The host of Dancing with the Stars (and Haverhill native) Tom Bergeron was spotted at Old Ferry Landing in Portsmouth on Thursday, as the historic restaurant kicked off its 49th summer. He also took time to pose for a photo with friend and Old Ferry Landing owner Rich Blalock (who, in his day, could play a solid game of AAU basketball).
Though famous worldwide for his legendary hosting skills, Bergeron will always be remembered fondly by many New Englanders for his work with WBZ-TV Channel 4 in Boston.
There, Bergeron was part of a murderers' row of journalists that included Jack Williams, Liz Walker, Bruce Schwoegler, Joyce Kulhawik, Shelby Scott, John Henning, Bob Neumeier, Alice Cook, Bill Shields, trailblazing anchor Randy Price, and the legendary Bob Lobel.
Despite all his success in Hollywood – which includes hosting America's Funniest Home Videos, created by fellow Emerson College graduate Vin di Bona – Bergeron must still take pride in landing a leading role in one of the station's beloved holiday fundraiser ads.
But when I hear Tom Bergeron, I think one thing: People Are Talking. Long before Jerry Springer and Maury Povich courted one group while Oprah cornered the other, Bergeron kept his daytime talk show live and local.
Often, he'd host people from the area discussing topics relevant to the region.
But then there were times where you'd flip to Channel 4 and see our friend Tom talking to someone like Spike Lee.
Other times, he'd have a comic like Roseanne Barr.
It's something that's sorely missed in this region – a show and host so well-respected that celebrities would make the trip up to Boston to…talk.
I wonder if he'd be up for a conversation about that (supposedly) famous tugboat from which he was seated just feet away...
The 21 Best Seafood Restaurants in New Hampshire
We reached out to New Hampshire residents on Facebook to ask their favorite seafood joints. These are the ones that came up.
Estate of Boston's Barbara Walters is Selling Her Stunning 5th Avenue Manhattan Home