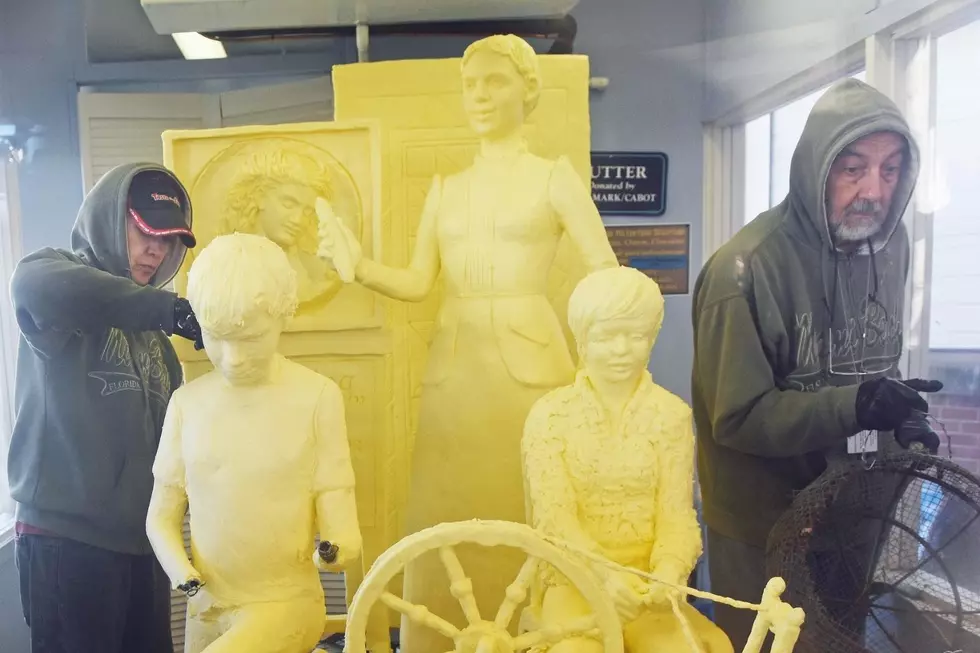 An Incredible Sculpture Made from 600 Pounds of Butter Was in Massachusetts
The Big E via Facebook
The Big E, headlined as America's premier exposition and world's only multi-state fair, recently closed out its 2022 season in West Springfield, Massachusetts.
Starting all the way back in the early 1900s, according to massmoments.com, the event has been a staple event for people in New England.
Wildly enough, this year, over 1.5 million people went to the fair and six daily attendance records were broken, according to a Facebook post by The Big E. That's a lot of people!
There were plenty of amusement rides to try, delicious foods to devour, and musical acts to blast out some tunes amongst all the activities and set-ups throughout, but there was one in particular that certainly turned heads.
Behold the epic butter sculpture:
The Big E's Facebook post shared that over 600 pounds of Agri-Mark/Cabot Creamery Cooperative butter were used to become the display.
Thankfully, weightofstuff.com can help us compare other 600-pound things to get a sense of just how massive that is. You know, like a vending machine. Or a piano. Or even a male grizzly bear.
Now imagine if you made one of those out of 600-pounds of butter. Mind blown.
Jim Victor and Marie Pelton are the sculptors behind this year's butter art, the Big E's website stated, and it's been an annual display since 1996.
Just take a look at some of the other butter sculptures that have been crafted over the years.
In 2021, a little boy is walking a cow made of butter:
Or how about in 2014, the butter sculpture depicted two people washing a cow complete with a spraying hose of butter:
2013 was a year of a butter tree and a block of cheese:
And 2012 was the year for a "cash cow."
Did you get a chance to view the butter sculpture this year? It's always under the Mallary Rotunda.
If not, there's always next year. Wonder what they'll think of designing next.
LOOK: Things from the year you were born that don't exist anymore
The iconic (and at times silly) toys, technologies, and electronics have been usurped since their grand entrance, either by advances in technology or breakthroughs in common sense.
See how many things on this list
trigger childhood memories—and which ones were here and gone so fast you missed them entirely.
Here Are the 10 Best Maine Restaurants to Eat at During the Fall
Maine is the getaway state to find your inner "foodie", especially with what we have to offer during our fall season. So grab your comfy blanket and notepad because I am going to give you the ultimate list of fall food spots.