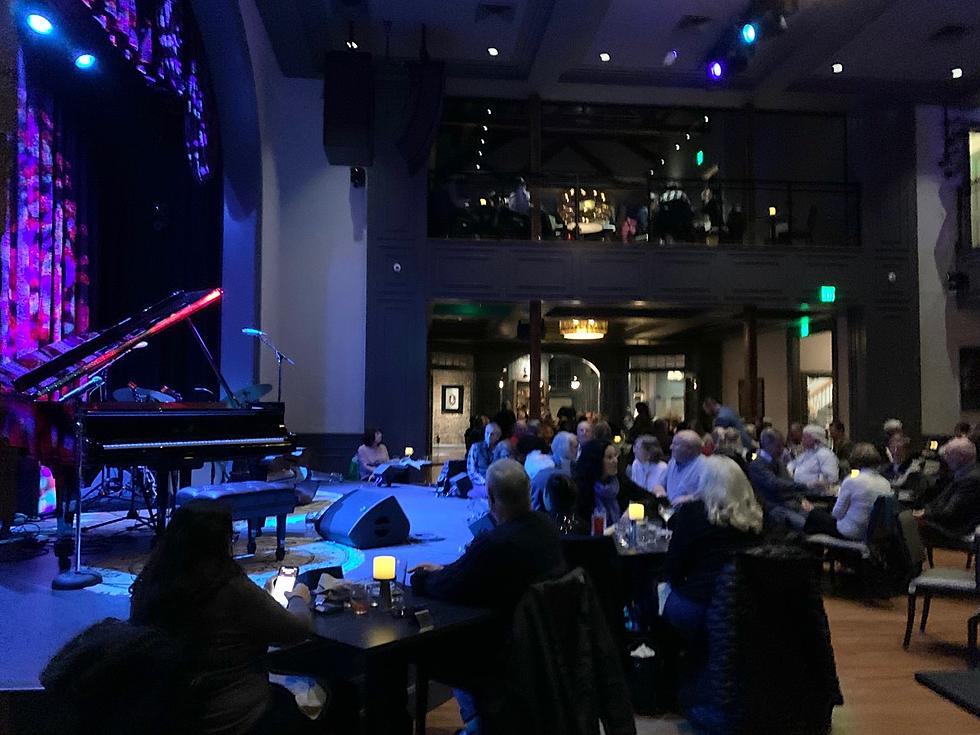 'Ya Like Jazz?': Jimmy's Jazz & Blues Club in Portsmouth, NH Is the Intimate, Elegant Night Out You've Been Looking For
Megan Murphy, Townsquare Media
I've been wanting to check this place out ever since a friend told me about it, and it honestly exceeded my expectations.
Jimmy's Jazz & Blues Club opened just a few months ago in Portsmouth and is already making a name for itself as a venue with excellent cuisine and most importantly, a year-round lineup of jazz and blues performers from across the country.
According to the Club's website, the original space was constructed in 1905 for the local YMCA, but the upper floors had been deserted since the 1950s...that is, until brothers Michael and Peter Labrie transformed it into Jimmy's.
On Saturday night, two girlfriends and I met at the Club with tickets to see the Fred Hersch Trio. We were very impressed and absolutely loved the intimate, elegant atmosphere.
I mean, just look at this place.
Our seats were in the sky bar area, which I was unsure about because of the potentially obstructive view. However, large windows opened the space up and made us feel involved rather than cut off and secluded.
It turned out that the view didn't even matter, as we ultimately wanted to socialize with music in the background.
Despite being advertised as a club, staff did remind visitors to keep voices down during the performance, which could be a bummer for those who want a louder nightclub atmosphere. Since the bar was off to the side, those of us in that area could still get away with whispering without being disruptive.
That said, if you're looking to quietly and attentively listen to music, sitting in the mainstage area might be the best bet for you. There are also other seating areas including the Library, Casablanca Room, and Elle's Bar, Living Room and Balcony that could be viable options.
Either way, seats are open to attendees two hours prior to showtime, so those who want to converse at a normal volume can do so.
We didn't try any entrees during our visit, but I did take advantage of the full bar and help myself to a nice glass of Pinot Grigio.
One thing to note about Jimmy's: unless you reserve an entire table, you may wind up sitting at a table with strangers across from or next to you. Fortunately for us, we sat across from a young couple who couldn't have been more polite and understanding.
Guests are also required to show proof of COVID vaccination or a negative test within 72 hours of an event, according to their COVID-19 policy.
I look forward to seeing Jimmy's grow as a popular favorite spot in the community. My friends and I absolutely loved our first visit, and I know I'll definitely be back again.
P.S. Here's the iconic 'Bee Movie' quote that inspired the headline for this article. I feel it is my moral obligation to include it here (sorry, not sorry).
Don't Complain: 7 Reasons You are Lucky to be Living in New Hampshire
Despite our punishing Winters, here are seven reasons you should feel lucky to be livin' that New Hampshire life!
25 Restaurants We Don't Have in New Hampshire but we Totally Should
How great would it be if all the best restaurants were right here in the Granite State? WOKQ listeners wish these 25 restaurants would open a New Hampshire location!