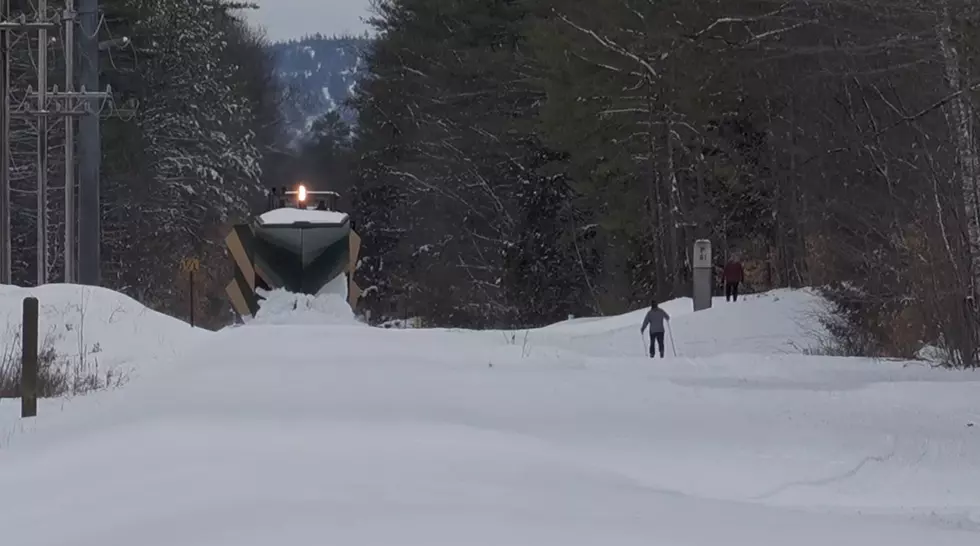 Watch How The Conway Scenic Railroad Clears Snow From Their Tracks
Conway Scenic Railroad via Facebook
One of the true gems of New England is the Conway Scenic Railroad, which has been offering train excursions since 1974. In those years the heritage railroad has expanded from using just 7 miles of track from Conway to Intervale to over 50 miles today that take riders on the former Maine Central Railroad Mountain Division all the way to Crawford Notch. If you've never ridden the Conway Scenic, you're missing a trip that takes you through some of the most beautiful scenery in all of New England.
Conway Scenic Railroad operates a Snow Train through the end of February with trips from Conway to Attitash Mountain Resort in Bartlett. To do that though, the tracks need to be clear of snow and that's a process that is very fascinating to watch.
On February 3, the day after over a foot of snow fell in Conway, the railroad was out clearing the tracks using their Russell snow plow. The plow is basically a rail car with a tall plow attached to it that is pushed by locomotive from behind, which on this day was Conway Scenic's number 573 locomotive. It was originally owned by the former Maine Central Railroad and was built in 1950.
The plow itself has its own cab where a crew can watch from as they make their way along the rails, pushing snow to the sides while communicating with engineer in the locomotive on when to slow, stop or start up again. The cab even has its own horn to blow as they approach railroad crossings.
Conway Scenic posted a video on their Facebook showing the plow in action as it travels through the snowy woods, where at one point it passes some cross country skiers who stop to watch as the massive plow travels by.
If you'd like to learn more about the Conway Scenic Railroad or book a ride on the Snow Train, visit their website at the link below.
Pedal on the Rails With Scenic Railriders in Concord, NH
The 100 Best Places to Live on the East Coast