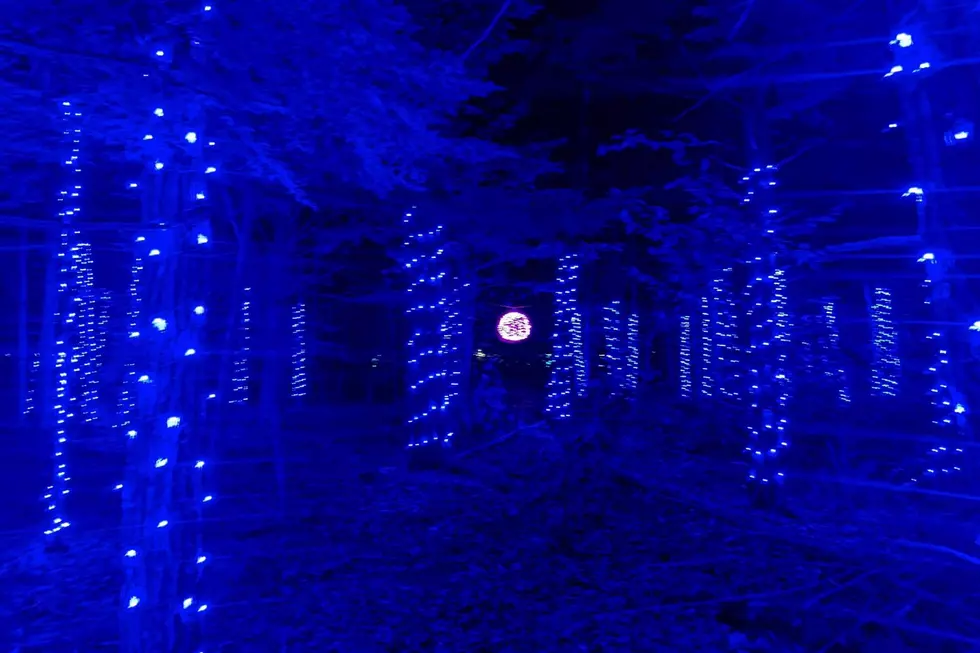 Thousands of Lights illuminate the Woods on This Mystifying Walk in Lebanon, Maine
Facebook via NYTE Walk
One of the fastest-growing attraction ideas in the northeast is utilizing wooded area and unused trails and turning it into something that lights up the night and fascinates the minds of both children and adults alike. The pandemic forced many businesses into creating new and novel ideas with their outdoor space, and as it turned out, people really enjoyed outdoor walks. A new outdoor walk has opened in Lebanon, Maine, and its creations will blow your mind.
It's called NYTE Walk, and for the last year, organizers have been diligently planning and plotting out the nighttime attraction. The NYTE Walk covers more than a quarter mile of trails, and features different themes build from LED lights, black lights, flood lights, and more.
As you progress through the trails, you'll come across different landscapes engulfed in different colors. Rich blues, greens, reds, and more will transform a mundane wooded landscape into a fluorescent scene. Spotted along the trail will be different structures, included small elf houses and fairy dwellings that will ignite the imagination.
The NYTE Walk is not Halloween-themed, nor intended to be scary. It was built to be family-friendly, and all ages are welcome to traverse the area. The trail itself is comprised of wood chips and compacted gravel, making it easy to walk on.
NYTE Walk operates Wednesday through Sunday from now until November 20. Tickets for the walk must be purchased online ahead of time, as there is no ticket center on property. Pets are not permitted at NYTE Walk. NYTE Walk is held at 43 Prospect Hill Road in Lebanon, Maine.
---
18 Things to do in Maine During the Colder Months for $20 or Less
You can enjoy the fall and winter seasons here in Maine without breaking the bank. Here's how to keep the fun alive while still staying in your budget.
Popular Child Stars From Every Year
Below,
Stacker
sifted through movie databases, film histories, celebrity biographies and digital archives to compile this list of popular pint-sized actors from 1919 through 2021.