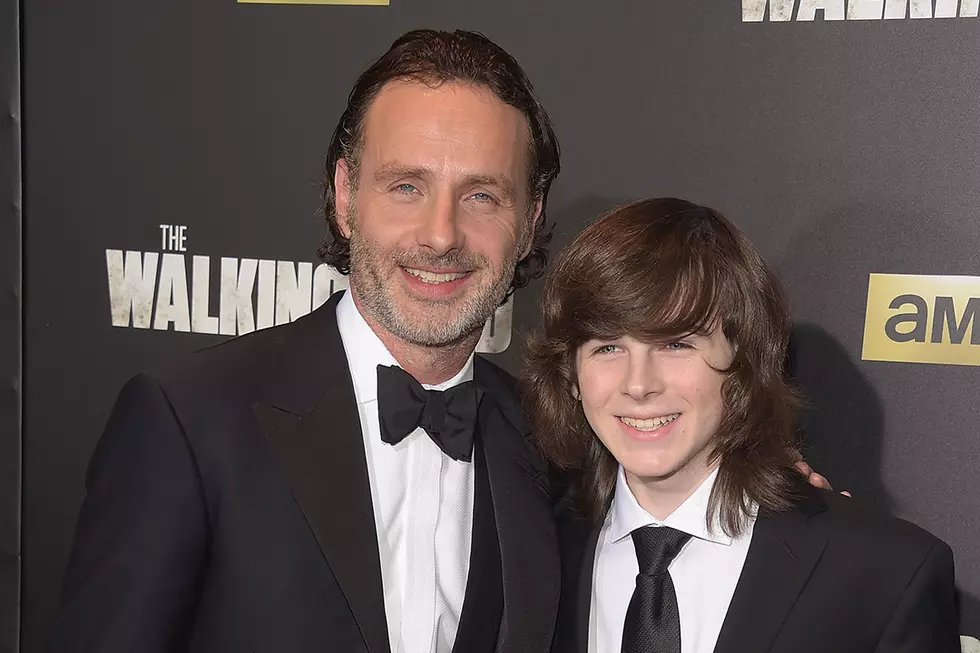 'The Walking Dead' Star Dedicates 'Havana' Parody to Departing Co-Star
Theo Wargo/Getty Images
The Walking Dead star Andrew Lincoln paid tribute to Chandler Riggs, the actor who plays his character Rick's dying son Carl, with a song parody on Twitter.
"There's no better way to say goodbye to Carl than with this beautiful serenade by Andrew Lincoln #TheWalkingDead," the show's Twitter feed teased on Saturday morning.
Lincoln, who is dressed in a cardigan, beanie and scarf, is seen at a keyboard singing a sendup of Camila Cabello's hit "Havana."
The actor's version of the song starts off with: "Chandler, ooh, la, la. Half of my heart is in Chandler, ooh, la, la. He came from east or west Atlanta, ooh, la, la. You know I love you so much, Chandler, ooh, la, la. God, I hate those frickin' zombies. They keep eating all of my friends and family."
It ends with Lincoln telling Riggs, "You know I can't begin to say how much I miss you.
Carl revealed to Rick in the drama's mid-season finale that he had been fatally bitten in the side by a walker. The second half of the show's eighth season began on AMC last night.
By Karen Butler, UPI.com
Copyright © 2018 United Press International, Inc. All Rights Reserved