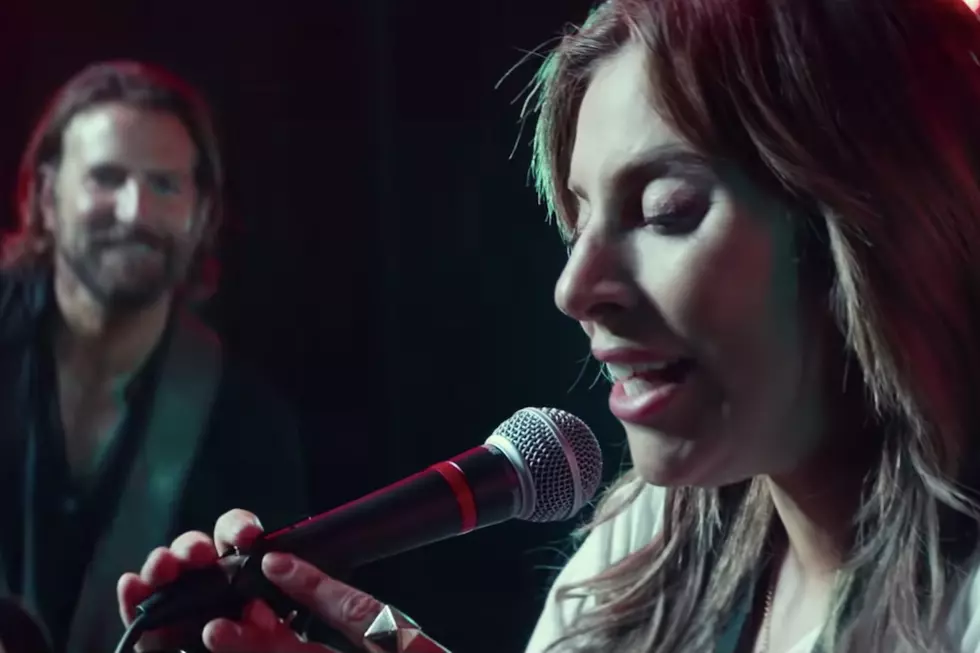 These Are All the Incredibly Talented Songwriters Who Contributed to 'A Star Is Born'
YouTube
The A Star Is Born soundtrack gave Lady Gaga and Bradley Cooper a No. 1 record (likely for two weeks in a row). Though it's true that the pop star and actor co-wrote and performed all the songs in the film, they were surrounded by a team of incredibly talented songwriters who lended their talents to the critically acclaimed movie, and its chart-topping songs.
Here are the writers who contributed to A Star Is Born, and what they wrote.
Willie Nelson's son Lukas was a significant contributor to the film's soundtrack. The 29-year-old co-wrote a handful of songs including "Black Eyes," "Out of Time," "Alibi," "Music to My Eyes," "Look What I Found," "I Don't Know What Love Is," and "Too Far Gone." Aside from collaborating with Cooper and Gaga on so many songs, his band Promise of the Real plays Jackson Maine's (Cooper) band in the movie.
The Grammy-award winning singer-songwriter is best known for his solo work, as well as playing with Americana outfit Drive-By Truckers for six years, so it's no wonder Jason Isbell wrote "Maybe It's Time," which was performed by Cooper.
Mark Ronson and Andrew Wyatt
Mark Ronson and Lady Gaga have been frequent collaborators. The lauded producer was the executive producer of Gaga's country-tinged Joanne, and worked with her again to write one of the soundtrack's most popular tracks, "Shallow." Miike Snow's Andrew Wyatt also contributed his songwriting prowess to the hit.
Julia Michaels and Justin Tranter
Julia Michaels may be known for her own music these days, but the singer-songwriter's career began with writing songs for other people. She's written tunes for Selena Gomez, Demi Lovato, and Shawn Mendes—just to name a few—and contributed to the show stopping track "Heal Me," which was performed by Gaga's Ally. Justin Tranter also helped pen the song. He and Michaels have collaborated on Gomez' "Bad Liar," Justin Bieber's "Sorry" and Michaels' own song "Issues."
DJ White Shadow (Paul DJWS Blair) has contributed to some of Lady Gaga's most memorable anthems, including "Born This Way," "Applause," and "The Edge of Glory," so it's not surprising she recruited him to help out with the A Star Is Born soundtrack. The producer helped write "Look What I Found," "Heal Me," "Is That Alright?," "Why Did You Do That?," "Hair Body Face," and "Before I Cry," which are all performed by Gaga.
Natalie Hemby and Hillary Lindsey
Natalie Hemby is is a country music singer and songwriter who's written for the likes of Toby Keith, Miranda Lambert, and Little Big Town. Hillary Lindsey is a singer-songwriter who's written song with or for artists like Taylor Swift, Carrie Underwood, and Michelle Branch. The two talented writers collaborated with Gaga to write "I'll Never Love Again" and Ally's standout ballad "Always Remember Us This Way." The latter was also co-written by Lori McKenna, who's won Grammys for penning Little Big Town's "Girl Crush" and Tim McGraw's "Humble and Kind."
Diane Warren first collaborated with Lady Gaga on the Oscar-nominated track "Til It Happens to You" and helped write "Why Did You Do That?," the song Ally plays on Saturday Night Live in the movie.
Lady Gaga at 'A Star Is Born' Premiere