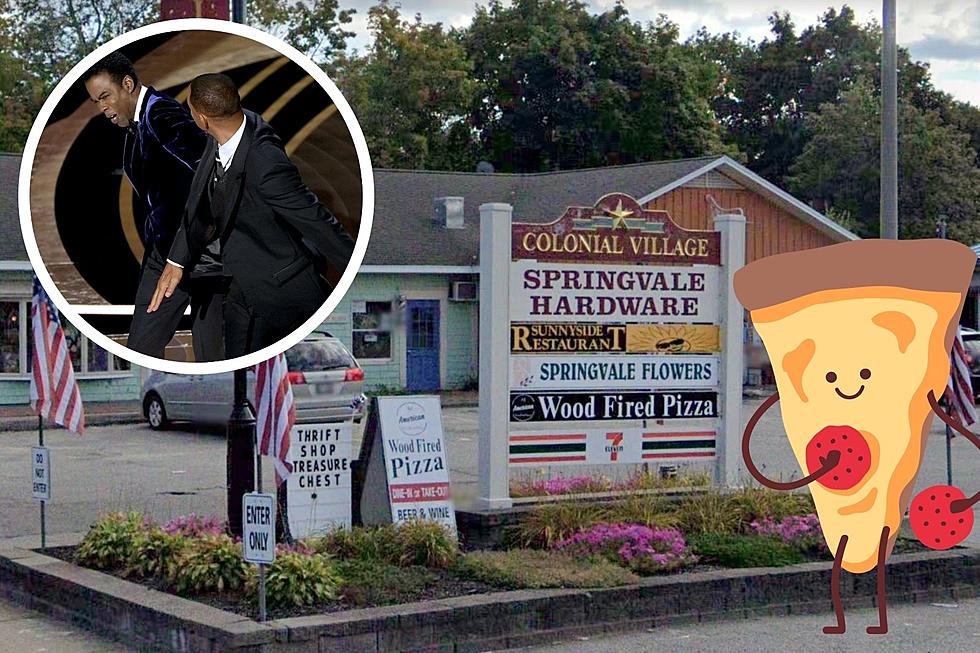 Springvale, Maine Pizza Shop Has a Will Smith Pizza and it Totally Slaps
Getty Images/Google Maps/Canva
Never let a hot topic go to waste, right?
The general public has been consumed with the events that unfolded at The Oscars this past Sunday. Some argue that it's a stupid thing to be obsessing over, but let's be honest, after years of a pandemic, riots, and war, "The Slappening" is a relatively light topic.
As a quick rundown of the events of the evening. Chris Rock was presenting and was making some jokes. One of those jokes happened to be at the expense of Jada Pinkett Smith who is Will Smith's wife.
Rock made a joke that was poking fun at her shaved head. Will Smith laughed initially, but Jada rolled her eyes unimpressed with the joke due to the fact that she suffers from alopecia. Once Will noticed she was upset he decided the proper course of action was to walk on stage and slap Chris Rock across the face. And upon returning to his seat, Will Smith yelled, "Keep my wife's name out of your ****ing mouth!" twice.
Now that you're caught up, onto the pizza.
All American Woodfired Pizza in Springvale has three new special pies. And as the kids say these days, they totally slap, meaning they're really good.
First, there's The Oscar's Pizza. It's made with a red sauce base, topped with mozzarella cheese, broccoli, tomatoes, spinach, black olives, and banana peppers.
Then The Chris Rock Pizza, a class Margherita pie with pesto and bacon.
And finally The Will Smith. This one has a cream cheese base, macaroni and cheese, bacon, and a jalapeno and hot sauce drizzle.
For your Oscars-inspired pizza head to Springvale and check out All American Woodfired Pizza open Wednesday through Saturday from 11 am until 8 pm and Tuesdays from 4 pm until 8 pm.
15 Unique Airbnbs for a Special Vacation in Maine
Whether you're tucked away in the woods in a treehouse or nestled in on the ocean in a sea-view cottage, Maine has plenty of unique stays that put the 'vacation' in vacationland.
53 Must Try Breweries in Maine