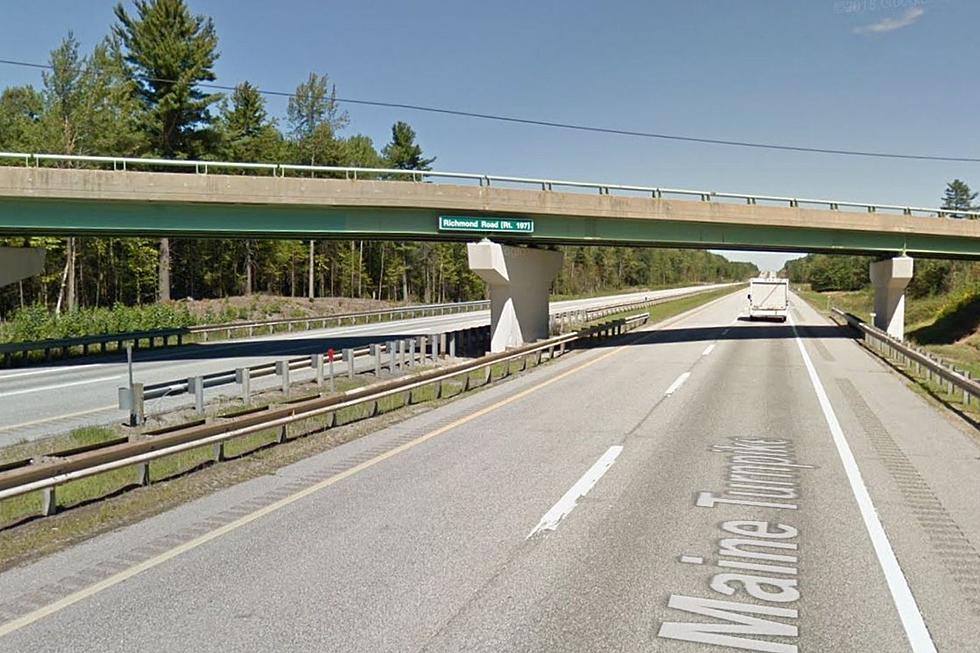 Route 197 Maine Turnpike Overpass To Close Soon And Be Replaced
Google Maps
If you regularly travel on Route 197, Richmond Road in Litchfield, you'll soon have to take a detour for about seven months as a bridge that carries the road over the Maine Turnpike is closed.
The bridge was damaged when an overheight vehicle collided with it. As part of the replacement and reconstruction, the height of the bridge will be raised over a foot. Maybe that will help compensate for the drivers who don't know the height of their truck.
It will take some time to complete the project because there's a lot to do. Replacement of the concrete deck, steel girders and bearing replacement, concrete substructure modifications and repairs, approach work, paving, and new guardrail and bridge rails.
The tentative closure of the Route 197/Richmond Road bridge is Monday, April 11 and will take all spring and summer to complete to the point that it can be opened up again to traffic. The re-opening target date is November 4.
The detour around the bridge will use Hallowell Road, Plains Road and Small Road, which will add about 7 minutes to your drive. The detour route will be clearly marked.
If this is part of your daily commute, you're going to want to leave the house about 7 minutes earlier to make sure get to work on time, because telling your boss you were late because you didn't realize there was a bridge closed is only going to work once. Maybe twice if you're lucky and your boss is forgetful.
The 25 Intersections in Maine That Had The Most Crashes in 2021
The Maine DOT keeps a record of accidents at intersections throughout Maine, and these are the 25 intersections that had the most in 2021.
The Worst Intersections in Maine
Here's just a handful of some of the worst intersections in Maine chosen by me and some of my Facebook friends who chimed in to share in the misery of navigating through them.