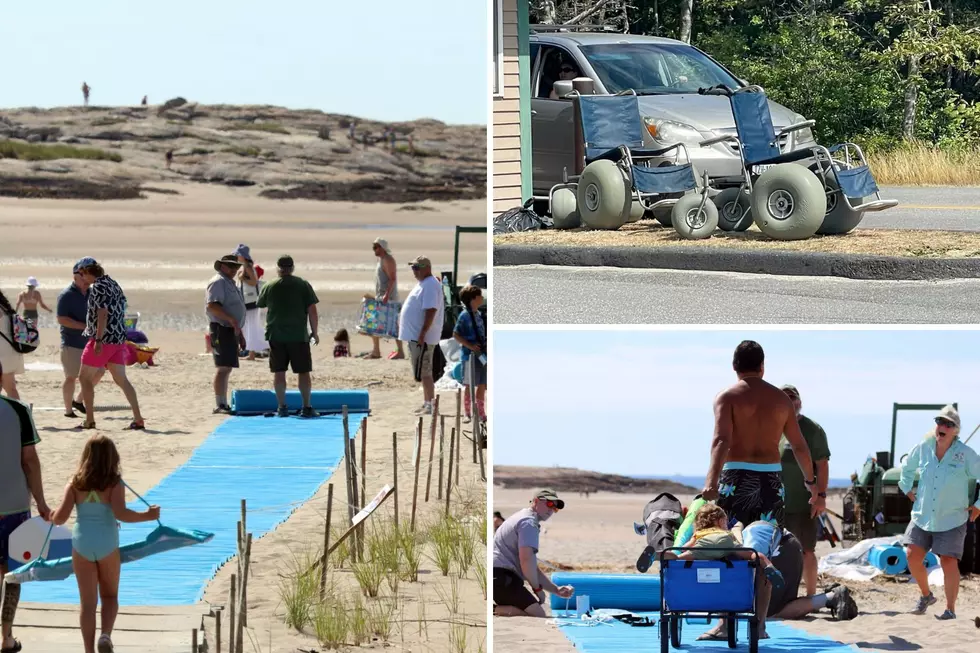 Popham is the Latest Maine Beach to Become More Accessible
Maine Department of Agriculture, Conservation, and Forestry via Facebook: Canva
One of Maine's most popular beaches just became easier to access for many more visitors.
The Maine Department of Agriculture, Conservation and Forestry announced the news on social media about the new mobility pathway to a resounding positive reaction.
The mobility mat will now allow wonderful access for many more people who want to enjoy the beautiful Popham Beach. This is just an amazing addition, and also a great example of cooperation.
As the MDACF points out, it began with Phippsburg resident Deb Stockwell, who reached out to her state rep to discuss the need for the mat. The request went up all the way up the food chain, financing was found, and now Popham Beach is more accessible than ever.
Literally everyone can be thanked here, from local residents to park rangers, the Maine Government, and even social media for this incredible addition to the Midcoast Maine beach.
Popham isn't the only beach making waves with mobility. As WGME-TV points out in this article, Old Orchard Beach rolled out a beach wheelchair program this year. According to WGME-TV, the town has 10 beach wheelchairs that are free to use on a first-come-first-serve basis.
Like the Popham Beach program, it's been a huge success for the popular Southern Maine beach that has been hopping busy compared to the last two pandemic-induced years.
With two of Maine's most prominent beaches have been making these changes, it will be interesting to see if this starts a trend. Programs like these will continue to show the best side of our wonderful state and the great folks who call it home.
RANKED: Here Are the 63 Smartest Dog Breeds
Does your loyal pup's breed make the list? Read on to see if you'll be bragging to the neighbors about your dog's intellectual prowess the next time you take your fur baby out for a walk. Don't worry: Even if your dog's breed doesn't land on the list, that doesn't mean he's not a good boy--some traits simply can't be measured.
Here Are Your Picks of The Best Diners in Maine
Diners have been around for a very long time and are a staple in the United States. These are the best diners in Maine, according to you!