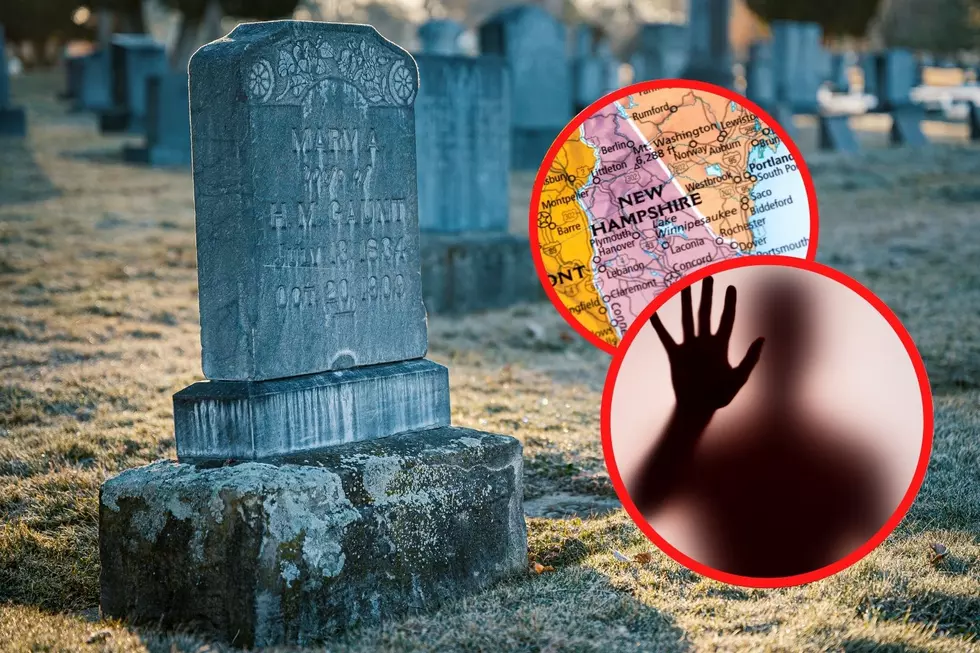 This NH Cemetery Received Another Name Due to Being Haunted
Canva
There are many haunted locations no matter where you go. According to New Hampshire Magazine, Pine Hill Cemetery, also known as Blood Cemetery in Hollis, NH is one of New Hampshire's haunted cemeteries.
It's not called Blood Cemetery due to actual blood, but rather the fact that Abel Blood is the most known ghost to haunt this patch of land. New Hampshire Magazine states that Abel Blood was buried there in 1867 and his gravestone plays a big role in why people believe that the cemetery is haunted.
The legend goes that there is a finger carved on Blood's gravestone. During the day, it points upwards and at night, the finger is pointing downwards. Obviously, something that is carved in stone cannot change directions, but somehow it happens here.
Skid marks in the road by the cemetery seem to be an issue as well. According to New Hampshire Tour Guide, back in the '70s and '80s teenagers driving by the cemetery reported seeing Mary Blood in their rearview mirrors as they slammed on their brakes. The rumors changed throughout the years to become that a spirit of a young child jumps out in front of moving cars causing them to hit the breaks and leave skid marks. New Hampshire Tour Guide states that both of these do actually appear to be rumors.
However, it seems that the story about Abel Blood's gravestone is true. In the '90s, New Hampshire Tour Guide actually went to investigate the issue. They claim that not only did the finger change positions but there was also something leaking from the engraved hand. To make it even more real, they claim that while there one of them received a powerful push from something that was not there.
Abel is not the only Blood family member that is buried in this cemetery. Many members of the Blood family are buried right in the center of the cemetery. The finger that is engraved on Abel's gravestone is also not the only haunted rumor that seems to occur at Blood Cemetery.
If you choose to go visit Blood Cemetery, it is important to note that Abel Blood's headstone is no longer there due to it being broken by vandals and the cemetery is very often patrolled by the police.
30 Haunted Places in Maine
Most of the locations on the list share a little about what has been claimed as paranormal happenings for these locations, which can include seeing apparitions, hearing strange noises, or maybe even spookier experiences involving unexplained conditions of vehicles, shaking beds, or flying dishes. Here are 30 haunted places in Maine.
Paranormal Experts Say Derby's Sterling Opera House is one of the Most Haunted Places in CT
According to
Only in Your State
, Derby's Sterling Opera House is one of the most haunted locations in all of Connecticut. These are some images from inside the historic and eerie Sterling Opera House.