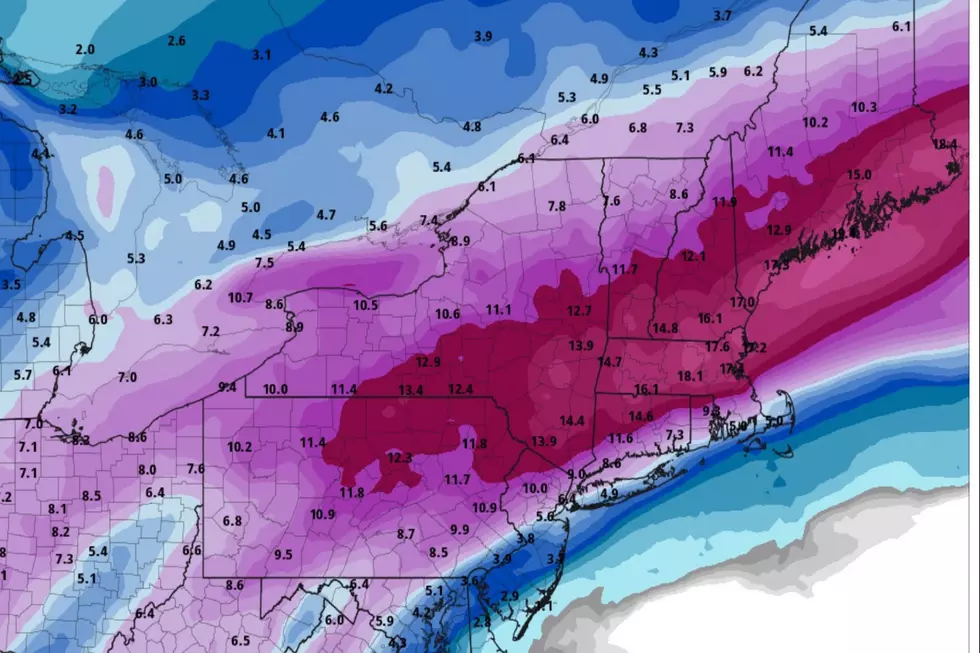 Not One, But Two Significant Snowstorms Could Hit Maine Next Week
Twitter via Robert LaRoche
It has certainly been a strange winter in Maine. As we approach the middle of February, the weather patterns and temperatures have more closely resembled a typical January. Meanwhile, January of 2021 resembled what Maine would see in the waning days of a typical February as well as the first weeks of March, warmer temperatures and storms that didn't amount to much. The possibility for the upside down winter to continue will exist next week, as several forecasting models, including the generally reliable EURO, have two snowstorms hitting Maine just a couple of days apart.
Shared on Twitter by Robert LaRoche, the EURO and GFS models continue to predict that a nor'easter will roll into Maine next Wednesday. Unfortunately for snow lovers, that doesn't guarantee much at this point. While the odds of a storm hitting Maine continue to increase, there's some factors still causing doubt that it will be a massive snow dropper. Those factors include whatever it is that keeps yanking all the major storms into the ocean this winter and also a distinct possibly that an early-week warmup will turn this storm from pure snow into a wintry mix for half of the state. Nobody wants that.
As of right now, the second storm, which would likely arrive Saturday, has a bit more promise to it. The conditions in the long term forecast seem ripe and if everything remains on track, all of Maine could see a heavy peppering of fresh powder, perhaps as much as a foot of it next weekend. Snowmobilers and skiers would rejoice.
No need to rush out to Hanny's to buy up all the bread and milk quite yet. Let's see where we're at next Monday.
Look Out for These 5 Kinds of Drivers in Maine Snow
KEEP READING: Get answers to 51 of the most frequently asked weather questions...