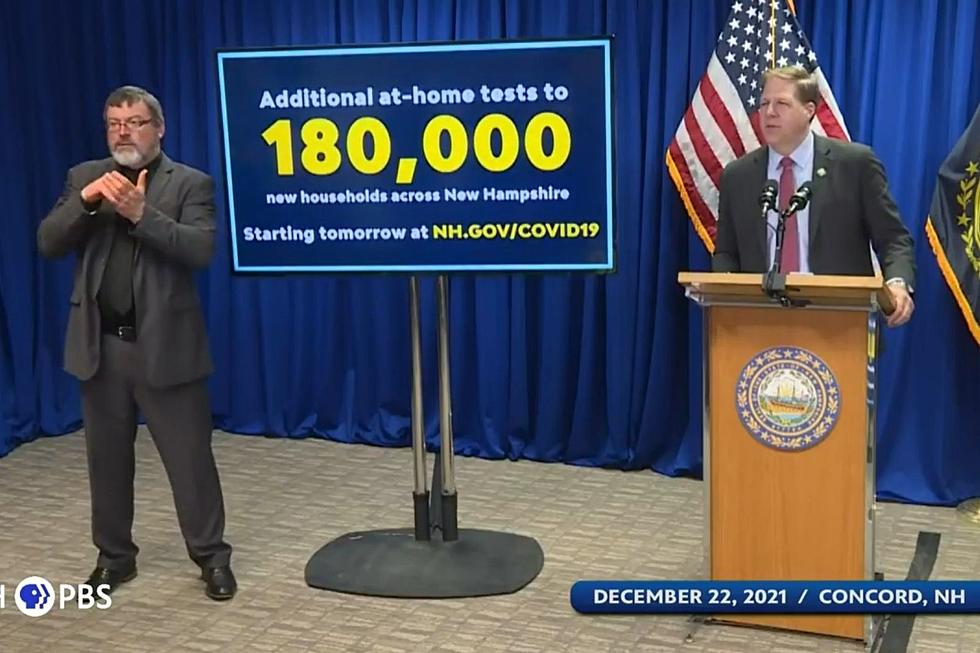 More At Home COVID-19 Tests Available in NH Thursday
Gov. Chris Sununu holds a COVID-19 briefing 12/22/21 (NH PBS)
Another free 750,000 at-Home COVID-19 tests will be available online today as part of Gov. Chris Sununu's latest steps in New Hampshire's fight against the COVID-19 winter surge.
The kits, part of the "Say Yes to the Test" partnership with Amazon, will be available via the state DHHS website Thursday at NH.gov/covid19 to the homes that did not get them the first time. 900,000 at home kits were gone in hours during the first round. Sununu took credit for being the first state to advocate for at-home tests despite resistance from the Biden Administration.
"We are estimating another 180,000 households will be able to get these tests. They don't just send one they send a few," Sununu said.
The tests were available to order as of 7:30 a.m. Thursday and will be sent on Monday by Amazon.
Sununu said he pushed the Executive Council to approve $55 million in funding to open six more new walk-in COVID-19 vaccination sites including Exeter in the Seacoast region. Other sites will be opened in Berlin/Gorham area, Concord, Keene, Manchester, Nashua and Salem. The exact locations will be announced.
A frustrated Sununu told Executive Council members that by not approving funding for new sites they were taking 15,000 vaccine shots and booster shots away from the state. The council wanted to put the sites up for bid to allow new companies to offer the shot.
"This is a pandemic and there ain't a whole lot that's available in terms of getting folks shots in arms," Sununu said.
The Booster Blitz is still on for January 8 at most of the same locations although the Stratham location will be moved to Exeter.
Hospitalization, Positive Cases Plateau for Now
The news comes as New Hampshire's case count and hospitalizations continue to go down although he admitted the numbers will likely be inaccurate as more people are doing home testing.
"It makes the data a little less accurate but the ability to push back on the transmission of the virus a little better because folks are going to be finding out a little faster with a little more convenience about whether they are positive or negative,"
Happy Careful Holidays
State epidemiologist Dr. Benjamin Chan reported 983 new cases with 400 hospitalizations and seven new deaths. There are a total of nine cases confirmed as being the Omicron variant.
Sununu expects a possible spike in cases hospitalizations after the holidays and warned people to be careful during holiday visits suggesting social distancing and masking if appropriate.
"We're not here to be the Grinch and tell people not to meet with family or anything like that. We want people to have a happy holiday with family just do it safely, be smart and have an understanding of who you might be with and some of the susceptibilities and underlying conditions of family members and friends you may be gathering with," Sununu said
Sununu said that his administration had not yet heard from the Biden Administration about new federal response teams headed to New Hampshire. FEMA teams already in New Hampshire scheduled to leave on Thursday. President Joe Biden promised the teams during his COVID-19 response speech on Tuesday.
30 paramedics already in New Hampshire will extend their stay for another three weeks.
"Many negatives" to Government COVID-19 Mandates
During an appearance Thursday morning on CNBC's Squawk Box Sununu reiterated his opposition to the Biden Administration mandate on vaccinations for companies with over 100 employees.
"I'm as pro-vaccine as they come but when the government starts demanding those healthcare decisions, there are so many negatives to that," Sununu said.
He said the off-again, on-again court decisions have created confusion for employers and employees who are forced to leave jobs over the mandate. While the governor supports individual choice he is okay with an employer mandating the COVID-19 vaccine.
"If an employer wants to mandate, it's always been their ability to do that. A hospitals, a Fred's Flower Shop," Sununu said.
Contact reporter Dan Alexander at Dan.Alexander@townsquaremedia.com or via Twitter @DanAlexanderNH
Best Cross-Country Ski Centers in Maine and 1 in New Hampshire
Here are nine of the best places to go for cross-country skiers in Maine (and one in New Hampshire.