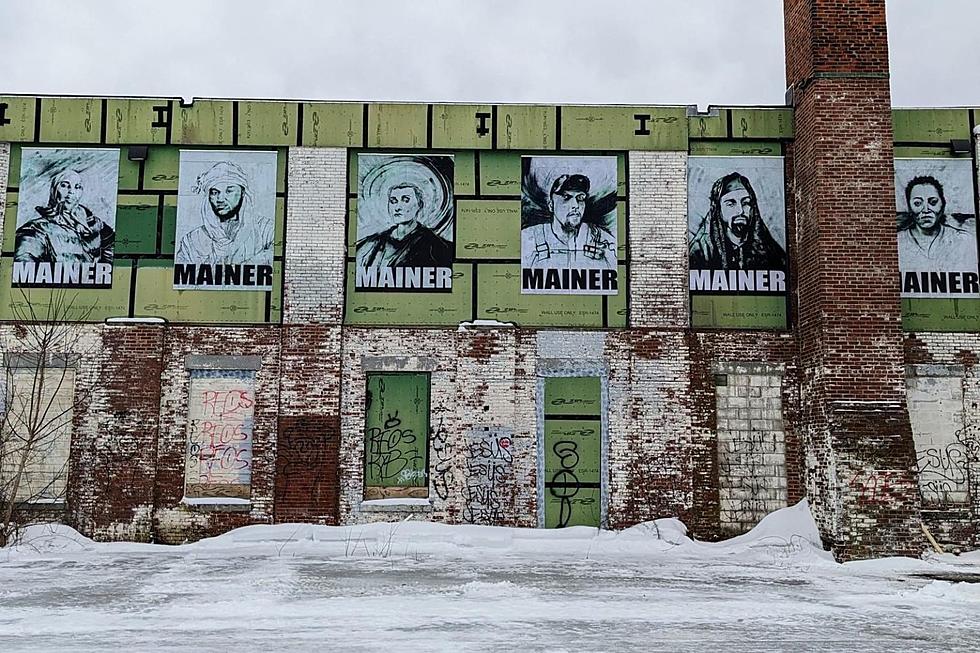 MAINER Portrait Series in Lewiston Features Those Told They Don't Belong Here
Tree Street Youth via Facebook
On the side of the former Camden Yarns Mill that sits next to Simard-Payne Memorial Park in Lewiston is a new piece of artwork that sends a strong message to Mainers about discrimination.
The MAINER Project by street artist Pigeon began in Portland back in 2015. "I was inspired to do my first installation of the Mainer Project in June 2015, after Maine Governor Paul LePage re-stated a key point of his 2014 re-election campaign: his promise to prevent asylum seekers from accessing General Assistance benefits," Pigeon said on Maine Memory Network.
His latest work depicts six people living in Maine who were either born here or recently moved to Maine and all of them have been told that they don't belong in Maine.
Araksan is an educator and community health worker. Djamal is originally from Chad and moved to Auburn in 2014. Abijah is from Orlando, Florida, and arrived in Lewiston at the beginning of 2022. Lawton is a musician, painter, and is Mohawk but was born in Maine. Assasi is a rapper and co-founder of the Bilad El Sham movement in Syria. Ruby came to Maine from Oaxaca, Mexico.
You can learn more about them and the project at MaineMill.org
If you'd like to see the art installation in person, just head to Simard-Payne memorial park on Beech Street. Look for the old Grand Trunk Railroad station, which itself was a destination for French immigrants from Canada to find work in the many mills along the Androscoggin River. You'll see the portraits on your left as you walk along the Auburn Riverwalk toward the old railroad trestle.
50 Maine Restaurants to Try in 2023
Thanks to our great listeners we were able to compile a list of many of Maine's great restaurants that Mainers want to try in 2023.
These great spots can be found across the state and waiting for you to give them a try.
How many have you been to? How many would you like to try for the first time?
The 10 Most Dangerous Places To Live in Maine Right Now
Based on crime statistics and patters, here are the most dangerous cities in Maine for 2022