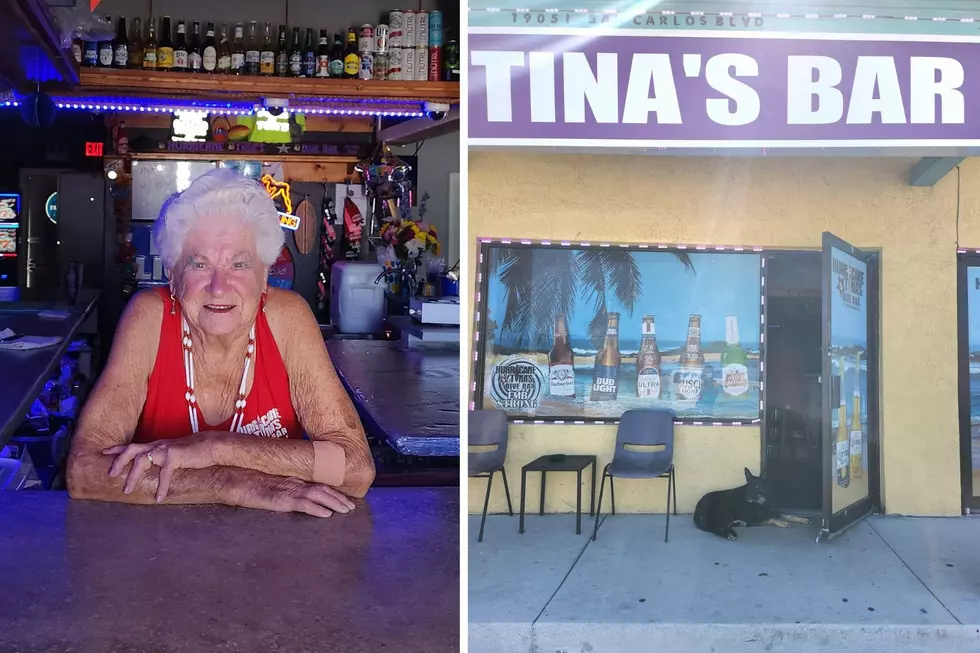 96-Year-Old Bartender Won't Stop Serving Drinks Anytime Soon
Marvilla Marzan via Facebook
While some Florida retirees prefer a cold drink sitting at the bar, Betty Kai would rather be behind it.
The 96-year-old is a familiar face serving drinks at Hurricane Tina's Five Star Dive Bar in Fort Myers Beach.
In a recent interview with NBC2, Kai shared that she moved from the cold air of Wisconsin to Fort Myers Beach 33 years ago to "retire." She picked up bartending after the move and hasn't stopped.
"I've been working on the beach for 33 years, somewhere," Kai told NBC2.
Aside from bartending multiple days a week, Kai also is a licensed minister who says she has officiated more than 500 weddings. She also was doing landscaping projects around the Fort Myers Beach area up until a few years ago.
"If you know her, you love her," Tina Tomasino, owner of Hurricane Tina's, told NBC2. "She's the only one who can yell at me behind the bar."
Judging by the customers in the bar who told NBC2 Kai was a "legend" and recent reviews, it seems like the retiree has become a favorite among those who work for Tomasino.
"Great drink selections AND conversation. Tina and Miss Betty are the best," one customer wrote as a review on Google.
Kai is a couple years away from becoming the oldest working bartender in the world, surpassing a Wisconsin man who was still slinging drinks when he was 98 years old.
But it's not a record that keeps her coming back to Hurricane Tina's to bartend day after day, it's the people and the friends that she has at the bar.
"You can't ask for more than that," she said.
See Inside Jimmy Buffett's Staggering $6.9 Million Palm Beach Mansion
Jimmy Buffett
sure knew how to live the good life. His former 3-bedroom, 3.5-bathroom, 4,039-square-foot mansion in the exclusive Eden Properties neighborhood in Palm Beach is exactly the kind of laid-back home you'd expect the superstar to relax in when he was off the road.
The interior centers around a combined dining and living room with eye-popping vaulted ceilings topped off by skylights, while a massive wall of mahogany-framed sliding glass doors looks out over the pool area outside. The kitchen is decorated in gleaming white, and each of the bedrooms has its own attached bathroom, while the massive master suite also has sliding glass doors that open to both the pool and a bathroom that looks like it belongs in a high-end resort.
The exterior of the house is just as striking, centered around a sparkling pool of deep cobalt blue. The pool area features plenty of lounging, and a loggia just outside the living room offers open-air dining. There are lush gardens, brick paths that walk through elaborate pergolas and a fountain. The property also features a two-car garage with a guest suite overhead, and it offers deeded access to the beach nearby.
PICTURES: Look Inside Lisa Marie Presley's Oceanfront Florida Mansion
Lisa Marie Presley's former mansion in Florida is for sale, and pictures show a stunning oceanfront property fit for rock royalty.