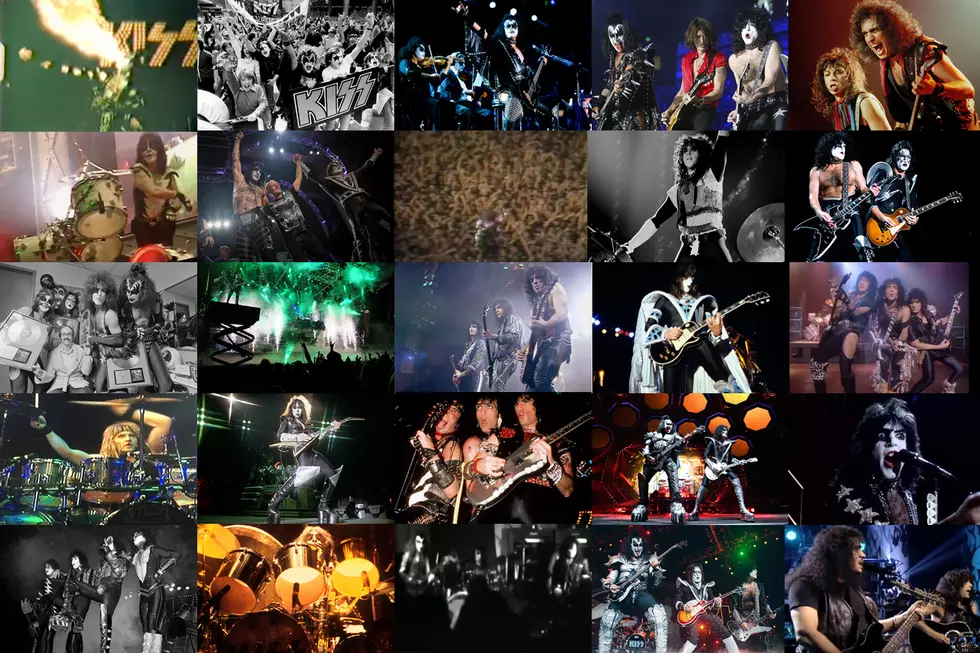 Kiss' 50 Most Important Concerts
Getty Images / YouTube
Kiss performed their first show for a crowd of less than 10 people on Jan. 30, 1973, at a small club in New York City. In the five decades that have since passed, they've built one of the wildest concert highlight reels in rock history. On multiple tours across the world, they've encountered countless highs and lows, lineup changes, near-death incidents, comedic mishaps, fashion faux pas and gone through an unknown quantity of greasepaint. Here's a chronological guide to 50 of the most important shows in Kiss' history.
Jan. 30, 1973: Kiss Plays Their First Concert
A few weeks after finalizing the lineup with the addition of lead guitarist Ace Frehley, Kiss made their concert debut at the Popcorn Club in Queens, N.Y., earning $50 by playing two sets. Their facepaint and costume designs were in an embryonic state, but the set list included future classics such as "Deuce" and "Black Diamond." The earliest known footage of the band performing, seen below, comes from a show that took place nearly 11 months later.
Dec. 31, 1973: Gene Simmons Sets His Hair on Fire for the First Time
Gene Simmons' first attempt at his now-famous fireball-spewing trick didn't go so well. In fact, his hair caught on fire while performing the stunt during the band's Jan. 31, 1973 show at the Academy of Music in New York City. Luckily an alert roadie doused the flames quickly. It wouldn't be the last time this dangerous stunt robbed Simmons of some hair, but it also helped set Kiss apart from their peers. "It was like, pardon the expression, 'Oh, fuck,'" recalled Teenage Lust founder Harold C. Black, whose band was also on the bill that night. "Not exactly what you wanted to go on after."
Jan 26, 1974: Paul Stanley's Brief 'Bandit' Experiment Ends

After his original Starchild makeup design was declared "kind of swishy ... kind of feminine" by new label boss Neil Bogart, Paul Stanley reluctantly agreed to try a new Bandit design at the band's Jan. 31, 1973 concert – the same night when Gene Simmons first set his hair on fire.  Stanley abandoned the idea less than a month later. "I just went, 'You know what? My gig, my face, my makeup,'" he told Yahoo. "I just went back to [the Starchild]. ... A lot of people believe that [the Bandit] came first, but it actually didn't."
May 25, 1974: A Scathing Review Spawns a 26-Year Grudge

It's safe to say Seattle Daily Times writer Patrick MacDonald didn't have a great time at this concert. "The band's music is strictly on the moron level," he wrote two days later. "I hope the four guys who make up the group, whose names don't matter, are putting money away for the future – the near future," he concluded. "Because Kiss won't be around long." The negative review, one of many Kiss received in the early years, only strengthened their resolve to succeed. Some 26 years later, they got their revenge by putting MacDonald's quote on T-shirts printed up for their 2000 tour. "The people that count are the ones who pay hard-earned money for tickets," Paul Stanley told the Cleveland Scene in 2014 when asked about critics. "Why would I chase the approval of people who haven't really taken the test?"
May 16, 1975: Kiss Begins Recording the Career-Saving 'Alive!'

After nearly two years of non-stop touring, Kiss had earned a reputation as a must-see live act. But the band's first three studio albums had sold poorly, and their record label was nearly bankrupt. Alive! proved to be exactly the lucky break Kiss needed. Recorded at four concerts beginning in May 16 at Cobo Arena in Detroit, this studio-enhanced double-live album catapulted Kiss to stardom and eventually inspired generations of rock stars. "Alive! was the first album I ever bought," Kim Thayil of Soundgarden told Guitar World in 1992. "And I wasn't alone: you can hear their influence all over metal and punk."
Aug. 23, 1975: Kiss Makes Tony Kornheiser Quit His Job

Future Pardon the Interruption host Tony Kornheiser said that attending a 1975 Kiss concert made him quit his job as Newsday's rock critic. "I looked at this and I said, 'Whoa, this is something I have never seen before. This is going to be the biggest thing in music quickly, and I'm getting out of the rock-critic business,'" he said during a 2021 episode of The Tony Kornheiser Show, "and I stopped within a month. And it wasn't that I didn't think they were good, it was that it was just beyond me. Where it was going, the theatricality of it and all of that, was beyond me. And there would be no way to fairly evaluate the music, because it came in that package. You had to deal with that whole package."
Sept. 10, 1975: Kiss Becomes Rich and Famous on the Alive! Tour

More and more bands refused to let Kiss upstage them from the opening act spot. So the group launched their own headlining tour in Chattanooga, Tenn. on the same day Alive! was released. "[The fans] devoured Alive! in numbers we couldn't have imagined," Ace Frehley said in 2011's No Regrets. "It went gold, then it went platinum, [then] double platinum. The album hit the Billboard charts quickly and stayed there for two years. Two fucking years!" Three months later Kiss was presented with their first gold albums. "[That] fulfilled a childhood dream," Stanley said in his 2014 book Face the Music. "Elvis had gold albums. The Beatles had gold albums. Now I had a gold album."
Dec. 12, 1976: Ace Frehley Nearly Gets Electrocuted Onstage

Frehley was lucky to escape with his life when he was inadvertently shocked during a Dec. 12, 1976 concert in Lakeland, Fla. He grabbed a railing while descending an onstage ramp, completing an electric circuit with his guitar. "If I hadn't been able to let go, I would have died," Frehley later told the Lakeland Ledger. "My life passed in front of my eyes." After a 10-minute break, he was able to return to complete the show. The incident inspired the title – if not the lyrical content – of the first Kiss song ever to feature Frehley on lead vocals, 1977's "Shock Me."
Aug. 26-28, 1977: 'Alive II' is Recorded
The multi-platinum success of 1975's Alive! didn't slow down Kiss' breakneck album release or touring schedules. Clearly wanting to strike while the iron was hot, they released three more studio albums in the next two years, then recorded a multi-night stand at the Forum in Los Angeles for their second live album. Since they didn't want to use any of the songs featured on their first live album again, five new studio songs were recorded to fill the double-disc Alive II's fourth side.
May 19, 1978: Evil Robot Kiss Clones 'Rip and Destroy' at Magic Mountain

The climactic scene of the ill-fated 1978 TV movie Kiss Meets the Phantom of the Park finds the group battling their evil clones onstage. The robots had re-written the lyrics to their song "Hotter Than Hell," and were trying to encourage fans to riot with the resulting "Rip and Destroy." Thousands were invited to a special free concert at Magic Mountain amusement park in Valencia, Calif., for the shooting of the live footage, and then treated to a 19-song Kiss concert. "We were sold the idea of the film in a sentence that was virtually 'A Hard Day's Night meets Star Wars.' Well, it was far from either," Stanley said of the movie in 2021. "I embrace it like an ugly child."
June 15, 1979: 'The Return of Kiss' Fizzles

At the height of their fame in early 1978, Kiss took more than a year off from touring in order to allow everyone to recover from the grueling schedule of the previous five years – and also so they could hopefully stop hating each other. When they returned to the road with a revamped stage show and extremely frilly new costumes in June 1979, they found a much less rabid audience waiting for them. General overexposure and the move toward pop and disco featured on 1979's Dynasty turned off many of their longtime fans, leaving Kiss unexpectedly struggling to fill one night at venues where they had sold out multiple shows less than two years before. "It wasn't a good omen when our first show was canceled," Stanley noted in 2014's Face the Music. "The bottom got pulled right out from under us."
Dec. 8, 1979: Onstage Sabotage Leads to Peter Criss' Departure

Frustrated by his role and grappling with addiction issues, Peter Criss had long been contemplating an exit from Kiss. His onstage actions on Dec. 8, 1979 in Shreveport, La., sealed the deal. After Stanley motioned for the admittedly coked-up drummer to play a bit slower, Criss intentionally sabotaged the show by slowing down to a crawl. "That crossed a line," Stanley said in Face the Music, and Criss was almost kicked out of the band instantly. Despite more onstage and backstage altercations, Kiss managed to finish out the tour's final week, but Criss was gone after the Dec. 16 finale in Toledo, Ohio.
July 25, 1980: Eric Carr's First Show

Kiss recorded the highly underrated power-pop gem Unmasked with Anton Fig secretly sitting in for Criss, then held auditions for a new full-time drummer. They chose little-known Paul Caravello, but quickly thought better of his original stage name (Rusty Blades) and makeup and costume design (a hawk that more closely resembled an oversized orange chicken). Instead, he was introduced as Eric "the Fox" Carr at a special one-off show in their hometown of New York City. Carr's powerful drumming style helped Kiss mount an impressive comeback in the early '80s, and he remained in the band until his untimely death in 1991.
Nov. 8, 1980: Kiss Discovers an Oasis of Superstardom in Australia

By 1980, Kiss' record and ticket sales had dropped off so badly that American promoters were unwilling to risk booking a tour in support of Unmasked. But the album's lead single "Shandi" became a Top 5 hit in Australia, and their tour of the country was greeted with a level of enthusiasm just shy of Beatlemania. "It reached the point where I was asking that we not have any more parties," Stanley said in Kiss: Behind the Mask, "because literally every night the promoter threw a party for us."
Dec. 3, 1980: Ace Frehley's First Farewell Kiss Show
Ace Frehley's already tenuous relationship with Simmons and Stanley took a serious hit when his longtime ally Peter Criss left the band. "We often played two on two – me and Peter against Paul and Gene – but when tempers flared, I usually tried to be the peacemaker," Frehley wrote in 2012's No Regrets. "With the loss of Peter, I soon realized things would never be the same." After trying in vain to stop the ill-fated 1981 concept album Music from 'The Elder,' Frehley quietly departed in early 1982. The final show on Kiss' highly successful 1980 tour of Australia and New Zealand was his last until their 1996 reunion.
Dec. 29, 1982: Vinnie Vincent Plays His First Kiss Show

Fearful of the repercussions from both fans and their record label if a second original member abandoned the group so quickly, Kiss hid Frehley's departure for as long as possible. The Spaceman actually appeared on the cover of 1982's Creatures of the Night, despite not performing on the album. When it came time to hit the road, Vinnie Vincent was revealed as the sixth and final Kiss character, the "Ankh Warrior." Vincent's undeniable talent helped the group pull out of a creative and commercial tailspin, but personality conflicts would ensure that his tenure was very short.
June 18, 1983: Kiss Performs for 180,000 Fans in Brazil

Three years after their 1980 Australian tour proved to be an unexpected high spot for Kiss, a visit to Brazil resulted in another career benchmark as they performed in front of a personal best of 180,000 fans at Maracana stadium in Rio De Janeiro. "There's no way to describe the amount of energy that a crowd that big puts out," Stanley said in Face the Music. "It can almost take you off your feet."
June 25, 1983: Kiss Says Goodbye to Their Makeup

Just one week after their record-setting show in Rio, Kiss performed what would turn out to be their last show in makeup until 1996's original-lineup reunion. Three months later, while promoting their Lick it Up album on MTV, band members revealed their real faces in public for the first time. Simmons revealed in his book Kiss and Make-Up that Stanley was the one who pushed for the change: "'Let's prove something to the fans,' Paul said, 'Let's go and be a real band without makeup.' I reluctantly agreed. I didn't know if it was going to work, but I heard what Paul was saying. There was nowhere else for us to go."
Oct. 11, 1983: Kiss' First Show Without Makeup
The decision to perform without facepaint would prove to be an important initial step in Kiss' remarkable early '80s commercial comeback, but it also sent founding member and former focal point Gene Simmons into somewhat of a tailspin. "For those couple of years it became his [Stanley's] band," Simmon's confessed in his book Kiss and Make-Up. "Paul was always the guy who spoke in the interviews. When you saw photos of Kiss, they tended more and more to be photos of Paul." The costumes would get worse in later years, as Simmons himself jokingly acknowledges: "My reaction was to try to muscle my way back into the spotlight by buying some truly outlandish androgynous clothing. ... It just made me look like a football player in a tutu."
March 17, 1984: Vinnie Vincent's Last Kiss Show
Vinnie Vincent departed in March 1984 at the conclusion of the Lick It Up Tour, less than a year and a half after his first appearance with Kiss. His undeniable songwriting and guitar playing talent wasn't enough to make up for the interpersonal conflicts between himself, Stanley and Simmons. Seven years later, he returned to help the band co-write three songs for 1992's Revenge. But the relationship again quickly soured, Simmons said, when Vincent tried to renegotiate the deal: "There are people who simply cannot handle when things are starting to go their way — success — so they torpedo it by making stupid decisions to make sure they don't succeed, so they can deal with that."
Sept 30, 1984: Bruce Kulick's First Kiss Show
Two months after Vincent's last appearance, Kiss returned to the studio to record what would become their big comeback album, Animalize. It soon became clear that their first choice for the newly vacant lead guitar spot, Mark St. John, wasn't a perfect match creatively. "The guy could never play the same thing twice, because he was just puking notes," Stanley later explained. "There was no structure to any of it." The problem was magnified when St. John came down with an arthritic condition that kept him from performing live. Kiss quickly recruited former Meat Loaf guitarist Bruce Kulick to join them for the opening of their next tour, as they awaited St. John's recovery.
Nov. 27 and 29, 1984: Mark St. John's First and Last Kiss Shows
Two months into the Animalize Tour, St. John was finally ready to join his new bandmates on stage. But his taste and style still didn't line up with Simmons and Stanley, who had grown quite pleased with Kulick's work and professionalism. St. John was out of a job after reportedly performing just two and a half shows as Kiss' third lead guitarist.
Dec. 8, 1984: Bruce Kulick Closes Kiss' Lead Guitarist Revolving Door

Kulick formally joined on Dec. 7, 1984, bringing much-needed stability over the next decade while performing on five albums. His first night as a full-timer proved to be challenging, as the show at Detroit's Cobo Arena was broadcast live on local radio, taped for an MTV special and later released as their first-ever home video concert. "I was nervous, but it was a thrilling time for me to be the new guitarist of Kiss," Kulick later told UCR. "I was very excited for the world to finally see me with the band. It was a very strange period for them, going from Ace to Vinnie to Mark St. John to me in such short order."
Nov. 13, 1987: Kiss Hits a Dead End on the Crazy Nights Tour
After regaining their commercial footing with the hit '80s albums Lick It Up, Animalize and Asylum, Kiss decided to aim for Bon Jovi-level sales by adding keyboards to their sound on 1987's Crazy Nights. The move backfired, alienating some existing fans while failing to win many new ones. "We played everything a million miles an hour," Stanley confessed in Face the Music. "Gene equated that with excitement, but it caused a loss of groove. ... We'd even had people on the side of the stage playing keyboard sound pads – to enhance the rhythm guitar so I could slack off and jump around more, and to fortify the background vocals for the big '80s 'gang' vocal sound. Looking back, I can see there was no mystery why the audience dwindled."
Aug. 12, 1988: Kiss Revisits Their Club Days
Four months after closing out their headlining Crazy Nights Tour, Kiss decided to warm up for a series of European festival dates with a pair of shows at the Ritz in New York City. The small venue's air conditioning had broken down in the middle of a heat wave, making the already-cramped stage even more of an issue. But these shows also found the band returning to their '70s era for the first time in years, dusting off classics such as "Calling Dr. Love," "Shout It Out Loud" and "Firehouse."
Feb. 15, 1989: Paul Stanley's Solo Tour Serves as a Wake-Up Call

Stanley was the main architect of their '80s comeback, but as the decade drew to a close he'd grown tired of Simmons' film career drawing his focus away from Kiss. Stanley assembled a solo band that included Bruce's brother Bob on lead guitar and Eric Singer on drums. He dug even deeper into the band's '70s catalog than Kiss had recently, and managed to re-gain his partner's full attention. "At the end of [his] tour," Simmons recalled in Kiss and Make-Up, "the two of us turned our attention back to Kiss."
May 4, 1990: Kiss Reclaims Their Legacy on the Hot in the Shade Tour

As impressive as their comeback was, Kiss' '80s success also pulled them further away from their original legacy. During the Crazy Nights Tour, less than one-third of the set was drawn from their '70s albums. Kiss kept off the makeup, but they finally reconnected with the golden era on the following tour. They didn't just add more old songs but also assembled the most impressive stage show in more than a decade. Most importantly, Kiss got their swagger back. "When we went on tour, we rallied," Stanley later told Louder. "We began to embrace our history. We would literally hit every period of the band, and we did it proudly."
Nov. 9, 1990: Eric Carr's Last Kiss Show
The conclusion of Kiss' triumphant Hot in the Shade Tour would also prove to be their final concert with Eric Carr. He was later diagnosed with a rare form of heart cancer, and died on Nov. 24, 1991. Carr was unable to contribute to the recording sessions that produced 1992's Revenge, but he rallied enough to appear in the video for the single "God Gave Rock 'n' Roll to You II." Rolling Stone failed to cover Carr's death, leading to a scathing letter in which Simmons praised his late bandmate as "someone who still lived and believed in the spirit of rock 'n' roll. ... We loved him, the fans loved him and he will never be forgotten."
April 23, 1992: Eric Singer's First Kiss Show
Singer was the logical choice to become their next drummer after performing on Stanley's 1989 solo tour and then helping Kiss record Revenge during Carr's health battle. "I had very mixed emotions," he later told UCR. "I thought, 'Here's a good opportunity for me, but under the worst conditions.'" After he accepted, Kiss booked a series of club dates to get in sync before starting the Revenge Tour. "I remember Gene, Paul and Bruce backstage, being very nervous about me as the new member. I was calm and regular as can be – 'Why are you guys so nervous?' I found it almost ironic. And everything went off pretty well without a hitch. We went out like stormtroopers and I was excited to be in the band. It was good!"
Nov. 27-29, 1992: Kiss Finally Records 'Alive III'
Kiss released their first pair of live albums within two years of each other, then waited a decade and a half to produce their third. It would have been nice to have Eric Carr's decade-plus run with the group represented, but Alive III at least offered fans a chance to hear how Simmons, Stanley, Kulick and Singer tackled songs from various eras over Kiss' two-decade career. Unfortunately, neither Alive III, the critically acclaimed Revenge nor its supporting tour had much commercial success. Kiss would soon begin contemplating a major change.
Aug. 9, 1995: Ace Frehley and Peter Criss Return for 'Unplugged'

Kiss mended fences with Criss and invited him onstage to sing two songs at the first stop on their fan convention tour in June 1995, then made an even bigger splash by asking Criss and Frehley to join them for four songs during their MTV Unplugged taping. The first onstage performance by the original lineup in nearly 16 years set off a storm of reunion speculation, even as Stanley, Simmons, Kulick and Singer entered the studio to record the follow-up to Revenge.
Dec. 15, 1995: Kiss Bids Farewell to Their Non-Makeup Lineup

Stanley and Simmons were taking a few phone calls in between recording sessions for what would become the non-makeup lineup's final album, Carnival of Souls. A three-song acoustic set at KLOS' annual Christmas show turned out to be Bruce Kulick's last appearance with the band. (Eric Singer returned as Criss' replacement in 2001.) "I did not know about the reunion until January," Kulick later told UCR. "So I went through the holiday season [thinking], 'We're working on a new studio album.' But then a week or two into January is when Gene invited Eric and I up so we could have that discussion with Paul and the band."
June 28, 1996: Kiss' Original Lineup Returns in Full Makeup

Kiss' original lineup marched onto the stage in full makeup and costumes on Feb. 28, 1996, at the Grammy Awards, kicking off what would become a highly lucrative reunion tour. They did a brief warm-up set on June 15 at the KLOS Weenie Roast, then launched the Alive/Worldwide Tour on June 28 at a sold-out Tiger Stadium in Detroit. "The curtain dropped, and the force of the crowd reaction nearly lifted me off my feet," Stanley remembered in Face the Music. "I had to fight to be in control of the situation, of myself, of my persona, of the band. ... The joy for me was being able to revisit something I'd experienced as a much younger person in a different frame of mind."
April 5, 1997: Peter Criss Replaced by a Drum Tech
Ten months into the reunion tour, Criss declared that his arms were hurting too much for the show to go on just before an April 5, 1997, date in Columbus. Manager Doc McGhee quickly recruited a drum tech for the job, ordering Ed Kanon to shave his beard and report backstage to get his makeup done. "Without really thinking about it, I said 'Okay, I'll do it,'" Kanon later recalled. Stanley's memory of the story makes it clear that he was still on high alert for any trouble from Criss. "Either nobody cared or nobody had time to care" about the lineup change, Stanley wrote in Face the Music. "We weren't going to put on a show because Peter's hands hurt? I don't think so, pal."
March 12, 1999: Kiss Is Told Not to Blow Up the Stage

Kiss was ordered by the fire marshal not to use any of their customary pyrotechnics before the Bremen, Germany stop of the Psycho Circus Tour. Stanley brought out a translator to explain the ban to the audience, drawing the expected chorus of boos. He rallied the crowd by shifting into showman mode: "I want you to know something. They can stop the bombs; they can stop the fire – but they cannot stop Kiss!" Turns out they couldn't stop the bombs or fire, either. At the end of the last song, all of the bombs and fireworks scheduled for use during the show were set off in a dazzling 30-second act of defiance.
Aug. 23, 1999: Kiss Debuts Their Very Own Professional Wrestler

Always on the lookout for new marketing opportunities, Kiss became the first rock band with their own official professional wrestler when the Demon (at first played by Brian Adams, quickly replaced by Dale Torborg) made his debut on WCW Nitro. The group appeared on live TV performing "God of Thunder" for the big unveiling, and plans were for each of the four members to eventually get their own grappling avatar. WCW was in financial trouble, however, and was soon to be bought out by longtime rival WWE. The Demon never got a proper shot at success.
Dec. 31, 1999: The Original Lineup Records Their Fourth Live Album

More than two decades after Alive II, the original lineup of Kiss recorded a turn-of-the-millennium concert in Vancouver, with plans to release it as Alive IV the following year. In addition to the expected '70s classics, the setlist found Frehley and Criss performing songs Kiss released after their departure such as "Lick it Up" and "Heaven's on Fire." Then Kiss' record label was bought out by another, and the album disappeared from the release schedule. It wasn't issued until 2006, and by then the LP had a new title. Alive! The Millennium Concert was originally available only as part of box set that also featured Kiss' first three live sets.
March 11, 2000: Kiss Embarks on Their First Farewell Tour

Four years after they got back together, relations among the original members of Kiss had once again sunk to untenable levels. Criss and Frehley were angry about several issues, including not being invited to perform on the majority of 1998's so-called reunion album, Psycho Circus. Stanley, meanwhile, claimed that he and Simmons were struggling to get Criss and Frehley onstage on time. The decision was made to announce a farewell tour, though Simmons and Stanley obviously reversed that decision a few years later. "It just became ugly and no fun. The farewell tour was us wanting to put Kiss out of its misery," Stanley said, "and for a while, honestly, we lost sight that we didn't have to stop. We had to get rid of them."
Oct. 7, 2000: Peter Criss Destroys Drums at Last Original Lineup Show
Onstage sabotage ended Criss' first run with Kiss in 1979, and he marked the conclusion of his second stint in a similarly destructive fashion 21 years later. He'd learned that he was getting paid less than Frehley for his work on this tour a week or so earlier, and Criss demanded a raise. He also began adding a teardrop to his makeup design in protest, while openly counting down to the end of the tour. When the last song of the final show was wrapping up, Criss got busy breaking stuff. "I got up, and while the riser was still high up in the air, I started kicking my drums off it," he recalled in Makeup to Breakup. "Everyone stood up and cheered, and Paul thought the cheers were for him until he turned around and saw a huge floor tom-tom coming down at him. So he took his guitar, threw it down on the stage and walked off. He must have kept walking, because I didn't see him or Ace or Gene when I went in to take my makeup off."
March 9, 2001: Eric Singer Replaces Peter Criss

The North American leg of Kiss' farewell tour was over, but they still had dates in Japan and Australia lined up for early 2001. They returned Singer to the fold, then made the controversial decision to have him perform in Criss' Catman makeup rather than assigning him a new character. "There's a whole generation of kids that are clueless as to what Kiss is about," Criss lamented to Eddie Trunk in 2013. "They go to see them now, and they think, 'That's Kiss.'" Simmons defended the decision in a 2016 Rolling Stone interview, after late-era guitarist Tommy Thayer also began performing in Frehley's Spaceman facepaint. "Why wouldn't we use the classic makeup? We own it. ... The fans are thrilled and nobody ever holds up a sign [saying], 'Where's Ace and Peter?'"
April 13, 2001: Ace Frehley Plays His Final Kiss Show

Frehley had seen enough as Kiss' farewell tour drew to a close with an April 13, 2001 show in Gold Coast, Australia. "One of the things that made me crazy was being at the mercy of Paul and Gene," he explained in 2012. "They wanted to tour constantly and record constantly, over-merchandise the brand, and that made me crazy. I'm not a kid anymore. I don't want to put myself in that position, so I'm happier with what I'm doing now." Stanley probably would have been willing to help pack the guitarist's bags. He later accused the Frehley and Criss of "being disrespectful toward everything we had accomplished and everything the fans were giving us."
March 6, 2002: Tommy Thayer Plays His First Kiss Show

Kiss had the logical replacement for Ace Frehley waiting in the wings ever since the original Spaceman returned in 1996. Former Black 'n Blue guitarist Tommy Thayer had been working behind the scenes with Kiss since 1989, helping Frehley re-learn his original guitar parts for the reunion tour. As the tour continued, Simmons and Stanley grew wary of Frehley's backstage behavior and had a backup Spaceman costume made for Thayer. He almost got a chance to use it in August 2000 when Frehley didn't turn up until 20 minutes before they were due to go onstage. Thayer took over for good two years later at a private show in Jamaica.
Feb. 28, 2003: Peter Criss Returns as Kiss Visits the Symphony

Kiss made a very splashy return to the stage in early 2003 after a few public appearances in 2002, including a performance at the Winter Olympics. They joined forces with the Melbourne Symphony Orchestra for a special concert that was released as their fourth live album later in the year. Criss ended up returned for both this show and the band's 2003 co-headlining tour with Aerosmith – and singer pointed out the hypocrisy of Criss' return in a 2014 interview: "You got Tommy Thayer playing guitar wearing the Ace makeup, and all of a sudden. ... Peter had no problem, did he?"
Dec. 14, 2003: Joe Perry Joins Kiss Onstage
Kiss put the final nail in their retirement's coffin in August 2003 by launching a massive co-headlining tour with Aerosmith. They reportedly insisted on Kiss having three original members in the lineup, so Criss was reluctantly brought along. Steven Tyler was apparently very unhappy with the pairing, refusing to do any press or promotion for the tour. The same couldn't be said for Joe Perry, who'd previously played on Gene Simmons' 1978 solo album. He joined Kiss on two occasions to play "Strutter" while wearing a pair of Stanley's boots. A decade later, Def Leppard's Phil Collen did Perry one better by wearing a complete Starchild outfit onstage with Kiss.
Dec. 20, 2003: Peter Criss Plays His Third and Final Farewell Kiss Show

The end of the Aerosmith tour also meant the end of Criss' third and final stint, as Kiss opted not to renew his contract. His last show took place on his 58th birthday, and it was at least outwardly a much friendly affair than Criss' two previous farewells: Onstage cake and candles took the place of falling bass drums.
May 8, 2004: Kiss' Longest-Running Lineup Is Unveiled

Kiss played their first public show with what would become their longest-running lineup on opening night of the Rock the Nation Tour. "We're always in sync with each other and always on point," Paul Stanley told Rolling Stone Germany in 2021. "Tommy always hits the bull's eye, and there's never any question about that. And with Ace, I have to say, there was a certain amount of erratic playing." The addition of of Thayer and Singer also helped convince Stanley and Simmons to end Kiss' decade-long absence from the recording studio with two more studio albums, 2009's Sonic Boom and 2012's Monster.
July 27, 2007: Paul Stanley Misses His First Kiss Concert

A brief medical scare forced Kiss to take the stage without Stanley for the first time ever. "Paul's heart was going at 200 beats a minute," Simmons told the crowd. "We were thinking of canceling the show because there was no way for Paul to do the show. He said, 'Don't let the fans down.' Would you like to go home, or do you want us to try to play for you?" Naturally, the crowd voted for the latter and Simmons, Thayer and Singer delivered an energetic 14-song set. Stanley revealed that he'd suffered a "rapid heartbeat condition" for most of his life, but that it wasn't life threatening. Nine years later, a torn bicep forced Stanley to miss a charity show, and he was also absent in 2019 when Kiss played for sharks aboard a boat – don't ask – after suffering flu complications.
Oct. 13, 2011: Kiss Launch the First Kiss Kruise
Kiss began a new tradition in 2011 with the first-ever Kiss Kruise, commandeering an ocean liner and inviting fans along for a multi-day trip filled with performances of acoustic and rare material. The itinerary expanded over the years to include Q&A sessions, game shows, painting demonstrations and much more.
Jan. 31, 2019: Opening Night of the End of the Road Farewell Tour
Kiss launched their second farewell tour nearly 18 years after ending their first with an impressive new stage show. "It's important to note that this is the end of touring. The band isn't necessarily disappearing into thin air," Stanley later explained. "[Kiss] just reached a time where touring, and doing 100 shows in seven months, which is what we've done so far, is ... just too demanding and time-consuming, when there's other things to do in life."
Dec. 31, 2020: Kiss Plays a Pay-Per-View Show With No Audience
COVID-19 threw a big monkey wrench into Kiss' farewell plans. The tour was originally slated to conclude on July 17, 2021, in New York City, but multiple pandemic-related postponements and continued demand has so far caused the tour to stretch into its fifth year. The band offered locked-down fans around the world a welcome diversion on Dec. 31, 2020 with the Kiss 2020 Goodbye pay-per-view concert from Dubai. The only fans allowed to attend in person watched from distant hotel balconies, as Kiss set multiple world records by blowing up $1 million worth of fireworks at the event.
Top 10 Reunion Tours
There are three certainties in the world of rock: Death, taxes and reunion tours.
Ranking Every Kiss Album