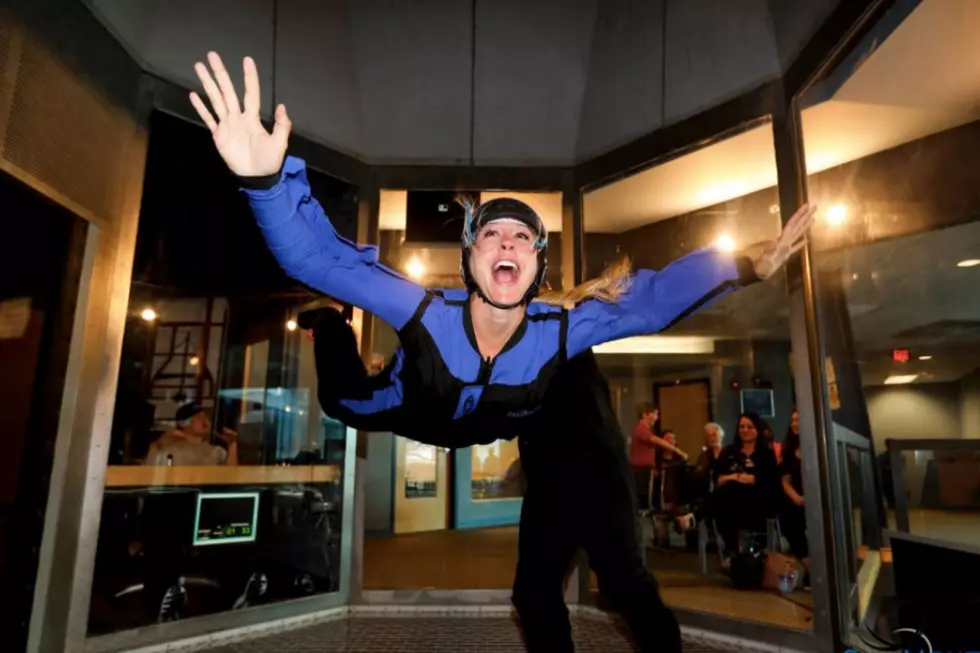 Hidden Gem in Nashua, New Hampshire: Skydive and Surf Indoors All Year
skyventure via facebook
There's a place in Nashua, New Hampshire, you might not know about, but it's one of the most exhilarating places you will ever go.
Imagine an adventure center so big that it houses an indoor skydiving center, indoor surfing facility, a 24-foot rock climbing wall, a fish pipe (tell you more in a sec), and a café.
Seriously, Sky Adventure in Nashua, New Hampshire, is the place for adrenaline junkies.
Indoor Skydiving
No plane nor parachute?  It's not a problem, because SkyVenture has a state-of-the-art vertical wind tunnel.  According to skyventurenh.com, the wind tunnel "completely immerses visitors into the world of high adventure sky diving, without ever having to pack a parachute, pull a ripcord, or jump out of a perfectly good airplane".
Flight goggles are $10 extra due to Covid, but you can bring them back on your next visit since they're reusable.
Indoor Surfing
The SkyVenture facility is home to North America's largest indoor surf stream.  With a 32-foot continuous wave, all ages can learn to surf or practice their surfing skills at this giant "Surf's Up" indoor wave, using real surfboards.  You can easily transfer your skills to the real waves in the ocean.
The Fishpipe, a rotating barrel ride which simulates a waterslide, is another attraction.
The Oasis Café
The website claims that The Oasis Cafe is "where summer never ends", and it sure feels that way.  Enjoy a tropical beach vibe while you sip a cool drink, fruity or not.  There's a breakfast and lunch menu available to walk-ins or adventure visitors.  Can't make it to the beach? No problem.  Wear your flip flops here and get some good vibes at the Oasis Café.
So, now you know the perfect spot to treat your cravings for adventure, fun, and food.
10 Ways You Know It's Summer in New Hampshire According to Granite Staters
[carbongallery id="62bddb733bc12a0f9f181fcf"