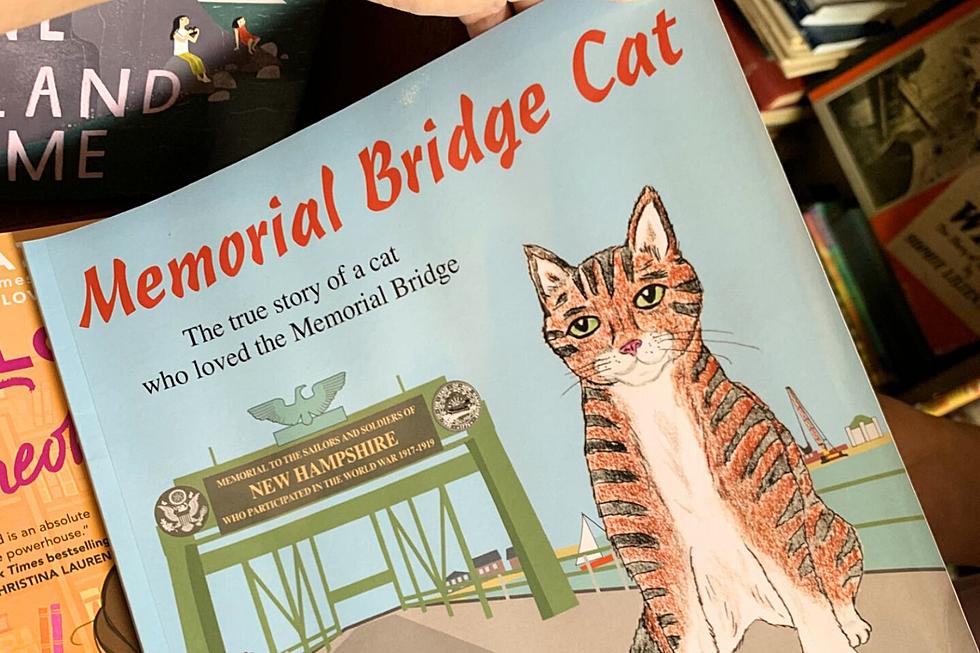 Have You Heard of the Memorial Bridge Cat in Portsmouth, New Hampshire?
Megan, Townsquare Media
This writer was with her mom in Portsmouth, New Hampshire, and decided to visit the charming Sheafe Street Books.
While gazing up at the shelves, one particular book caught our attention. It was a children's story called Memorial Bridge Cat by Crystal Ward Kent, with illustrations by her and Denise F. Brown. Realizing this was about Portsmouth's Memorial Bridge that goes into Kittery, Maine, our interest was piqued immediately.
"A cat who hung out at the Memorial Bridge? How have we not heard of this before?", we wondered.
It was time to do some research. And what yours truly found was the sweetest story you'll hear all week.
According to this 2013 SeacoastOnline article, the kitty in question's name was Slim. After his owner moved away, the outdoor tiger cat was left to the care of a man named Sean Rooney, who was tasked with watching out for the fluffy fellow.
It soon became clear that Slim was a creature of habit. The SeacoastOnline article explains that when the Memorial Bridge was open, Slim would frequently travel from Badger's Island in Kittery down to Portsmouth. He especially liked to do so at night, resulting in Rooney having to pick the feline up on multiple occasions when strangers would find him.
The introduction to Memorial Bridge Cat tells even more of Slim's story. Apparently, the cat was known and loved throughout the community. He often visited Rosa's Restaurant, and enjoyed bowls of ice cream from a "local church kitchen." At one point, when the bridge was closed, Slim even tried to swim across the Piscataqua River multiple times in an attempt to reach Portsmouth. Talk about a determined kitty.
As Slim was 10 years old as of 2013, we can only assume that he's since passed away. But thanks to Crystal and Denise, his legacy lives on in the adorable children's book, sitting in a bookstore steps away from the bridge he loved.
To order your own copy of Memorial Bridge Cat, click here. You can also see a picture of Slim and learn more about his story here.
20 of the Oldest Restaurants in Portsmouth, New Hampshire, Still Going Strong
Here's what locals say are some of the oldest restaurants in the Portsmouth area. Be sure to go to the bottom to see which one's the oldest.
Gallery Credit: Megan
25 Fun Things to do at a Portsmouth, New Hampshire, Bachelorette Party
Portsmouth, New Hampshire, has become a very popular bachelorette party destination. Planning a bachelorette can be overwhelming so we have highlighted all of the best restaurants, breweries and activities our little city has to offer. Get ready for a weekend you and your girlfriends will be reminiscing about for years to come!
Gallery Credit: Kira Lew