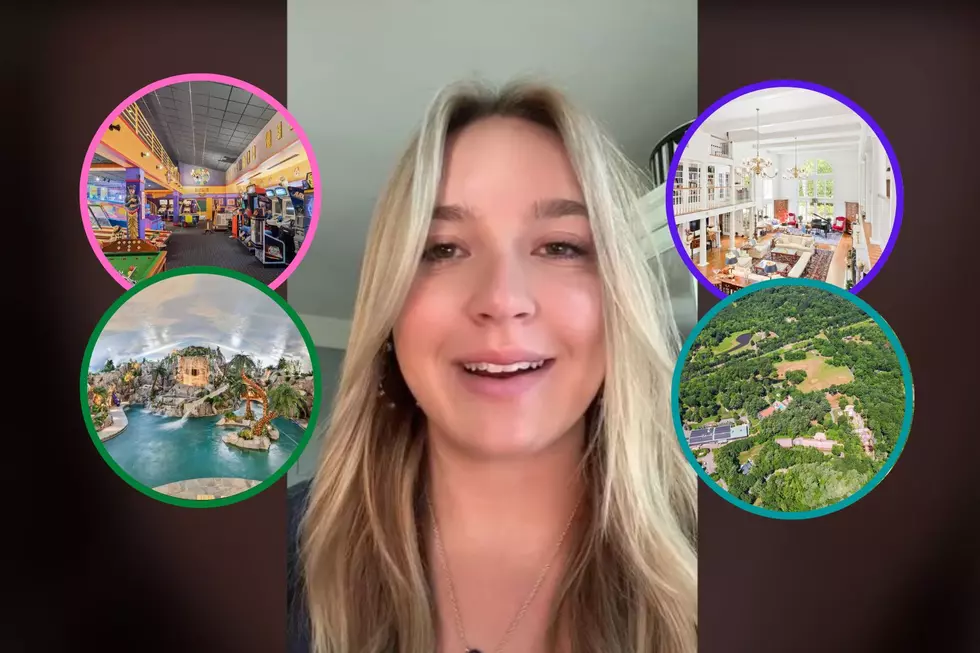 Yankee Candle Owner's Daughter Shares What It Was Like Growing Up on MA Estate Up for Sale
Kyle Kittredge via Tik Tok/Douglas Elliman Massachusetts Real Estate/Johnny Hatem, Jr
Her childhood home hit the market at a whopping $23,000,000 in western Massachusetts.  Kyle Kittredge's father is selling the Yankee Candle estate, a sprawling 60 acres of land with 120,000 square feet of space and eight buildings total.
Owned by the late Yankee Candle founder Michael James Kittredge II, this compound is in Leverett at 113 Juggler Meadow Road, according to Boston Magazine, and listed by Johnny Hatem, Jr of Douglas Elliman Real Estate.
The estate, to no one's surprise, has received so much attention, because it's truly a compound. To get around, you either walk, A LOT, or use golf carts.  As a matter of fact, Kyle says in her TikTok video (attached below) that she learned to drive a golf cart at five years old so she could navigate the expansive property. She shares a few personal stories that are so fun to hear.  I've also attached tons of photos of the house inside and out.
This estate is a playground like no other, and Kyle grew up on this private compound flanked by two gated entrances.  But how much of it did she actually use with her family and friends?
There's an indoor water park, tennis, and basketball courts, two-story arcade, bowling alley, clubhouse, pool cabana, spa, two car barns, and two guest houses on the park-like grounds with fountains, pergolas, ponds, and waterfalls.
And by the way, the spa is 55,000 square feet, and the indoor water park is inspired by the Bellagio in Las Vegas. Plus, there's also a 4,000 square foot stage where bands such as Hall & Oates, The Doobie Brothers, and KC and The Sunshine Band have played. Don't forget the nine-hole golf course.
The main house itself is smaller than the spa at 25,000 square feet, and has two kitchens.  In total, there's 16 bedrooms and 25 bathrooms. Hosting guests is a breeze in this sanctuary, as well as hosting colleagues and philanthropic events, all of which were a big part of Michael's lifestyle.  He also has two huge garages filled with stunning cars from his collection.  We're talking bigger than many showrooms.
Mick, Michael's son, who founded Kringle Candle Company with his father in 2009, is selling the home after his father passed away just before the pandemic.  Here's Kyle's three-minute video. Below that, you'll find lots of pictures of the home.
Yankee Candle Owner's Massachusetts Estate for Sale Has Arcade, Indoor Water Park, Bowling Alley, Golf Course
The Worst X and NC-17 Rated Movies
These movies were rated X and NC-17 — but not even adults should endure them.