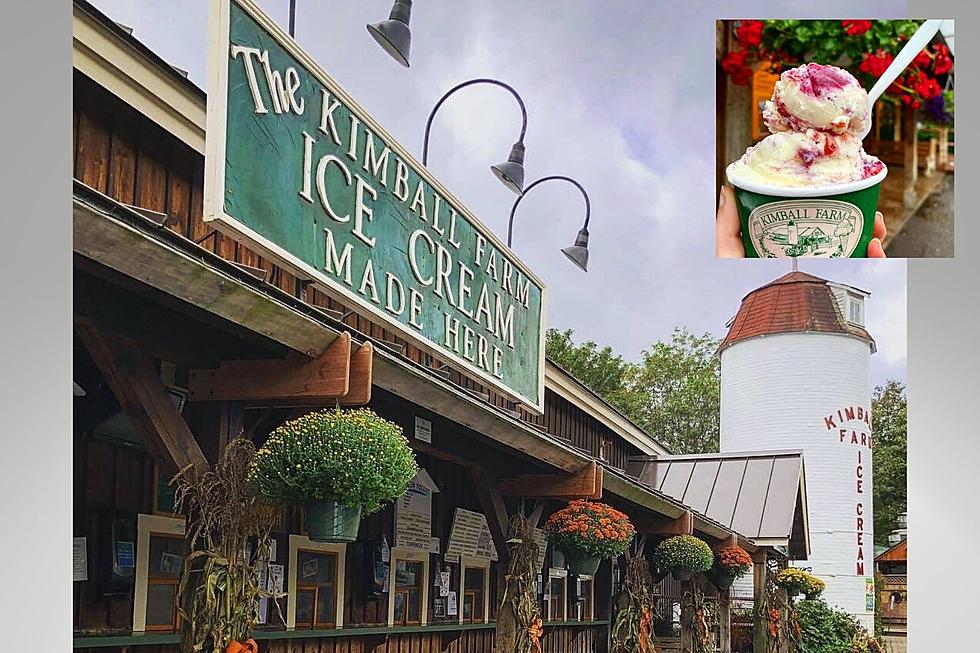 For 84 Legendary Years, This Ice Cream Shop in Westford, Massachusetts, Opens Every Spring
Kimball Farm via Facebook
For 84 years, this ice cream stand has opened its doors in the springtime, and customers know that when this happens, spring has officially arrived.
It's a sure sign of spring when the OG Kimball Farm opens in March for ice cream, and that day has come.
Kimball Farm in Westford is the original ice cream shop, but also has stands in Bedford, Carlisle, and Lancaster, Massachusetts, and Jaffrey, New Hampshire.  The Westford store is the only one open so far, but the others won't be far behind.
Also, by the end of April, if the weather cooperates, the full Kimball Farm experience, with rides and games in a Disney-like park, will be fully operational through the fall.
Kimball Farm in Westford also has a Café and Country Store with all kinds of gifts, local jewelry, collectibles, and other creative items.  The Café menu offers pastries, coffee, expresso, bagels soups, and sandwiches.  It's open from 6:30am-6pm on weekdays, and 7am-6pm on the weekends.
The best part about Kimball Farm is the entire farm is an Instagram photo backdrop. You can snap all types of pics of flavors of ice cream, or step in front of a silo or sign, or the big cow on the lot.  In summer, there are flowers and rides and water, all Insta-worthy.
It's a cheerful place with over 40 classic homemade ice cream flavors, featured ice creams which vary by day, frozen yogurt, vegan ice cream, sorbet, sherbet, and sugar-free ice creams.
What's not to love, now that ice cream is in season again, and Kimball Farms in Westford is open? Woohoo!
This Ice Cream Trail in New Hampshire is a Sweet Road Trip You Have to Take
Starting in Kingston, this scrumptious NH ice cream trail starts in Kingston and travels north all the way to Pittsburg before journeying back down to the Seacoast Rye Beach area.
These Are the Best Playgrounds in New Hampshire and Massachusetts
You have to bring your kids to one of these playgrounds. These are the best playgrounds for kids on the seacoast of Massachusetts and New Hampshire.