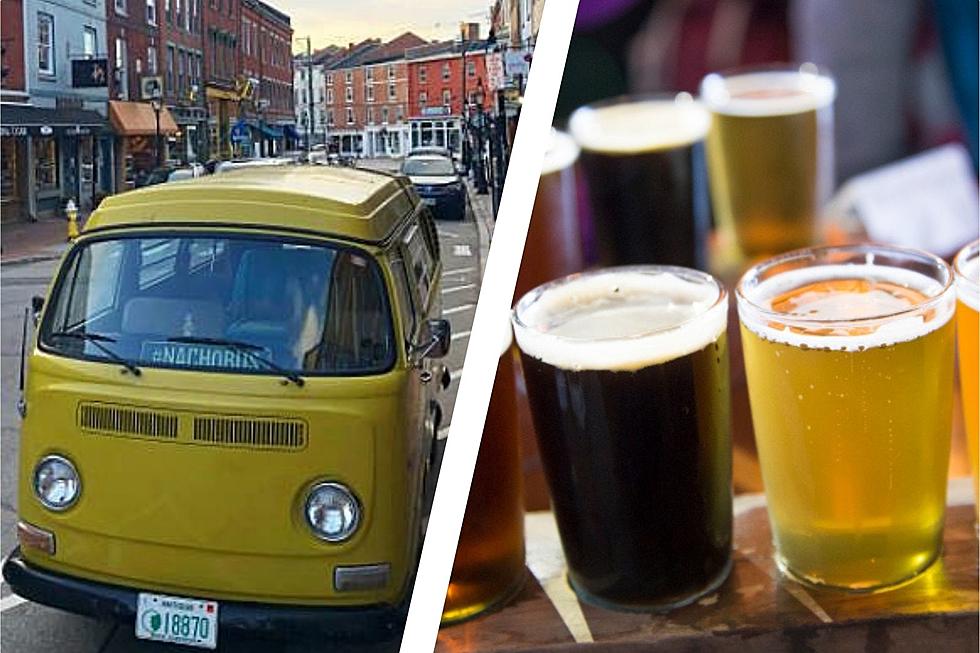 Have You Tried the Retro 1968 VW Van Brewery Tour in Portsmouth, New Hampshire?
Neil via Airbnb; Getty Images
Most people use Airbnb for overnight stays, but not this Portsmouth Volkswagen Van Brewery tour!
If you have ever wanted to do a brewery crawl in Portsmouth but are unfamiliar with the area, have no designated driver, don't want to walk between stops, want to avoid rain, or just want to cruise around the historic downtown in a 1968 VW bus, this Airbnb experience is for you.
For anywhere between $55-$68 per person, Neil, a Portsmouth local and beer enthusiast, will drive you around to any three of the following breweries: Liars Bench, Great Rhythm, Earth Eagle, and/or Portsmouth Brewery, Stoneface, Loaded Question, and Cisco.
"Hopping around to breweries in my 1968 VW Bus makes it that much more special – and I know the locals who own and run the breweries," says Neil in his Airbnb advertisement. "I'm a friendly, positive life adventurer guiding friends and guests to the best beer spots from a locals point of view. Let the good times roll!"
Neil has a near-perfect review score on the Airbnb site, and even includes his phone number to set up tours on days that are not listed, allows larger groups to reach out, and creates a personal experience right from the start.
"This experience exceeded my expectations," said Kerry in a 2020 review after her VW van brewery tour. "He (Neil) not only brought us to great locations, he made sure the whole experience was unique to our wants and needs. I would highly recommend Neil as a host and this experience, it was awesome."
"It was so fun to ride around in a classic WV bus," said Sterling Rose in a review after going on the Airbnb VW experience in 2019. "Neil was a gracious host and tailored the experience to our specific interests and needs. It was the perfect way to explore Portsmouth."
Seems like a pretty neat experience put on by Neil.
"My mother girlfriend and I went on this tour expecting to tour around Portsmouth in a VW Bus; what we got was that and so much more," said Ray in a review regarding a booked trip with Neil in 2019. "Neil was kind, considerate and thoughtful...The intimate nature of the tour and the opportunities to stop where and when and for how long we wanted to just made it all the more magical."
Guests are required to pay for their own beers when at the breweries. However, you are arriving in style and have a designated driver the whole day.
For more information, check out the listing. It's certainly a unique local experience!
A Walkable Three-Stop Brewery Crawl in Portsmouth, NH That's Easy
A short walk between each stop, this is a perfect afternoon brew crawl. If you are looking to spend a couple hours trying some local and different beers, give this route a go!
Feast at These 20 Guilty Pleasure New Hampshire Restaurants
Because you only live once.
LOOK: Best Beers From Every State
To find the best beer in each state and Washington D.C., Stacker
analyzed January 2020 data from BeerAdvocate
, a website that gathers user scores for beer in real-time. BeerAdvocate makes its determinations by compiling consumer ratings for all 50 states and Washington D.C. and applying a weighted rank to each. The weighted rank pulls the beer toward the list's average based on the number of ratings it has and aims to allow lesser-known beers to increase in rank. Only beers with at least 10 rankings to be considered; we took it a step further to only include beers with at least 100 user rankings in our gallery. Keep reading to find out what the best beer is in each of the 50 states and Washington D.C.