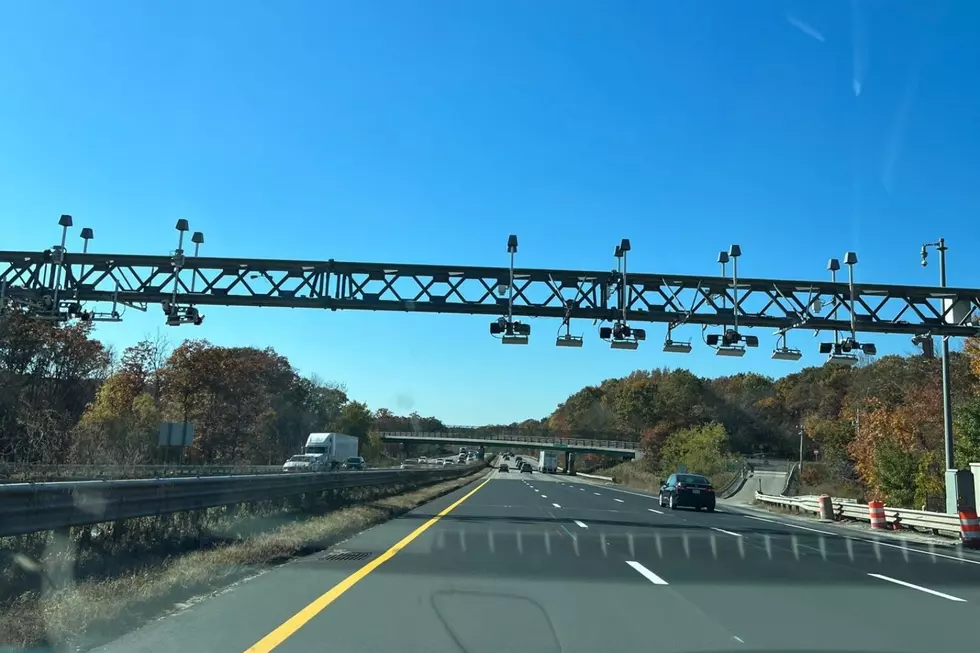 Stop Hitting the Brakes When Approaching Mass Pike or I-95 NH Tolls
Ginny Rogers
If you drive a lot like I do, you see things.  These things are not necessarily good, nor filled with common sense.
The Massachusetts Turnpike debuted the overhead electronic tolls in 2016, says Masslive.com.  The I-95 Hampton tolls have been an ORT (Open Road Toll) since 2010, according to NH.gov.
I remember when New Hampshire opened the two lanes of road each way, and you could drive right through at 65 mph.  It was innovative and exciting to not have to stop at a toll booth.
Recently, I was driving west on the Mass Turnpike, I-90, and encountered a number of slowdowns in heavier traffic.  There were no accidents on either side of the highway, so I wondered why the left and middle lanes would slow to a stop, then speed up again, then slow to a stop again.  It seemed to be a strange traffic pattern, until I realized the cause.
The traffic was unpredictable because drivers are unpredictable.  It seems as people approached the overhead gantry toll at each exit (there are no toll booths on I-90 anymore), the drivers would slow down, go through the gantry, then speed up again.
When traffic is heavy, this creates a real problem.  You see, drivers thought the overhead tolls clocked your speed as well, and they could get a speeding ticket.
This also happens every day when I drive north on I-95 through the Hampton tolls. There are only two left lanes with the Open Toll Road (ORT), but drivers again think their speed is being monitored and could get a speeding ticket.
Here's the deal, folks.  Yes, these overhead tolls DO clock your speed, not to give you a speeding ticket, but rather to ensure the tolls are working properly at various speeds, so people are not charged a toll inadvertently, nor overcharged. It's all about the accuracy of the billing.
Here's what nh.gov says about speeding through tolls with the E-Z Pass.
 NHDOT has no authorization to issue speeding tickets. This is a Department of Safety - NH State Police issue. If a State Trooper is monitoring speed through the toll lanes, and you exceed the posted speed through the E-ZPass lane, you could be issued a summons.
In Massachusetts, there is no plan to use the tolls as a way to issue speeding tickets.  However this is done in a few states in work zones, but Masslive.com says it is with "mixed reviews".
So, next time you go through an overhead tolls going 65 or 70 mph, please don't slow down.  You won't get a speeding ticket, but could start a traffic jam that doesn't dissipate for hours.  Just drive through, please and thank you.
16 Solo Day Trip Ideas in New England
Gallery Credit: Megan Murphy
These Are the 14 Worst Intersections in New Hampshire
Below are the absolute worst intersections that should be avoided at all cost, and fixed at any cost, in New Hampshire.
Gallery Credit: Logan Sherwood