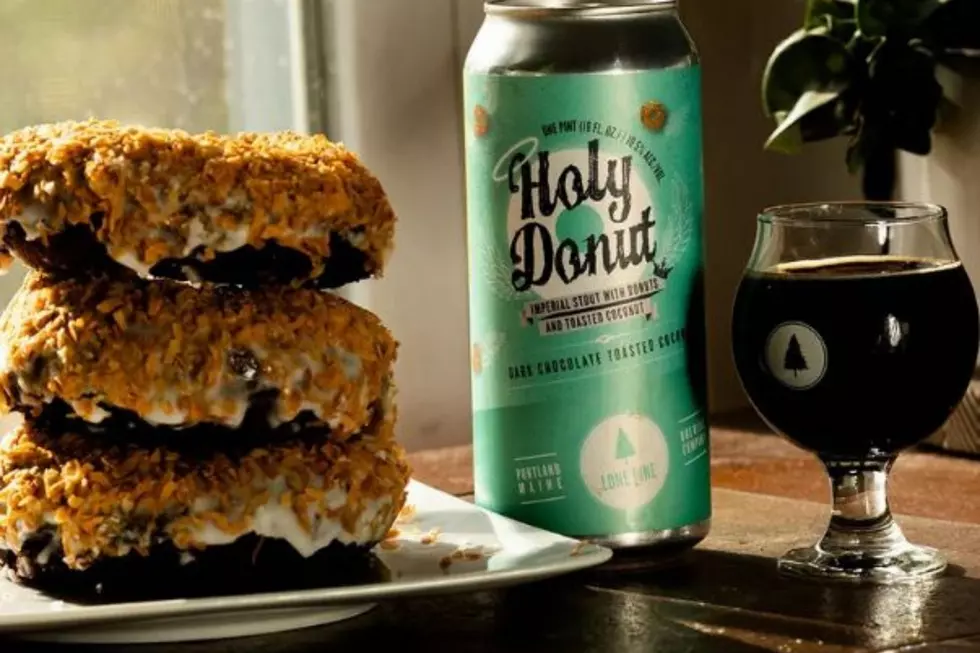 Donuts Meet Beer as Maine Brewery Holds Donut-Palooza Event
LonePineBrewery.com
To some, it may seem like an odd combination. To others, it's breakfast. Beer and donuts are a thing here in Maine, especially when you have two popular Maine-owned businesses coming together to join two great tastes that you might not have thought were meant for each other.
Donut-Palooza is an event happening on Saturday, June 4 at Lone Pine Brewing on Sanford Drive in Gorham from noon to 6. Lone Pine has teamed up with The Holy Donut to put together flights of beer and donuts.  There are six pairings to choose from and your flight lets you pick four. $15 gets you a flight of four 4 oz. Lone Pine Beers paired with a quarter of a donut from Holy Donut.
The pairings sound pretty good:
Toasted Coconut Imperial Stout and a Toasted Coconut donut
Blueberry Glaze Sout Ale and a Blueberry donut
Oh-J DIPA and a Big Al Donut
Coffee Cake Imperial Stout and a Coffee Cake donut
Chocolate Cloud Cake Imperial Milk Stout and a Dark Chocolate Sea Salt donut
Margarita Craft Seltzer and a Margarita donut
You'll want to order your flight ahead of time at Lone Pine Brewing's website to reserve your flight. We're assuming there are limited supplies.
You can bring the kids because there will be games for them and maybe a dunk tank if it's not too cold this weekend. The Totally Awesome Vegan Food Truck will be there, with live music from Ron Bergeron. Not Tom Bergeron. He must get that all the time. You can also buy your own Holy Donuts and Lone Pine beer as well.
You Know You're NOT from Southern Maine When…
The 25 Intersections in Maine That Had The Most Crashes in 2021
The Maine DOT keeps a record of accidents at intersections throughout Maine, and these are the 25 intersections that had the most in 2021.