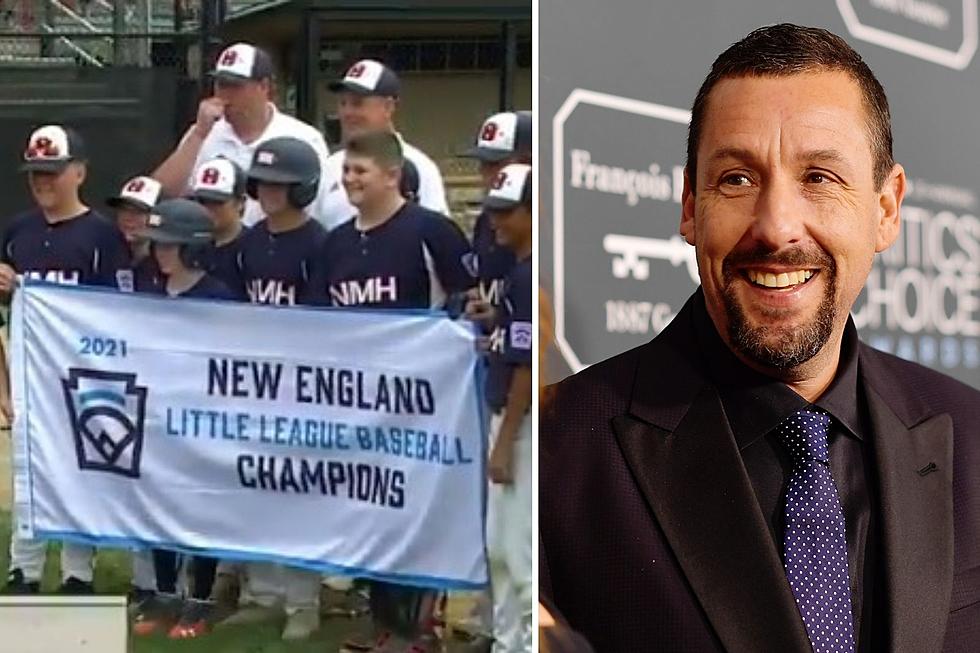 Adam Sandler Encourages Hooksett, NH Teens to Become Little League World Champions
Little League via Twitter / Getty Images
This Thursday, a bunch of New Hampshire teens start their journey to realize the dream that lots of New Englanders had while growing up.
Hooksett, NH Little League
Starting this Thursday night at 7p EST, the New England Region Champions for the 2021 Little League World Series (LLWS), Hooksett, New Hampshire Little League, will square off with the second-best in the West Region, Torrence, California Little League, in the opening round of the LLWS.
2021 Little League World Series New England Regionals
It started off as a rocky road for the NH Little Leaguers, getting shut out 5-0 by the Saco, Maine squad in the opening round on Sunday, August 8. And from there, they just about became untouchable. They followed that loss up with an absolute 10-0 pounding of the Vermont team 2 days later on Tuesday, August 10, before getting the revenge back against the Maine team, blowing them out the next day on Wednesday, August 11, with a score of 19-1.
The momentum kept going for the boys from the 603 on Friday the 13th, blanking the Massachusetts team 5-0 for their third straight win, before clinching the New England Regional Championship the next day, Saturday, August 14, with an 11-1 destruction of the Connecticut Little Leaguers.
Adam Sandler Congratulates Hooksett, NH Little League
So how does Adam Sandler factor into this whole thing? Almost IMMEDIATELY after the Hooksett boys claim the New England Little League Baseball Championship, Adam posted a congratulatory message on his Twitter page, along with a picture from back in the day when he played Little League himself.
And just like Adam, all of New England is pulling for you, too! Good luck this Thursday, boys -- show those Cali kids that the East Coast is the BEST Coast!
Speaking of Adam Sandler, He and These Other Celebrities Call New England Home
Here Are Some Celebrities That Have Been Spotted in NH and Mass, Too
LOOK: The most famous actress born the same year as you
Many of the actresses in this story not only made a name for themselves through their collection of iconic performances, but also through the selfless, philanthropic nature with which many of them approached their stardom. In an age of flipping the script on societal norms, many of these actresses are using their voices and platforms to be advocates for those who are otherwise unheard.
LOOK: The Most Famous Actor Born Every Year