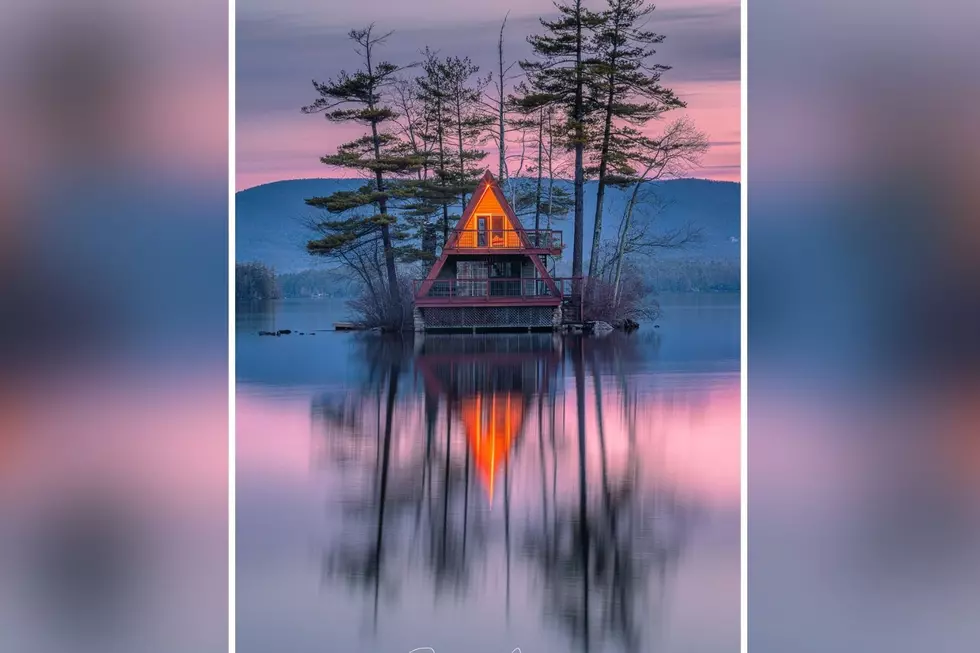 A-Frame Cabin on Its Own Island in New Hampshire is Elegant Serenity
Jeremy Noyes via Facebook
Jeremy Noyes captured this gorgeous shot on Lake Winnipesaukee, and was kind enough to share it with the New Hampshire Facebook group. I would order a print of this and hang it in my home. Between the colors, reflection of the house in the water, and mountains in the background, it is a feast for the eyes.
While enjoying this photo and all of its beauty, I wondered where exactly this A Frame cabin is located. The fact that it's on its own island is very intriguing to me. Talk about the perfect place to unplug and get away from it all!
Upon further investigation, it is called the "A Frame Cabin at Oliver Lodge" in Meredith, New Hampshire.
How do you get to the A Frame Cabin at Oliver Lodge?
According to oliverlodge.com, The A-Frame is located on a small island about 20 feet from shore in front of the Main Lodge. If you reserve the A-Frame cabin, you will be transported out to the island by their property manager, a nice lady named Denise! She will bring you over on their motor boat upon arrival. During the duration of your stay, you will be provided with a four-person paddleboat to get back and forth from the mainland.
The A-Frame cabin has a fully equipped kitchen, so no need to eat out!  Plus, there is a big common area to play board games, two private docks, a diving board, a deck, and more! Your children are VERY unlikely to utter those two dreaded words "I'm bored" your entire stay.
Let's take a little peek inside, shall we?
A Frame Cabin on it's Own Island in New Hampshire is Elegant Serenity
There is no better place to get away from it all that the A Frame Cabin at Oliver Lodge. It's located on it's own island in the middle of Lake Winnipesaukee!
Take a tour of the inside.
The A Frame Cabin at Oliver Lodge is available for rent between mid-April and mid-October. As you can imagine, it books up quick, so if you are interested in staying there this summer, I would make reservations soon! Check out availability here.
These Are 20 Must-Visit Hidden Gems in New Hampshire